Acer Iconia Tab A500 Hands-On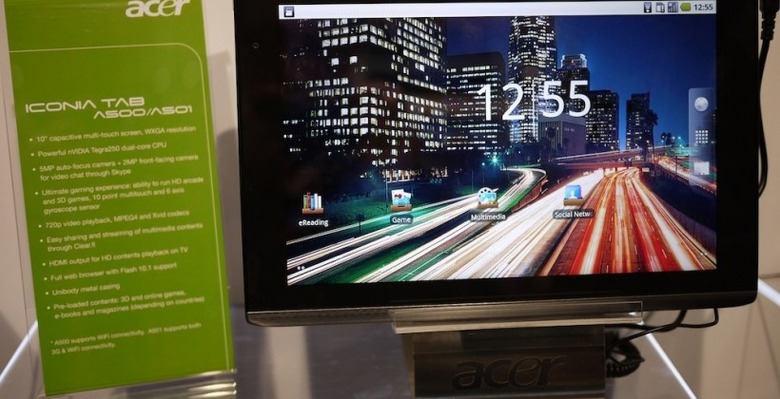 Acer's Iconia Smart was something of a hybrid, but the company also has a number of new slates for MWC 2011 that are definitely all tablet. The Acer Iconia Tab A500 is a 10.1-inch rival to the XOOM and Galaxy Tab 10.1, powered by NVIDIA's Tegra 2 and offering 1080p HD playback.
What makes the Iconia Tab A500 difficult to judge, however, is the fact that while Acer expects the slate to launch running Android 3.0 Honeycomb, right now the prototypes are running an earlier, smartphone-centric version. Still, the hardware has promise – a 13.3mm slender slice of aluminum with HDMI, WiFi, 3G and Bluetooth 2.1+EDR, along with a 5-megapixel camera on the back and a webcam up front that's good enough for HD video calls. Acer is also slotting in its clear.fi media streaming system, so if you've already got Acer kit then the Iconia Tab A500 should slot in reasonably well.
What we're hoping is that Acer's pricing will be low enough to drag the entry point of Honeycomb slates down into the affordable range, though right now the company isn't saying exactly what the Iconia Tab A500 will cost. It'll go on sale in April 2011.
Press Release:
Acer's ICONIA TAB A500

Full touch experience in HD

Barcelona, February 14th, 2011 – Mobility and innovation, which have always been part of Acer's DNA, now find a new form of expression in the new Acer ICONIA TAB A500, a 10.1-inch tablet designed to maximize content enjoyment, providing the same rich multimedia, gaming and Web experience you can enjoy on your home PC with the added user-friendliness of multi-touch technology.

Sleek, smart and full of innovative features, the ICONIA Tab A500 will be equipped with the latest, highly intuitive Google Android 3.0 "Honeycomb" operating system, the new version of the Android platform specifically optimized for tablets, combined with Acer UI to reach a whole new level of interactivity.

What's more, the Acer clear.fi media sharing system will be preloaded on the device for seamless integration in the home clear.fi environment to easily access, play and share multimedia across the home network and to instantly publish updates to social media networks.

Designed for rich multimedia entertainment, this tablet comes with a high resolution, high colour contrast 10.1" display with wide viewing angle providing higher colour accuracy for better visuals from different perspective, allowing users to play or share HD video with friends on the go. Complete with a built-in HDMI port and 1080p output, it may also be used to enjoy HD content in full HD on a big screen TV or monitor.

The 10.1" full capacitive multi-touch screen ensures an optimal on-screen experience from every angle. Aluminum casing provides a cool look and feel, while its high gloss finish anodizing decorated with laser engraved textures demonstrates subtle sophistication. And despite being just 13.3mm thick, it's powerful enough to provide fun and productivity in any location.

One of the tablet's most impressive features is its ability to run and play premium HD arcade games and complex online 3D games, thanks to the multi-touch screen and gyro meter control, which guarantees an entertainment experience on par with the best game consoles.

The Acer ICONIA TAB A500 will be equipped with the dual-core NVIDIA® Tegra™ 2, the first mobile dual core CPU, that delivers up to two time faster browsing, for the best web experience ever, and amazing graphics, for optimized HD viewing, 3D and console-quality gaming, and multimedia playback anywhere thanks to the ultra-low power (ULP) NVIDIA® GeForce® GPU with Flash 10.1 support. What's more you can relish movies, photos and more on your big screen TV in full HD glory thanks to 1080p HD video playback.

Multiple connectivity options, including Wi-Fi, 3G or Bluetooth® 2.1, maximise your mobile experience and keep you in touch with all you care about. The 5MP rear-facing camera plus HD front-facing camera are just perfect for video recording, video chat, or quickly snap a picture and upload it to Facebook, YouTube, Picasa; it can also be used as a barcode scanner

The Acer ICONIA TAB A500 will available from April 2011, pricing TBA.