HP Officially Names Meg Whitman As New President And CEO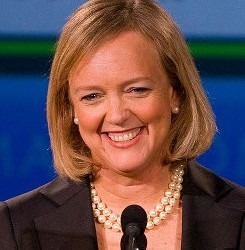 It's official. All the rumblings yesterday afternoon and this morning about the ousting of HP CEO Leo Apotheker are now confirmed. HP has just issued a press release announcing the appointment of former EBay CEO Meg Whitman as its new president and CEO. Apotheker, after only less than 11 short months leading HP, will now have to resign from his position and as a director of the company.
Speculation began yesterday about Apotheker getting the boot and with that news HP's stock actually increased by almost 8 percent. The whole situation quickly escalated with reports this morning that the final decision would be made today followed by further reports that the appointment of Apotheker was a mistake from the start.
Apotheker was brought on board as CEO back in November of last year, when former HP CEO Mark Hurd was forced to resign following a scandal involving sexual harassment accusations. Apparently, infighting among HP's board was so terrible during that period that Apotheker was appointed without much input from a majority of the board members.
During his 11 month stint, Apotheker attempted to execute some drastic strategy shifts but bungled communication on several occasions along the way. Some have argued that the $10.3 billion purchase of Autonomy was too risky and that the PC spinoff was announced too early. The canceling of HP's WebOS mobile platform plans after only 5 months since its announcement was also generally viewed as being poorly handled.
[via Engadget]