HP ENVY 23 TouchSmart Review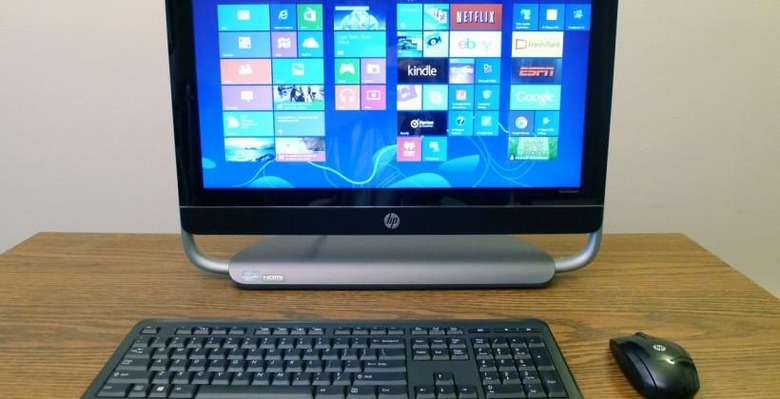 HP dove into the Windows 8 ecosystem without hesitation, and the results of that effort are tons of new laptops and desktop computers, some of which are the company's new ENVY TouchSmart all-in-one series of Windows 8 machines, which we first heard about back in September. They have an entry-level 20-inch model, as well as a 23-inch variant that we took for a spin. It has a fast quad-core processor, quick graphics, a lot of system memory, and a huge hard drive, not to mention the 1080p touchscreen. It'll cost you, though: around $1,700 for this particular build, but the ENVY 23 TouchSmart (model d060qd) definitely has all the specs to make anyone happy. However, is it right for everyone? Let's find out.
Setup
Setting up the new TouchSmart machine was fairly straightforward, with only a few roadblocks along the way. First of all, the instructions are completely worthless as far as setup goes, so if you're usually one to rely on such paperwork, there's no need to do so this time around. The booklet mostly just discusses maintaining the computer and troubleshooting various problems that could arise. Other than, there are only a few photos meant to help you set up the new computer, most of which were confusing and offered no text to describe the images whatsoever.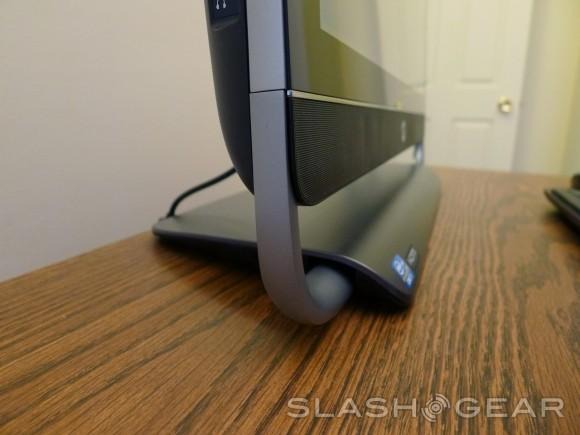 In any case, I was able to get up and running in about 10 minutes. The wireless keyboard and mouse connected right away during the initial bootup — no need to pair either devices, and I was looking at the Windows 8 home page in no time. Obviously, everyone expects a smooth and easy setup experience with new products, and HP definitely made it easy for me.
Hardware and Design
This specific review unit comes packing with incredible specs. There's an Intel Core i7 3770S quad-core processor clocked at 3.1GHz, accompanied by 12GB of DDR3 RAM and a 3TB Seagate hard drive. Graphics-wise, we're looking at an NVIDIA GeForce GT 630M with 2GB of memory, which provides fast, middle-class performance in case you ever get caught playing any kind graphics-intensive title on your new touchscreen PC. Other than that, there's Beats Audio integration, which provides three internal speakers along the bottom, as well as boosts performance for any speakers plugged into the audio jacks. You also have a slot-load Blu-ray drive on the right side. Of course, you also can't forget about the 23-inch 10-point touchscreen display with a 1920x1080 full HD resolution.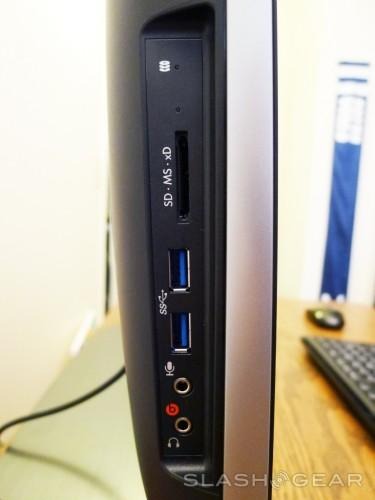 As far as ports go, you have two USB 3.0 ports on the left side, along with a SD card slot and microphone and headphone jacks. On the back, there are four USB 2.0 ports, ethernet, and a nifty subwoofer-out port that allows for deeper sound out of the relatively puny speakers that are equipped with the ENVY 23 TouchSmart. Then, on the right side, there's a lone HDMI port for connecting to an Xbox 360, PlaySation 3, or any other HDMI-capable device that can use the computer as a monitor or display.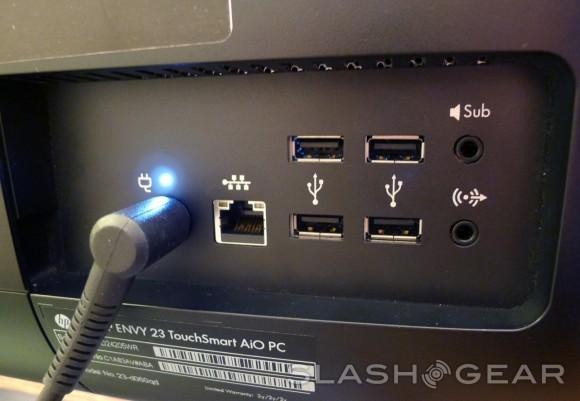 As far as the placement of all the ports, I have to say that it's all pretty scattered. It's nice to have two USB ports, the SD card slot, and the audio jacks on the side for quick and easy access, but having the HDMI port all by itself on the right side doesn't quite make sense — it seems it would make better sense if it was with all of the other connectivity options on the back. We're also not sure why HP didn't include more USB 3.0 ports on the back. Those with a USB 3.0 external hard drive may be disappointed by this, since you'll be stuck with plugging it in on the side and having a USB cable stick out the whole time.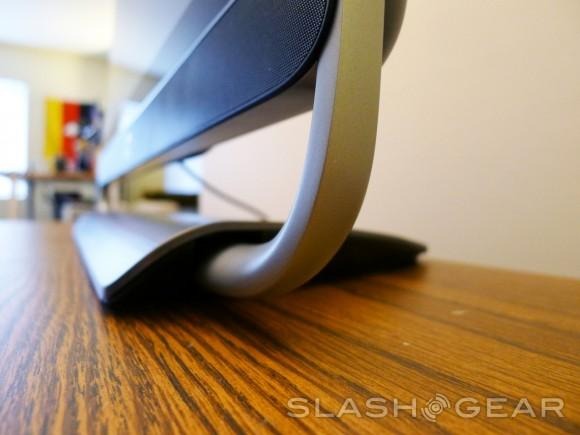 The ENVY 23 TouchSmart sits on a big base, which takes up most of the width of the computer and leaves a giant footprint on any desk. Unlike the iMac, and even one of Vizio's latest all-in-one offerings, HP's newest machine doesn't have a small base in the middle. However, that's mostly because the entire panel is supported by two beams on the sides, which then connect to the base, providing a frame-like structure to the computer. I have to say, though, that the base and the two supporting beams are fairly sturdy. While you can easily adjust the angle of the display without much effort, playing around with the touchscreen doesn't affect the computer's stance — it stays still extremely well, even through marathon sessions of tapping and scrolling.
The front of the display is completely covered in a single pane of glass, so when the screen is off, it looks like it's a borderless display. However, the display has a rather thick bezel, which makes the computer look a little bulky and ancient. HP could've easily bumped up the screen size without making the machine any bigger, but most likely due to circumstances that are unbeknownst to me, I'm sure there was a reason why HP kept it at 23 inches with a thicker bezel. The display is pretty glossy, though, so if you plan on using the touchscreen portion (as opposed to the mouse and keyboard), expect a lot of fingerprints and smudges.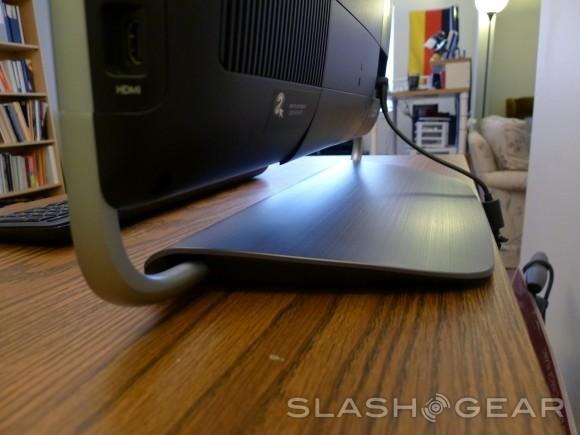 Sadly, the computer comes with a power brick attached to the power cord. It's not too big of a deal, since most electrics come with one anyway, but all-in-one machines are supposed to be meant for saving space, so the power brick may be an unexpected surprise if you're interested in going with this model. The end of the cord (the end that plugs into the computer) sits at a right angle, so in order to plug it in, you have to bend the cable so that it's perpendicular to the wall, and then have it bend downwards to feed it behind your desk to be plugged into the outlet. It just make more sense if the connector was straight, or at the very least a 45-degree angle, which is actually gaining popularity with various cable manufacturers anyway.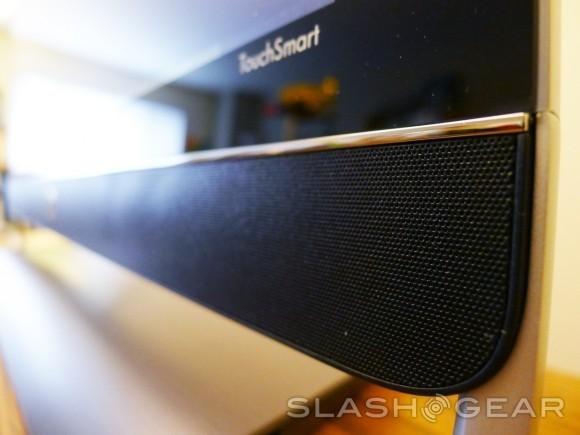 Overall, the design of the ENVY 23 TouchSmart isn't too bad. There are certainly things that I would change, including a slightly smaller base and a thinner bezel, but I love the sturdiness of the stand with the ability to adjust the angle of the display easily when need be. It would've nice to see some USB 3.0 ports on the back, instead of just on the side, but a total of six USB ports isn't anything to complain about. The speaker quality was fairly good, and while it did sound a little tinny, it's definitely an upgrade from what you would get with regular laptop speakers. There's a lot more bass in these speakers, and if you pair them up with an external subwoofer, it'll make for a pretty decent system for personal listening.
Software
As far as software goes, there's actually not a lot of bloatware. There's obviously a few HP-specific apps — some you may find useful, and others just an annoyance. The company pre-installed their "Connected" Photos and Music apps, both of which are HP's own version of a photo manager and music player, respectively. Connected Photos is powered by Snapfish, and it not only lets you manage and organize your photo collection, but it also integrates with Facebook and you can easily push your smartphone photos to the app as well. The music player is HP's own version of iTunes of sorts. You can manage and play your music, as well as browse popular music and even buy tracks right from the app. We're not sure that most users would utilize these two apps, since there are far superior options out there, but the choice is there nonetheless.
HP also included their own backup app, similar to Time Machine on Mac, and they also have what's called HP MyRoom, which is a video-conferencing app that resembles most other apps like it, such as Skype (which is also pre-installed interestingly enough). HP even has its own app store called HP+, where you can download games, entertainment apps, software, etc. Sadly, though, it's lacking in content and doesn't have a lot of options — you're better off sticking with the Windows Store.
[sgbenchmark id=195 show=system]
Other than that, HP included some non-HP apps into the bloatware mix, including Kindle, eBay, Netflix, Norton Antivirus, and Skype. Surprisingly enough, the computer arrives clean of most bloatware, and what's already there shouldn't bother the user at all, except for maybe Norton, which pesters you every now and then to activate or update the software. Besides that, though, the HP apps don't get in the way too much, and if they do, you can simply move around the app tiles to hide the apps and make the homescreen how you want.
Performance
The computer comes with top-tier specs all around, so most users won't have a problem with performance — the 3TB hard drive will hold plenty family photos and videos, as well as all the music you can think of. The processor is fast enough that apps open quickly, and nothing lags behind, which is great for those older folks that can't stand anything slower than the Millenium Falcon at light speed. Benchmark scores from Geekbench were actually really decent, and it scored better than most of the newer all-in-ones that we've reviewed in the recent past, including Acer's Aspire 7600U, which has a higher price tag, and it even beat out Apple's newest iMac, although just barely. The ENVY 23 TouchSmart even kept right up with HP's Z1 Workstation, which carries a hefty price tag of $2,700.
[sgbenchmark id=195 show=score]
As far as everyday use, the TouchSmart boots up in about 25 seconds from the time the power button is pressed to the time when the desktop is ready to use. That's certainly respectable, but considering that HP stuffed a 3TB hard drive inside, we can't help but feel that the company could have also slipped in a solid state drive as well, just to boost the performance even more. As for the display, it's a 10-point touchscreen, meaning it will register all ten fingers if need be. In brief, it's basically feels like a 23-inch upright tablet, and it's extremely responsive and smooth. It takes little effort to scroll through home screens and websites, and multi-point touch capability is pretty fantastic — pinch-to-zoom works well, and playing around in the painting app with multiple fingers was both fun and impressive.
Wrap-Up
In the end, the HP ENVY 23 TouchSmart can do pretty much anything you throw at it, and it can certainly handle the demanding needs of an entire family, from the little kids all the way up to the impatient grandparents. It comes with most of the features that you would want on a high-end all-in-one desktop — it's got the large 1080p touchscreen display, a huge hard drive, gobs of RAM, and a super-fast processor. While there are definitely things that I could nitpick about, such as the large base, no USB 3.0 on the back, and a less-than-decent keyboard and mouse combo, I can't really see how this computer wouldn't cater to the everyday man or woman. And while the $1,700 may not look too great, the company's 20-inch models start at around $1,000 if you're looking for a smaller build. It's certainly not a desktop that's aimed towards a specific group of users, so if you're looking for an all-around Windows 8 machine for the entire family, the ENVY all-in-one series meets the mark.