HP Z1 Workstation Review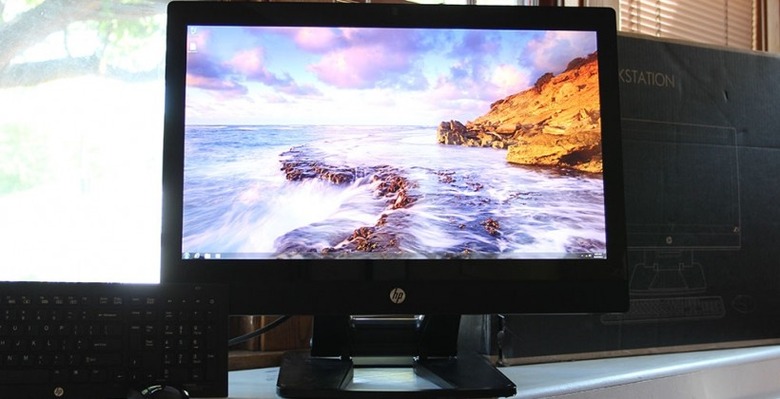 This summer HP has brought on a beast of a business machine in the Z1 all-in-one Workstation, complete with an upgradable set of innards and all-in-one style. The display is a massive LED-backlit 27-inch IPS panel at 2560 x 1440 pixel resolution and inside you've got several configurations available straight from HP, each of them landing in at right around $2,700 USD in the end. You'll be working with an Intel Core i3 processor, Windows 7 or Linux, and the whole machine is easier to modify than your sub sandwich – fabulous for the tech-friendly business owner.
Setup
This beast is heavier than you'll ever want to wish to carry at a back-breaking 21.32 kg (47 lbs). You've got a beast of a display up on two different hinges, this allowing you to adjust both the angle and the height at which the display sits. Once you've got it where you want it, you'll probably want to leave it alone, though, as the weight of this conglomeration of metal, plastic, and glass is not the easiest thing to move around.
The monitor sits on its two hinges mightily, both of them making sure that this heaving beast does not move even the slightest bit once its set in place. In addition to being able to set this computer up with its "traditional display" setup (on the stand it comes attached to) you can mount it to the wall with industry standard VESA mounts. This unit utilizes a 100x100 VESA mount pattern, making it easy to set up with 3rd party display gear.
HP has done an amazing job of making sure this computer both looks and feels fabulous with a black and silver metal setup both on front and back. While most workstation-aimed computers are made to sit out of the way or under a desk, this all-in-one unit looks great from all sides. The one odd point that appears off as far as aesthetics go is the power cord port which sits under the display – it feels like HP went so far to keep the front and the back clean that they nudged that rather unsightly cord to the underside.
Connectivity
That said, the rest of the computer is indeed rather clean looking. You've got your power button up top on the right, a system activity LED below that right near the eject button for your optical drive. The optical drive is always a Slot Load 8X SuperMulti DVDRW no matter what configuration you pick up, and it sits right above a 4-in-1 Media Card Reader as well. Next on the right is a standard Firewire 1394a port above two USB 3.0 ports and ports for Audio in and out. Each of these buttons and ports are super easy to access.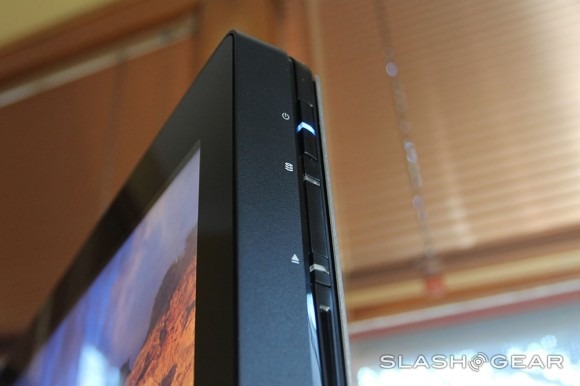 What's not so easy to access – and perhaps rightfully so – are the ports below the monitor. This collection of ports includes the power port (as mentioned above), one standard DisplayPort in/out, digital audio via a S/PDIF port, audio in/out and subwoofer out, and a set of four more USB 2.0 ports. There's also a hidden USB 2.0 port under the hood which HP has used up with a dongle that connects with a couple of packaged accessories: keyboard and a mouse – both of which are relatively high quality.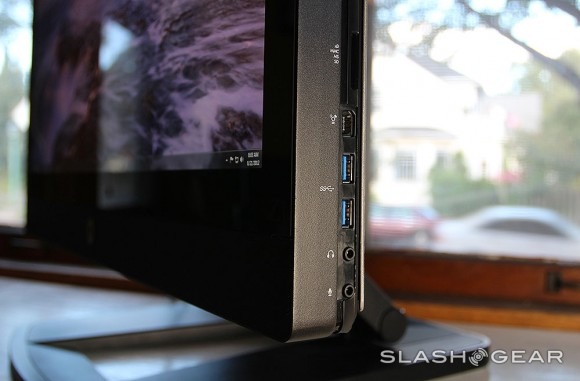 Software
You can work on this system with Windows 7 or HP provided Linux, the Linux builds including drivers from 32 and 64-bit OS versions of Red Hat Enterprise Linux (RHEL) 5 Workstation, RHEL 6 Workstation, and 64-bit SUSE Linux Enterprise Desktop (SLED) 11 for your convenience. For Windows 7 you'll either get 32-bit or 64-bit Genuine Windows 7 Professional installed right out of the box.
With a computer that's made to be updated in the hardware universe for years into the future, you'll also want to be sure you've got the software to back it up as well. Windows 8 will of course be able to be loaded here, and with HP Performance Advisor included in the out-of-box experience, you'll have HP's own software wizard to help out out along the way as you continue to optimize your system towards its constant full potential.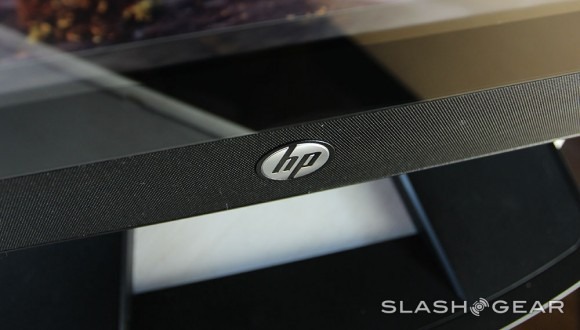 This machine also includes HP Remote Graphics Software, (loaded standard with every new-age HP workstation,) an environment which allows you to access your setup remotely from other machines connected to the web with ease. Just as it was with each of the other HP workstations we've tested over the past year or so, this machine plays nicely with a vast array of machines outside its build – Directory Mode allow you to access workstations throughout your office, RGS functionality works with pixels (as opposed to data) to expand your workspace to a wide variety of 3rd party monitors automatically, and the whole RGS suite works on both Windows and Linux.
This device also comes with ISV certification so you know its up to snuff according to the Independent Software Vendor set of tests – standard stuff! Along those same lines is the fact that this machine is Energy Star certified with 90% efficient power supplies, and each HP Z1 comes with a warranty that includes limited 3-year parts, 3-year labor and 3-year onsite service extendable up to 5 years with HP Care Pack Services – business friendly indeed!
[sgbenchmark id=177 show=system]
Above and below you'll see some additional components listed as well as our standard Geekbench benchmark results. This machine does extremely well for itself, both in benchmarks and in practice with everyday light and heavyweight tasks like video processing. And again, you can switch essentially every piece out and make it more powerful as you deem necessary.
[sgbenchmark id=177 show=score]
Versatility
This machine is fabulous in its ability to be modified. Push the display down horizontal and lift the face up like the hood of a car and poof! Like magic, you've got a vast array of plug-n-play pieces at your fingertips. You can change out essentially anything under the hood at your leisure, and several expansion slots and bays are available for your DIY modifications. You've got one internal 3.5-inch bay OR 2x 2.5-inch bays, one MXM expansion slot for graphics (requiring NVIDIA custom cards, you may want to note) the base model uses Intel integrated graphics, but Quadro 500M, 1000M, 3000M and 4000M graphics cards are optional. You've also got 3 miniPCIe full-length expansion slots as well.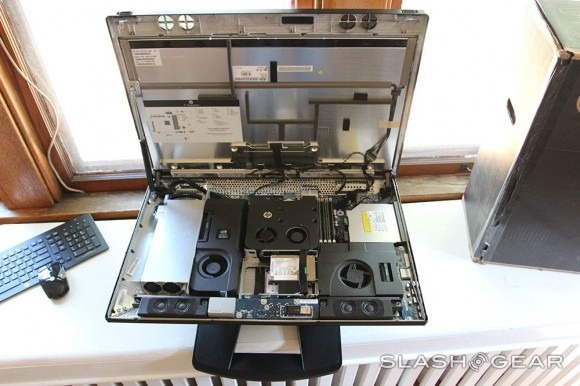 Four zones separate this device's insides, with the 400w power supply, Quadro graphics card, CPU, and memory sitting behind fans and panels. Your power supply, hard drive chassis, and DVD/Blu-ray drive are easily removable, of course, and up to four 8GB full-sized memory DIMMs can be added as well.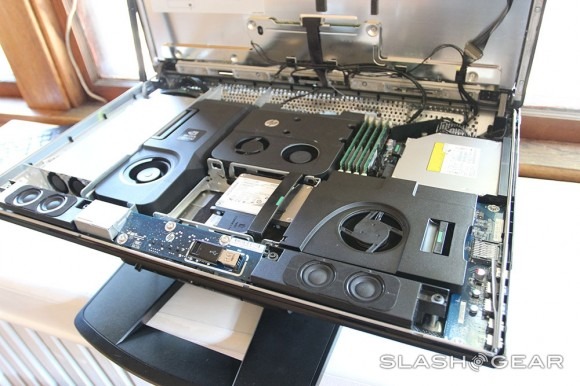 Everything under the hood is able to be clipped in and out with ease using the simple to understand green arrows and hard-plastic holds. The hands-on video earlier in this review shows how simple it is to switch components in and out. Business owners pay attention here: upgrading your whole office will be so easy that you won't need to hire Nick Burns to do it – for real!
Wrap-Up
This computer is a fabulous choice for an office in need of massive displays and Windows 7 (or Windows 8 later this year). You've got a perfectly solid build, HP has made the entire structure out of high-end components, and you'll be able to modify this beast to your liking well into the future. As long as you're not planning on lifting this monster up and lugging it around on a regular basis, you'll be glad this was your business-oriented Windows choice for your next-generation standard workstation situation.
Video editors, web designers, graphic designers, and those working with massive files on the whole will find this machine quite satisfying.
Have a peek below at additional HP Z-series hands-on, review, and news posts we've published over the past two years, all the way back to the official launch of the series at an event we attended with HP!