HP ENVY 15 Review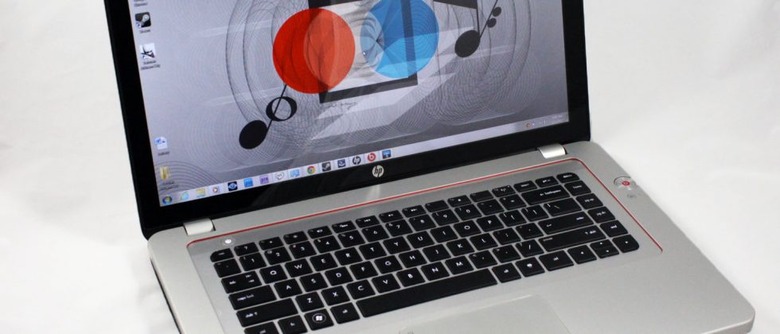 All the headlines these days seem to be grabbed by those svelte little Ultrabooks, but there's still a considerable market for big-screen, high-power laptops out there. HP is more than happy to serve, and their latest offerings in the top of the line ENVY family makes a compelling showing, combining media features and a premium fit and finish at a lower price than its competitors. Unlike the only technically portable ENVY 17 3D, the 15-inch size is ideal for a desktop replacement that's still decent on portability. How does the ENVY 15 stack up? Let's find out.
Hardware
The ENVY 15 shares a lot of design DNA with the rest of the line, and that means lots of metal and secondary utility as a blunt weapon. The typical high-class build quality is present in full force, with a new black-on-grey color scheme that's accented with some red Beats trim. It would be almost impossible to forget the inspirations from Apple's Macbook Pro line that defined the early ENVY models, but the latest seems to be finding a bit of its own identity. A depressed keyboard section and an analog audio dial inset into the body make for some unique and functional touches.
The laptop oozes quality and thoughtful touches almost everywhere. Beats-branded speakers above the keyboard and on the front edge are well-placed for music playback with the lid open or closed, and the backlit chicklet keyboard is large and solid enough to replicate desktop typing without any real difficulty. 3 USB ports and an SD card slot should be enough for most, but video out options are limited to HDMI and Display Port. That's good for hooking up to a TV or brand-new monitors, but if you've got an older display you're out of luck, since there's no adapters included.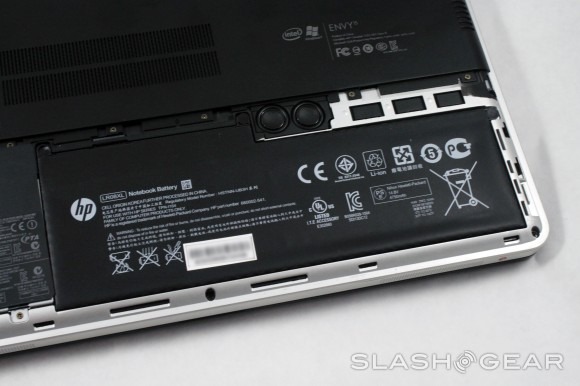 At 1.11 inches all the way through its metal frame, the laptop isn't the smallest around, but it isn't really trying to be. That large frame gets you a 2.4Ghz Core i5 processor, 6GB of RAM, a 1GB AMD Radeon 7690m graphics card and a 500GB traditional hard drive. That should be enough computing power to handle just about anything you can throw at it short of marathon HD encoding sessions. You'll also get a slot-loading DVD drive, an increasingly rare commodity even in medium-sized laptops, and a user-accessible battery bay.
But the real showpiece for the ENVY 15 is the screen, an LED-backlit beauty at 1920x1080, showing a resolution usually reserved for 17-inch laptops into an economic glossy frame. That's an extra $150 upgrade over the standard 1366x768 panel, and well worth it for anyone who wants a little breathing room fir Windows 7. Using the screen is an excellent experience even at low brightness, and makes text entry, games and video that much better. Colors pop and contrast is great, though those who tire of tiny text may need to fiddle with some settings to make reading more comfortable. The touchpad is decent, though HP still hasn't got the hang of multi-touch gestures – it's much easier to use a click-tap and manually drag a scroll bar than its two-finger equivalent.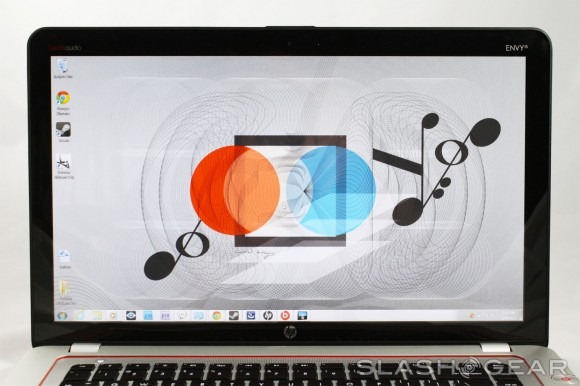 [sgbenchmark id=147 show=system]
Software
Our review unit came pre-loaded with Windows 7 Home Premium 64-bit, the better to take advantage of the 6GB of RAM. If you're considering the ENVY 15, odds are pretty good that you're familiar with Windows 7, or at least competent enough in Windows Vista, so I won't bore you with any rehashing. Bloatware is an unfortunate reality on the PC side of the computer divide, but with the ENVY line at least, HP has exercised some restraint. You get the standard trial edition of Office, a handful of hardware managers that basically just skin Windows' default controls, Microsoft's Games For Windows Marketplace, HP MovieStore, Norton Internet Security and a Bing plugin for your browser. All in all it could be worse – I'm in the habit of installing Windows fresh with any new machine, and I heartily recommend it to others. But if you're disinclined to do so (it isn't easy, since no one includes OS discs these days) it's easy enough to get the ENVY 15 close to stock.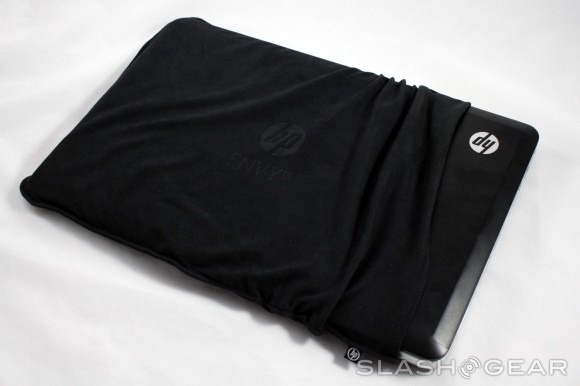 One thing you won't want to remove is the Beats audio manager software, accessible by depressing the button built in to the analog dial. It instantly brings up an equalizer and other various settings, making a customized audio experience fast and easy, not to mention enjoyable with the supplied hardware. More on that later. Our review unit came with full versions of Adobe Photoshop Elements and Premiere Elements. At the moment both of these programs are also free with the base model. That's a great deal if you don't already have an image and/or photo editor, and even if you don't want them it's hard to complain.
In general use, the additional software doesn't interfere with my daily routine nearly as much as other laptops. The Norton Internet Security is enabled by default, but aside from the on-screen volume and brightness displays, it's the only thing that's visibly added to the system. All in all a commendable effort on HP's part, though I add that any Windows computer should always come with a backup disc, which seems to be omitted here. I had a small issue with a lack of sound playback, which was solved quickly enough by installing the latest driver.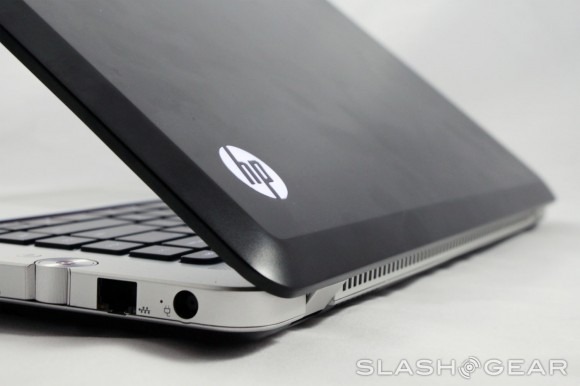 Performance
It's a good time to be a hardware junkie. Even the cheapest Intel Core machine is leaps and bounds ahead of comparably priced equivalents from two or three years ago, and unless you're doing massive amounts of compiling or rendering, you'll never want for horepower on any new laptop. That said, here's the scores for the ENVY 15.
[sgbenchmark id=147 show=score]
Regular use, incluing some heavy Flash and Photoshop editing, showed no noticeable slowdown or degradation in performance. I popped in a copy of Batman: Arkham City just to try out the combination of the processor and AMD Radeon GPU. It's a pretty game that takes advantage of all the latest graphical bells and whistles. When pumped up to full 1080p with all the settings maxed out, the in-game benchmark got around 12-14 frames per second. Dial it batch to 1600x900 with a few of the flashier settings disables, and you can get about 30 FPS. Drop the resolution to 1366x768 (which is all you'd get in similarly priced laptops) and you can get as much as 50 frames per second.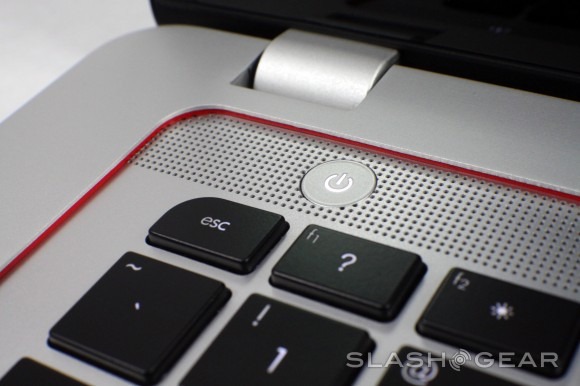 Based on this I'd say you can play just about any recent game comfortably without a problem, so long as you take it easy on the graphical flair. Older favorites like Team Fortress 2 or World of Warcraft should absolutely fly, and look great doing so.
Media & Battery
The ENVY 15 is built for media consumption. Those Beats logos aren't just for show: the speakers are louder and clearer than any I've ever used, including the Macbooks that the ENVY wants to be so much when it grows up. The quick access to a physical volume dial and virtual equalizer combined with an extra headphone-out port make this a perfect laptop for listening to and sharing music. And with that lovely screen and DVD drive (sadly no Blu-ray option is offered) it's a great movie machine as well.

Just don't plan on watching the extended version of Lord of the Rings. Though HP claims up to a 9 hour battery life, I was never able to get more than 3 hours and 45 minutes while doing basic WiFi Internet browsing with the screen at about half brightness. The "power saver" mode seems to do a little better, and I dare say with conservative use and a few tricks (like disabling the petty Aero effects in Windows) you might stretch it as high as five. It's a disappointing statistic in a laptop of this size and weight, and you'll probably feel the need to stash the large AC adapter in your bag for anything more than coffee shop surfing session.
Wrap Up
Is the ENVY 15 as good as the 15-inch MacBook Pro? No. But considering that for the hardware that we tested you'd have to spend nearly $2000 on an Apple machine, it doesn't have to be. If you find yourself spending most of your computer time within the reach of an AC outlet, it's tough to beat for power and media capabilities. I wish it was a little lighter and lasted a little longer, but as a desktop replacement and media consumption/creation specialist, you'd be hard-pressed to find anything with these kinds of specs, fit and finish in this price range.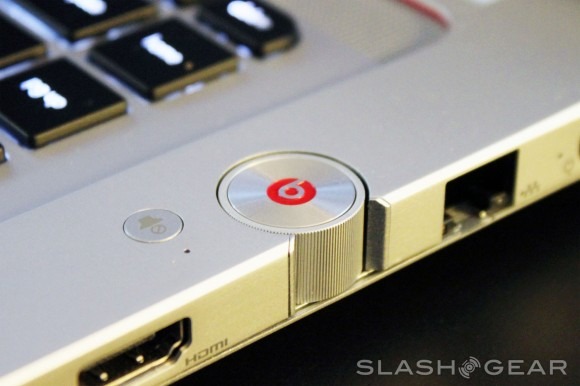 If you're looking to replace an older mid-sized laptop with a solid machine that'll fly through basic tasks and give some great music and video playback, it would be hard to find a better choice at $1250. Just don't buy the ENVY 15 expecting a featherweight road warrior.
UPDATE: At the behest of some of the commenters, I investigated the switchable graphics with respect to battery life. This necessitated going into the BIOS and setting the graphics to a manual switch, since the option doesn't appear in any of the ENVY's standard settings menus. (it might be possible to set this with a newer version of Catalyst Control Center, but it wasn't accessible from the stock software.) Under the default Dynamic setting, it's supposed to automatically switch to the Intel integrated graphics when the high-powered Radeon isn't necessary - apparently the software wasn't activating correctly. When the Intel integrated graphics were activated manually, I got 5 hours and 14 minutes out of the ENVY 15 running the same test. That's not a marathon machine by any means, but it opens up a lot more options for extended portable use.
For a better look at the HP ENVY 15's hardware, check out our unboxing video below: