HP Chromebook 11 yanked from stores [Update: overheating chargers]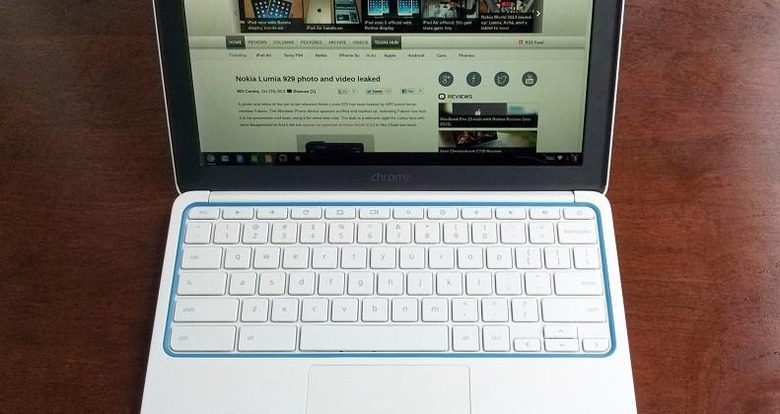 HP's Chromebook 11 has mysteriously disappeared from sale, with the ARM-powered Chrome OS laptop reportedly being pulled from Best Buy shelves after store managers received urgent instructions to freeze sales. The $279 notebook is listed as out of stock on Google's own Play store and at Best Buy, and has vanished completely from HP's webstore; sources told The Verge that according to an internal memo, sales of the Chromebook 11 should cease "effective immediately" and any remaining stock moved off the showroom floor.
"Stores should stop selling the HP Chromebook 11 effective immediately," the internal notification reportedly read. "Partner with Sales Support to pull the product off the sales floor to a secure location in the warehouse."
It's unclear why the urgent instruction was issued, though the Chromebook 11 hasn't exactly had a smooth reception. As we noted in our review last month, the Chrome OS laptop suffers from performance issues in some circumstances, with audio playback stuttering while new browser tabs were opened.
There have also been complaints of periodic touchpad glitches and the overall performance of the Chromebook not matching up to its rivals running Google's web-centric OS. The Intel-powered Acer C720, for instance, considerably out-performed the HP in our testing, even though it is $30 cheaper.
Google and HP are yet to comment on the apparent decision to pull the Chromebook 11, and it's not clear when – or indeed if – it will return to stores at any point soon. It's possible that firmware updates could address some of the performance and responsiveness issues.
Update: In a statement from HP and Google, it turns out that overheating chargers for the Chromebook 11 are the reason for the sudden cease in sales. The two companies are recommending that existing owners stop using their current charger while they wait for a replacement scheme to start-up. The Chromebook 11 was notable for using a microUSB charger, meaning it could be powered up by the same adapter as used by your phone.
"Google and HP are pausing sales of the HP Chromebook 11 after receiving a small number of user reports that some chargers included with the device have been damaged due to overheating during use. We are working with the Consumer Product Safety Commission to identify the appropriate corrective action, and will provide additional information and instructions as soon as we can.

In the meantime, customers who have purchased an HP Chromebook 11 should not use the original charger provided with the product. In the interim they may continue using their HP Chromebook 11 with any other Underwriters Laboratories-listed micro-USB charger, for example one provided with a tablet or smartphone. We apologize for the inconvenience."