HP Chromebook11 official: back in the Google game with color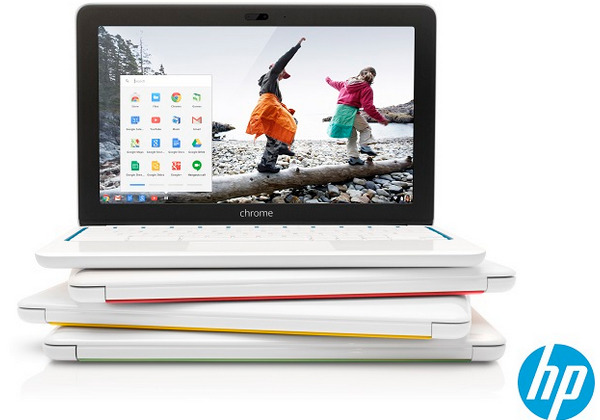 This week the folks at HP have had a couple of leaks of a device that's obviously exciting enough to chat about in secret – now made official in the HP Chromebook11. This device takes on Chrome OS in a colorful manner, coating the outside and bottom half of the inside in a shiny white plastic and the accents in black or one of several brightly colored tones: blue, green, red/pink, or yellow. This Chromebook takes on the estimated street price of $279.99 USD, too, so it's certainly ready to do battle with the rest of the Chromebook universe right out the gate.
HP goes so far as to suggest that their Chromebook11 is "inspired by the Pixel's iconic design" – that's the Chromebook Pixel, if you did not know. This beast is the first Chromebook with an IPS LCD display as well, sporting 1366 x 768 pixels across it. To power this little beast you'll find a Samsung Exynos 5250 SoC with Intel HD Graphics and 2GB DDR3L RAM to back it up.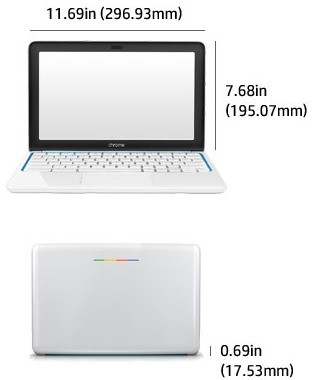 This machine works with what HP calls an "island-style Chrome OS keyboard" and has a clickpad with multi-touch gesture support. You'll find two USB 2.0 ports with USB charging abilities, a 3.5mm headphone jack, and a slimport video out port as well. Above the display there's a VGA webcam for video chat – that's 640 x 480p, mind you.
This machine works with 802.11 a/b/g/n wi-fi as well as built-in optional 3G connectivity, working with Bluetooth 4.0 for wireless file transfers with your smartphones and tablets. The whole unit weighs in at a cool 2.26lbs and features a lovely colorful strip of lights up top – again, just like the Pixel.
Interestingly enough, it would appear that "one gorgeous color option" is available at the moment, that being "Piano White with blue accents". We'll have to wait and see when the other colors come about. This one version works with 16GB of internal storage – plus that 100GB of Google Drive cloud storage that comes with basically every Chromebook under the sun. Have a peek at the timeline below for more HP Chromebook action as well – with more on the way!