HERE Maps hands-on: Google & Apple should be worried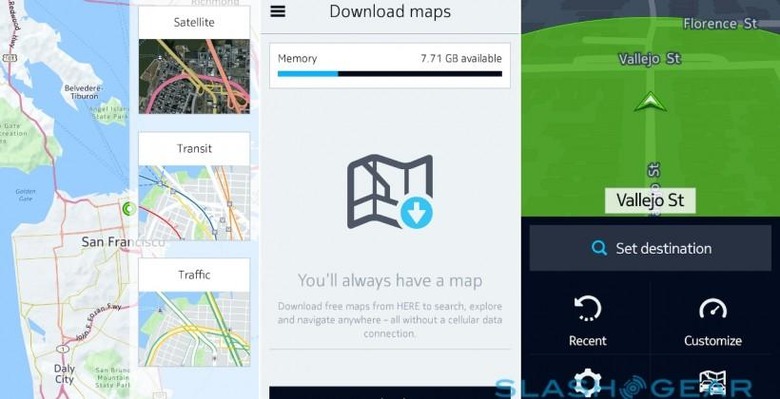 For a long time, Nokia HERE Maps has been Windows Phone's secret ace card. The quiet star of Lumia – and perhaps the most interesting part of Nokia now that Microsoft has its phone division – the app's free offline navigation and comprehensive traffic data service has made it a hit among users. Now liberated from its Windows Phone blinkers, though, the HERE team has spread its sights to include Android and iOS, slipping us a beta version of the app for Samsung's Galaxy smartphones to try out ahead of the full release.
It's easy to assume that one mapping app is much like all others, especially since there are only a few primary data sources that get licensed for use in standalone PNDs, smartphone apps, to be baked into car dashboards, and offered in the browser. If you've used Microsoft's online mapping service then you've actually used Nokia's HERE system, and indeed any device licensing Navteq data originates from the same source.
In reality, though – and as Apple found with the first, semi-disastrous launch of Apple Maps – there can be a sizable difference in user-experience between apps.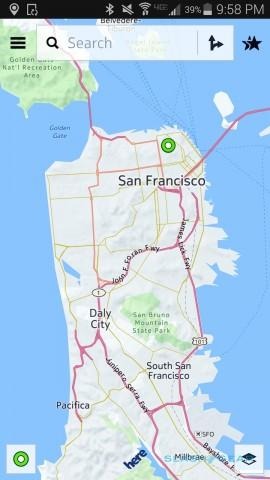 First to get HERE Maps will be Samsung's Galaxy range of phones, thanks to a temporary exclusivity deal (which has also seen a Tizen version built to work with the company's Gear smartwatches). Generic Android and iPhone versions will follow on later in the year.
The core offering will be the same, however. At its most basic, HERE Maps shows, well, maps: either clean and simple graphics or satellite imagery. It doesn't quite fit in with Google's UI guidelines, but then neither does it look much like a Samsung app.
Instead, there are hints of Nokia's Windows Phone design language, and the whole look is clear and simple to read, even when your phone is mounted on a dashboard.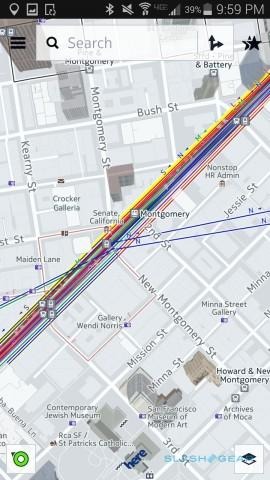 Swipe in from the side and you get a choice of seeing transit and traffic information, the latter fed in from Nokia's exceedingly capable HERE Traffic team, which we visited earlier this year.
Search is powered by Bing, but the results for points-of-interest pull in data from Lonely Planet and other sources, including reviews and more.
Bookmarks can be sorted by your "All-time Favorites," places on your "To-Do List", and "Your Neighborhood", though you can create other categories.
Sign in with a free Nokia account or your Facebook credentials and those collections can be saved and shared with other devices or the web map interface.
Navigation comes in walking, commuting, and driving flavors, with a dedicated in-car view with even bigger buttons and customizable speed limit warnings.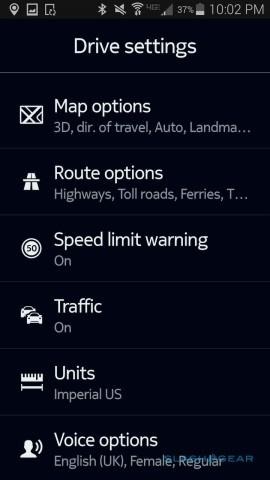 You can strip out all the traffic data and choose to skip certain types of road – like toll roads, for instance – if you prefer, or go the whole hog with 3D routes and landmark information. It looks good on the big screen of Samsung's Galaxy S5, but you might want to be more selective if you have a smaller display.
On the road and on foot, I found HERE Maps to be easy to use and accurate. There's plenty of warning for upcoming junctions – some apps and PNDs only tell you that you need to turn when you're practically upon a junction, at which point you have to ask yourself how you're going to cross over a few lanes of waiting traffic – and it's easy to see either the whole route ahead or alternatives that might be fast.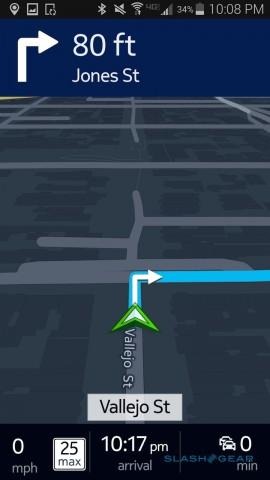 For routes involving public transportation, meanwhile, I found Nokia's way of presenting the various bus and train options more easy to browse and compare than, say, the list view in Google Maps.
What sets HERE Maps apart, though, is offline map support, which allows you to keep a local copy of the mapping data stored on your device. While you can use the app just as you would any other, pulling down map data as and when it's needed (admittedly Google Maps has some local caching, but it's clunky), Nokia also offers entirely free access to different map packages for the world.
You can download a full continent if you have the need (and the storage space: California, for instance, is just shy of 488MB, while the whole US is 4.7GB; Europe in its raw cheese loving entirety will demand over 9GB), or just a specific region, country, or state.
The benefits are two-fold. If you're traveling abroad, you can avoid data roaming fees but still get the benefits of navigation by downloading the local maps first. Alternatively, the app is swifter to render your maps when they're local than when they're being pulled down over your data connection, and if you're suddenly without a decent signal – like in a fringe area without 3G/4G, or going through a tunnel – you still get the navigation.
If your data is turned off, of course, you don't get the added extras: no live traffic updates, for instance, or Nokia's Glympse integration which allows you to quickly share your current location with someone else for a limited period of time. Still, it's probably the closest to a dedicated PND that we've seen from a free smartphone app.
What makes me most curious about HERE Maps is Nokia's own motivation for it to succeed. As a software and services company, Nokia will live and die by the value of the app and data it offers: unlike Google and Apple, which can to some extent rest upon their laurels with the preloaded Google Maps and Apple Maps, HERE Maps needs to be sufficiently compelling for a general audience to consider switching over from the default.
At first glance, there's at least one significant reason to do that when the Android and iOS versions drop, in the form of true offline maps. Nokia's ambitions – and the depth of its data – go far further than just that, however, making HERE Maps one to watch once it's released later in the year.