Grand Theft Auto V lays claim to "fastest to $1 billion" sales crown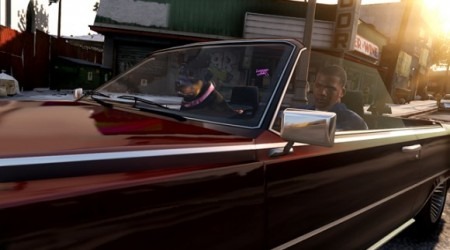 Suggesting that they've attained the honor of becoming the fastest entertainment property in history to achieve worldwide retail sales of $1 billion dollars, GTA V sets itself up against not only other video games, but feature films as well. Though it's not the same industry save its ability to entertain, it is entertaining (perhaps ironically), to compare the sales of Grand Theft Auto V to sales of tickets to major motion picture releases in our collective past. What both Take-Two Interactive Software and Rockstar Games have done this week is to suggest that they're the new kings of speed sales.
What you've got here is what Take-Two says is "according to company estimates" a total of "more than $1 billion" in sales for GTA V in its first three days on the market. They've set themselves up against Call of Duty: Black Ops II which reached its own $1 billion dollar mark after 15 days on the market. Back in December of 2012, Call of Duty took the honor of quickest video game to that mark from Modern Warfare 3, that game having taken the cake after 16 days.
As for the quickest film to grab $1 billion, there's some debate. According to some sources – see that same Call of Duty post – that suggest Avatar was the first to that amount of cash in just 17 days. According to Box Office Mojo, The Avengers were the fastest to every amount of cash from $100M all the way up to $500M, and back in May of 2012, Filmonic suggested that The Avengers made $1BN in 19 days. That amount of cash was made worldwide, while domestically it was a bit longer.
"Grand Theft Auto is a cultural phenomenon and Rockstar Games continues to redefine what can be achieved in interactive entertainment. We are incredibly proud of the extraordinary critical and commercial response to Grand Theft Auto V." – Strauss Zelnick, Chairman and CEO of Take-Two
Grand Theft Auto V itself is set to hit Xbox 360 and PlayStation 3, wisely appearing for these current-generation system rather than waiting several months to release on the Xbox One and PlayStation 4. The PC version of the game has not yet been announced for release, but will quite likely be appearing by the end of the year. While GTAV was tipped for release for gaming PCs by November, it's not yet been confirmed by Take-Two or Rockstar as yet.
GTA V also saw a barrage of accidental early releases overseas alongside illegally downloaded editions, this resulting in a Microsoft ban on consoles for Xbox Live. One early release for GTA V that was issued on purpose was the iFruit app for iPhone and iPad, this app rolling out with go-anywhere interaction and a full-on parody of the Apple mobile ecosystem.
For an in-depth analysis of what gamers will be able to do inside the game once they pick it up, have a peek at our first gameplay breakdown, bordering on the full release – live as you read.