Google's pure-Android Samsung Galaxy S 4 to be US-only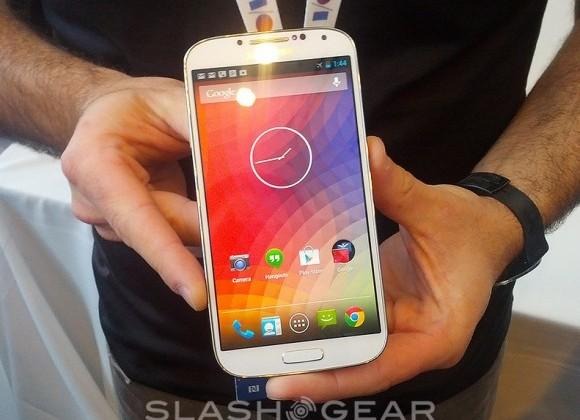 Samsung's clean-Android version of the
, announced by Google at I/O last week, will only be available in the US the company has confirmed, leaving international developers with only the Nexus 4 to choose. The stock-Android smartphone will carry a $649 unlocked, SIM-free price tag in the US, and be sold direct from Google's Play store, but the search giant confirmed to
that developers in other countries will be out of luck.
The news is unlikely to go down well with Google's developer community, already smarting from how the Glass wearable roll-out has been handled. The Explorer Edition of the headset is
only available to coders in the US
, and so far Google's only outreach has been within the US.
Google's argument for the limits on where it can ship Glass has been that the headset is only currently certified for use within the US. Similar hardware reasons could be at the root of the pure-Android Galaxy S 4's availability, too; the phone has an LTE radio, but there are so many LTE bands being operated worldwide, it may well be that Samsung's device simply won't work to its fullest outside of the country.
US availability of the stock Galaxy S 4 is
, and it may be that Google and Samsung will look at US demand before deciding whether to green-light international availability. Although the price tag of the phone isn't particularly outlandish compared to the average SIM-free, off-contract device, it nonetheless manages to look expensive alongside the Nexus 4, which kicks off at $299 ($349 for the 16GB version, matching the Galaxy S 4's onboard storage).
Exactly how the stock-Android Galaxy S 4 – which we managed to grab
a little more time with at I/O
- fits into the overall Android/Nexus ecosystem is not entirely certain. Samsung was of course Google's partner on the Nexus S and Galaxy Nexus, but was replaced by LG for the Nexus 4 (and, so the rumors go, the "
").
Neither Samsung nor Google is calling the stock Galaxy S 4 a "Nexus" device, however. Whether other companies follow Samsung in offering pure-Android versions remains to be seen; despite many requests, for instance, HTC has said it
a version of the HTC One with Sense removed.