Google to launch iOS Maps app in a few hours, sources say [UPDATE: now available]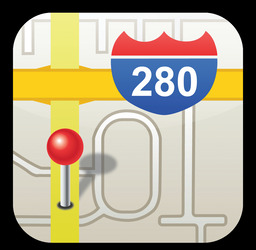 Inside sources are claiming that Google will launch the iOS Maps app "tonight," although when exactly that means is up for interpretation. This move will save iPhone users who have been stuck using Apple's glitchy, error-filled, sometimes dangerous Maps replacement. Assuming "tonight" means by midnight, we could see the app within the next few hours. Update: The app has been released. More info here.
Apple booted Google Maps from its pre-installed pedestal back in September, making iOS 6 the first iteration of the mobile operating system to be offered sans the Google app. Apple's own maps application was offered in its place, but the platform was (and still is) buggy. Many users were upset over the change, stating that Apple pushed the service out before it was ready, leaving users with an unusable alternative.
Apple Maps was recently the source of a police warning in Australia, where authorities stated that the mapping service was sending drives into the middle of a scorching, waterless desert-like national park. One man ended up stranded for 24 hours in the sand after being led astray by Apple Maps, with three other drivers ending up lost as well and in need of rescue. Apple promptly corrected the problem within a day or so.
This comes after a formal apology from Apple's CEO Tim Cook over the fiasco that is Apple Maps, an issue over which Scott Forstall was eventually fired. For now, there's no official word from either Google or Apple about the alleged nighttime release. We'll be keeping an eye out, though, and will be sure to let you know as soon as it surfaces.
[via AllThingsD]