Google shows how far Glass has come from goofy prototype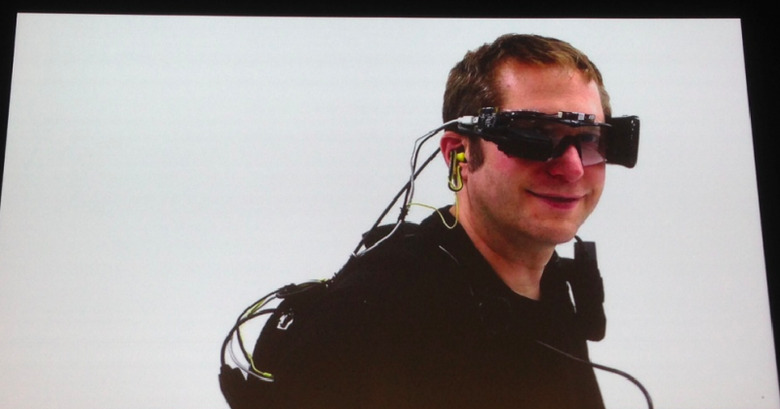 Google may be turning to the fashion behemoth behind Oakley and Ray-Bans to make Glass more aesthetically appealing, but three years back a set of cable-ties would've been more appropriate, a new image of a prototype version shows. Revealed at ThinkLA by Google's Janine Gianfredi of the Glass marketing team, the photo dates back to the days when the wearable headset was physically tethered to a computer in a backpack.
Making Glass self-contained was a key goal by the Google X team responsible for the project, Google's Sergey Brin said back in 2012. However, the early iterations were reliant on laptops and batteries being toted around in a bag, as Google tested out different eyepieces and other components.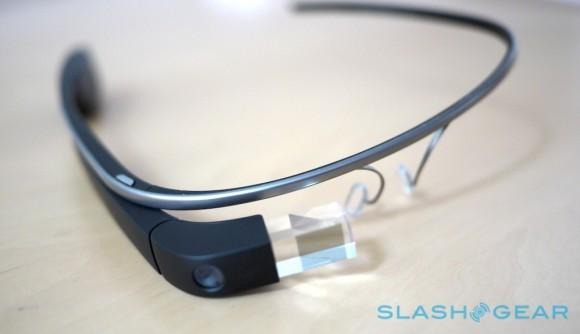 The end result, at least of the Glass Explorer Edition, is the now-familiar titanium headband and plastic eyepiece section, far more discrete than the rig in this new image. Google is yet to reveal what the consumer version will look like.
In-between, Google had a number of 3D printed headsets, which Isabelle Olsson showed us at Google I/O 2013. By that point in the development cycle, Glass was self-contained but still bulky, with large circuit-boards dangling from each arm.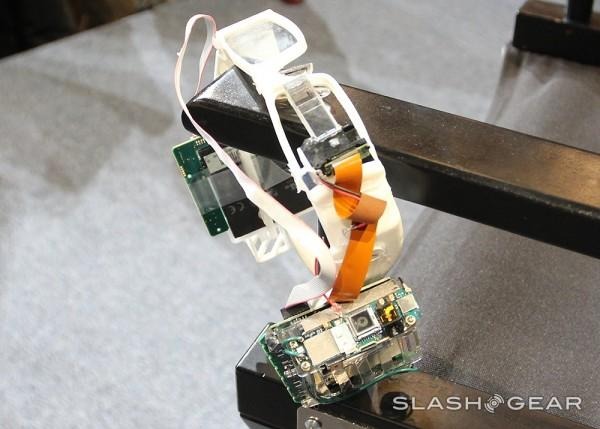 Of course, Google isn't the only company to have bizarre-looking wearable prototypes. As we covered in our history of augmented reality attempts, the segment has been filled with cabling nightmares, crazy headsets, and cyborg-style add-ons.
Earlier this year, Google released the Titanium Collection, its first prescription-ready frames for Glass, which also make the wearable a little more discrete than the standard band.
Google's Glass frames are pretty but dumb
That's not the only overture to fashion, however, with a new agreement with Luxottica – the parent company behind many well-known glasses and sunglasses ranges – resulting in a team of Glass engineers and Luxottica designers who will together create more aesthetically-pleasing options ahead of the consumer launch.
It's not the first work-in-progress tidbit Google has shared this month around Glass. At GDC 2014, team member Timothy Jordan revealed one of the original user-interfaces the Glass designers considered, back when the original idea was to simply make the headset a mobile dashboard of sorts.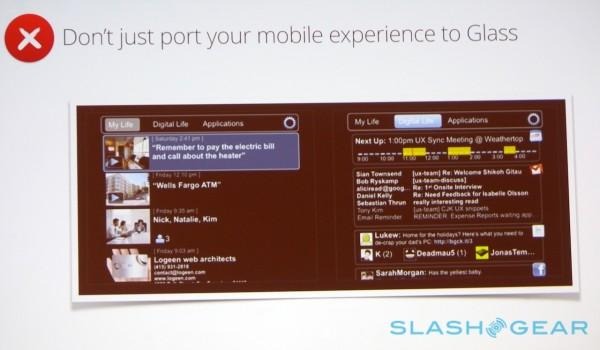 SOURCE BusinessInsider