Google setting up high-speed fiber TV and web service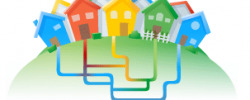 Here in the United States its becoming more and more evident that Google is preparing for a big product, one that not only brings hard-wired internet to your home, but brings you the streaming web you've grown accustomed to as well via Fiber. Google has been busy with the FCC lately, most recently (this week) seeking approval from the group to launch a video service over the fiber network it's already begun building in Kansas City. This service (perhaps only in a limited form) could very well be launching inside the next two months.
According to the Wall Street Journal who uncovered the FCC filing and spoke with an unnamed media executive involved in licensing talks with Google, the service is getting close to launch already. This is almost certainly tied to the Kansas site Google has in motion already with web speeds so fast your eyeballs will blow out of your head. Check out the video launched last year when Kansas first got the Fiber deal with Google at the end of March, 2011:
Should Google take this service and add television to the mix, there's something that's brewing hot. Google has also been tipped to be working on next generation personal communication devices as well as a Google Home Entertainment System which is quite likely the same thing we heard of back at Google I/O 2011 by the name of Android@Home. Combine this with what was revealed earlier this week in Google seeking permission to build a 4.5-meter satellite dish array and you've got a monster on your hands.
Google, we've got a feeling you're about to bring the fire! The fire to our homes, that is, in the form of free cloud-stored media and content stores all working over a network of fiber that you control. Google, you're on to something hot.
[via San Francisco Chronicle]