Google Reader replacement Digg Reader aims to "make the verb meaningful again"

The team at Digg have seen an opportunity in the ending of service in Google Reader – that taking place on July 1st. Speaking with Wired, Digg CEO Andrew McLaughlin spoke of the company and its parent company Betaworks, saying the team is aiming to rejuvenate the entire infrastructure of the site, starting with the Digg button, aiming to "make the verb meaningful again."
It's through Digg Reader that the company will be pushing forward, making like Feedly and retrofitting the ins and outs of Google Reader to their service. Earlier this week, Feedly created a "Cloud" based iteration of its reader which allows users to work with the reading environment inside a web browser – crucial for publishers and bloggers who work on multiple machines (and those that use Chromebooks, of course).
Digg has recently acquired the service called Instapaper, a "read it later" app that makes it its goal to allow people to collect articles on the fly and read them when they've got a moment to have a seat.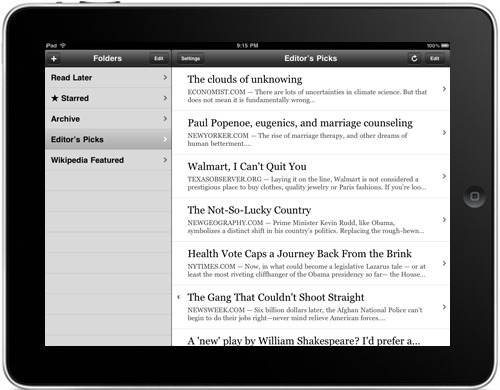 It was back in July 2012 that Betaworks purchased Digg from its previous runners. As Borthwick noted this week, Digg was picked up when "it was really a carcass".
Their mission in running Digg was to update the system but keep the power of the brand: "We would have had a huge legacy to deal with technically if we'd adopted the old architecture." They went on to re-launch the site in a matter of six weeks.
In the Fall of 2012, McLaughlin saw a rumor that Google Reader was shutting down. He took the opportunity to poke fun at a friend who worked for Google with an email suggesting he'd "take [Google Reader] off their hands". Google replied at the time, says McLaughlin says via Wired, with a note on how "it couldn't sell the name, user data, or code base (which would only run on their servers) and so there was nothing to actually buy."
McLaughlin said that he bumped into this same Google-bound friend at a TED conference just a few months later, February of 2013, where he let him in on a little tip:
"He said 'I'm not telling you anything, but we're not going to keep this thing around forever and maybe you want to have something ready by the end of the year." – McLaughlin
Now Digg will be bringing Digg Reader – fancy name, isn't it? To the public bfore too long. What you're seeing below is "one of many" mock-up designs the group is working with – here appearing to be RATHER similar in its basic essence to what Feedly Cloud was revealed as earlier this week.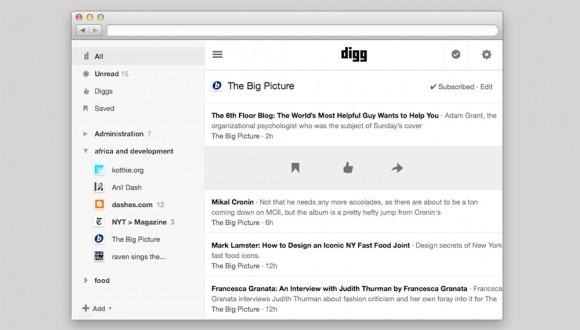 We'll just have to wait and see what Digg unleashes, and unleashes soon (June 26th in Beta form, in fact). Meanwhile feel free to let us know what you're all about: Digg, Feedly, OldReader, or some other web-based alternative? While above this paragraph you're seeing an early version of Digg Reader, below you've got Feedly in it's current state. Choose wisely!