Google Nest Hub Max Review: The Assistant will see you now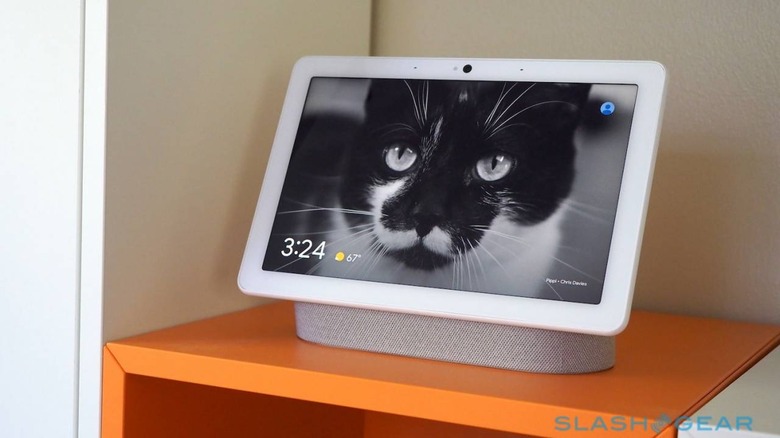 EDITORS' RATING: 8/10
The Nest Hub Max isn't just a larger smart display, it's Google's first where the Assistant can see you, too. If the original Nest Hub was a connected digital photo frame that just so happened to have Assistant smarts baked in, the Nest Hub Max builds on that with a bigger screen, better audio, video calling, gesture control, and – most controversially – facial recognition. Then again, it also comes with a significantly bigger, $229 price tag.
Clearly I have issues visualizing how big Google's smart displays are going to be: the original Home Hub – since renamed the Nest Hub – surprised me with how compact it ended up being, while the Nest Hub Max felt startlingly large when I took it out of the box. Although 7-inches versus 10-inches may not sound like much of a size change, you're actually getting pretty much twice as much touchscreen on the larger model.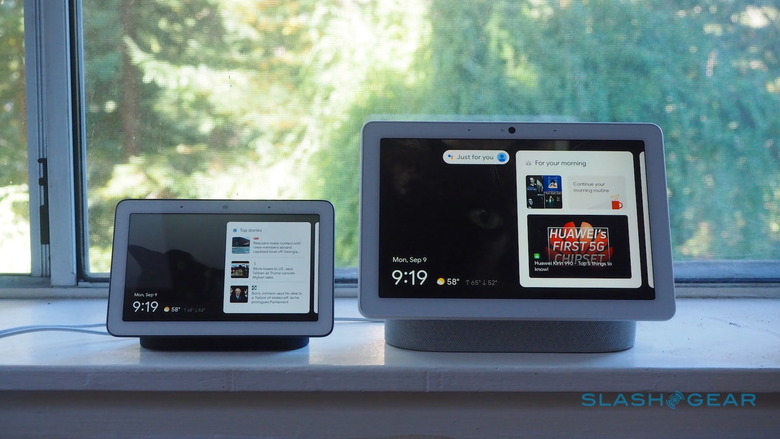 Google's industrial designers either borrowed a successful and distinctive motif and reapplied it to the Nest Hub Max, or they just slapped the plans for the existing model on the office photocopier and hit the enlarge button. It really is just a bigger version, though Google will only be offering Chalk and Charcoal finishes for the fabric-covered stand, unlike the broader range of colors the Nest Hub can be had in. The hardware makes good use of the extra real-estate, though.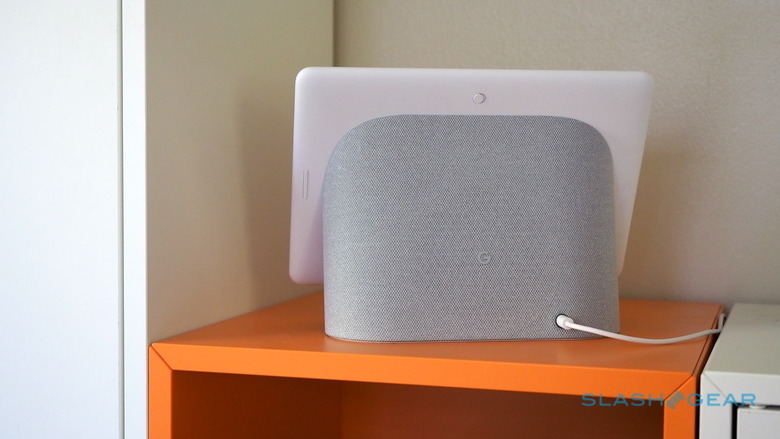 Google Photos albums – which remain my favorite feature for Google's smart displays – look fantastic blown up even larger on the Nest Hub Max. If the original is scaled for a nightstand or desk, this 10-inch version can easily be seen from afar. The same Ambient EQ light-temperature matching technology is used, leaving colors looking more accurate and avoiding glare in low-light situations. You can switch to other standby screen options, or just have a huge clock, but the bigger display means even the smaller clock in the lower left corner of your gallery is now visible from across the room.
That room is likely to be the kitchen, which seems like the space Google has in mind for the Nest Hub Max. The beefier speakers – now with two front-firing 10W tweeters and a 30W rear-firing woofer – are far more capable, adding not only welcome volume but clarity too. A comparatively-priced Sonos One will still outperform it, sure, but then you don't get the display.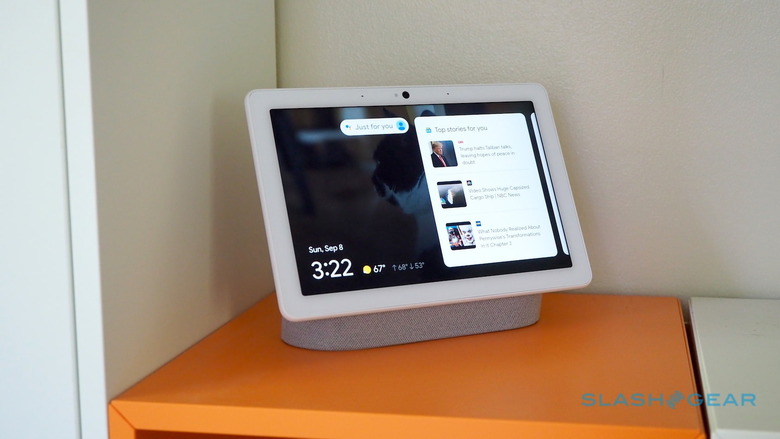 And, frankly, you want the display – along with, despite my initial skepticism, the camera atop it, too. Google took a stand with the original Nest Hub in opting not to include a camera, figuring (correctly, in my opinion) that even the ability to shut it off wouldn't settle the privacy concerns of someone looking for a smart display for their nightstand. The Nest Hub Max, though, has a 6.5-megapixel camera up alongside its light sensors.
You can use it for video calls, and all those megapixels are taken advantage of with a virtual pan and zoom system that tracks you around the room – or expands to encompass more than one person if they're in frame – as though you have a camera operator on-hand. It works surprisingly well, even though you can't tap the touchscreen to select who you want tracked as you can with a Facebook Portal. Unfortunately Google is only supporting its own Duo service for video calls, or audio calls to devices which don't have cameras, while those in the US and UK get free voice calls to landlines and cellphones.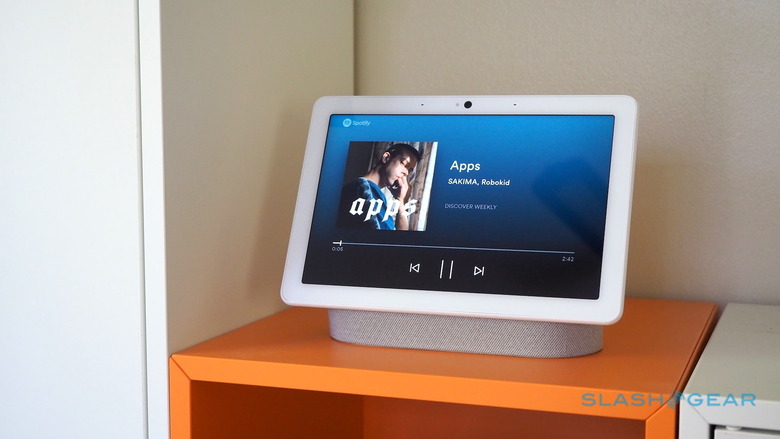 More useful, then, are the gesture controls and the new Face Match feature. The former doubles-down on the idea of the Nest Hub Max as a kitchen companion: hold your palm up at the display and it will pause whatever music, video, or podcast might be playing. Useful if your hands are wet or dirty and you don't want to smear the touchscreen.
Face Match, meanwhile, is the visual version of Voice Match, promising to spot who is looking at the screen and show them personalized results. It's optional (as is Voice Match) and Google says all the data and processing is done on-device rather than in the cloud. Training is built into the initial setup process in the Home app on your phone, and basically involves taking photos of the front and sides of your face.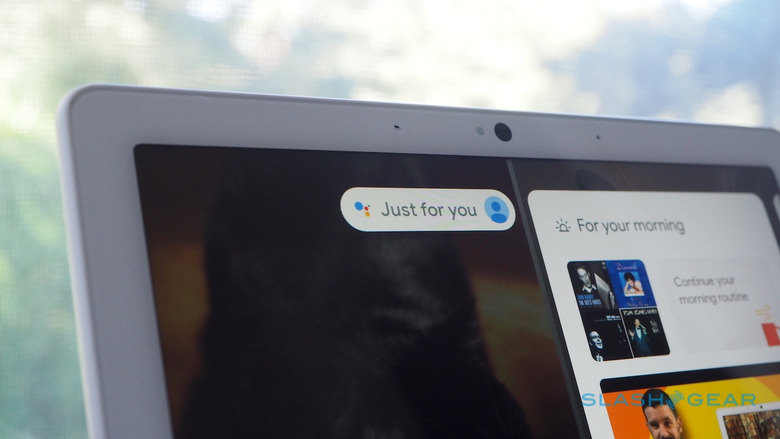 After that, whenever you get near the screen – Google says 3-8 feet is ideal – it should recognize you. Your Google account profile picture shows up as a small thumbnail in the upper right corner, and at certain times – first thing in the morning, for instance – it'll welcome you by name.
What you see on-screen depends on the time of day and your account. If you've told Google your work address, you might get a weather forecast and traffic conditions to the office in the morning; it could pull out your first few calendar appointments and show those, too. That's assuming you're not a G Suite user, mind: for some confusing reason, Google still won't allow those users integration of calendar and inbox with the Assistant on their smart displays. Personalized results stay showing for about 10 seconds after you move out of sight, after which it'll go back to the default UI.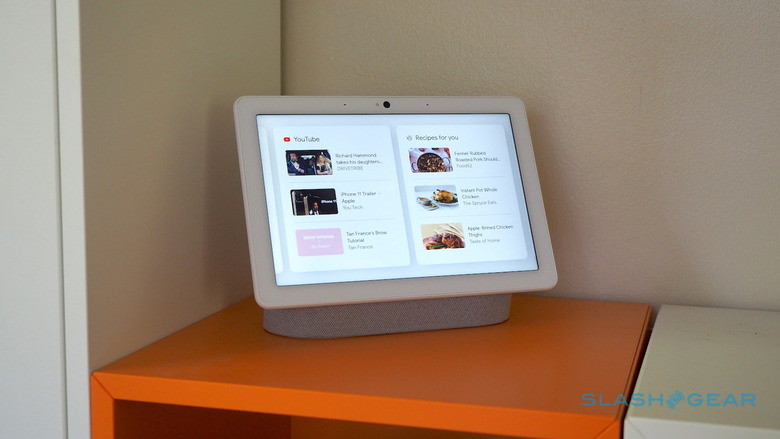 It's clever, and Face Match proved surprisingly adept at spotting me, but it does highlight some clear room for improvement. The cards interface works well on the smaller Nest Hub screen, but they feel needlessly sparse when presented with with double the space on the Nest Hub Max.
There's no habit-based personalization, either. Google tells me it's looking at ways to show different things depending on what you typically do at certain times of the day, like automatically offer connected lighting controls after learning you always adjust the lights when you get home from work, but right now there's none of that. Assignable reminders are handy, however, automatically flashing up when the Nest Hub Max next spots whoever you've pinned them to.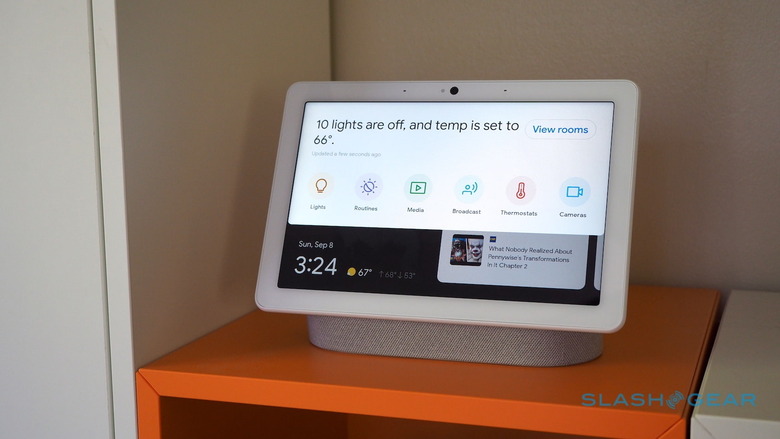 You can also record a video message for someone, and Face Match will let them know they have a clip waiting when they next walk into view. Sadly you can't send a clip from a Nest Hub Max to a Nest Hub, at least not yet, and nor can you take a photo with the smart display's camera and save that to a Google Photos album. I'd love to be able to quickly add selfies to the shared album of images that scroll through on my parents' Nest Hub back in the UK, but for the moment I still have to do that from my phone.
The other big use for the camera ties into the Nest name: the Nest Hub Max can act as a regular Nest security camera, too. You can use the Nest app for event notifications and scheduling, as well as automatic home/away switching, though you'll need to have merged your Nest and Google accounts first. Like a standalone Nest camera there's an optional Nest Aware subscription if you want video clip storage in the cloud. A 30 day trial subscription is included out of the box, but if you opt not to continue it you still get still photo alerts and motion/person detection notifications.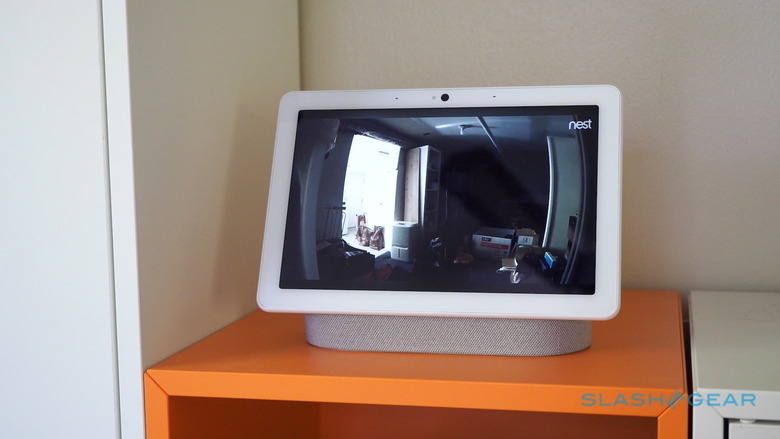 Nest recently updated its cameras so that their green status light always stays on when they're active, and the Nest Hub Max's LED blinks green when someone is tapped into its feed. The switch on the back turns off both the camera and microphone array – you can optionally switch off the camera but not the mics in the settings, if you still want to be able to talk to the Assistant – and though there's no physical cover for the lens as Lenovo's smart displays have, Google says it's electronically disabling things inside so software-alone can't switch them back on.
Smart device privacy, and facial recognition specifically, remains a controversial topic in the connected home, and rightly so. Physical lens cover aside, I think Google has taken a sensibly-restrained approach here: Face Match is opt-in, turning it off deletes the photos it took during the setup process, you can disable the camera, and Duo calling is optional too. If you turn the camera off, of course, you also lose the Nest and gesture features. Google could've used the same Soli radar technology it'll be implementing in the upcoming Pixel 4 for camera-free motion-sensing, but it's unclear how that might have impacted the Nest Hub Max's price.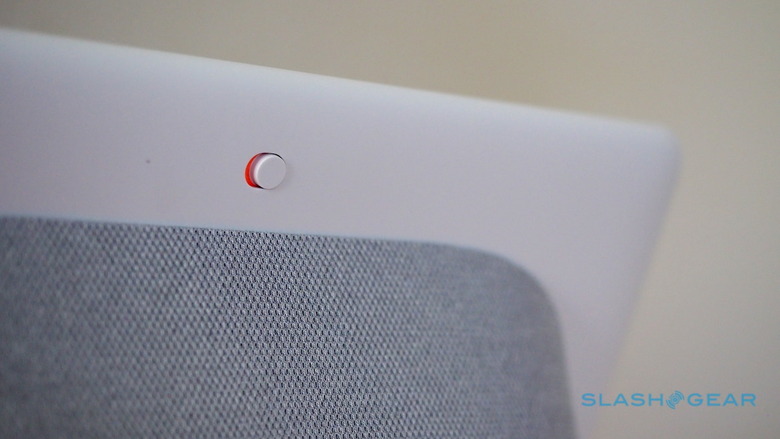 At $229, that price matches Amazon's 10-inch Echo Show, which also has a camera but uses Alexa instead. Side by side I found the second-gen Echo Show sounded a little better than the Nest Hub Max, but Google's smart display seemed more responsive when I interacted via the touchscreen. I've also found myself using the Assistant more than Alexa over the past few months, in rooms where I have both options available, particularly for questions that use the display for answers. I just prefer what Google's AI tells me and shows me.
Otherwise, the Nest Hub Max has the same core strengths – and issues – as its smaller sibling. Chromecast streaming from audio and video apps on your phone is great; the fact that you only get native YouTube and YouTube TV support on the smart display, not Netflix or any other service, is less great.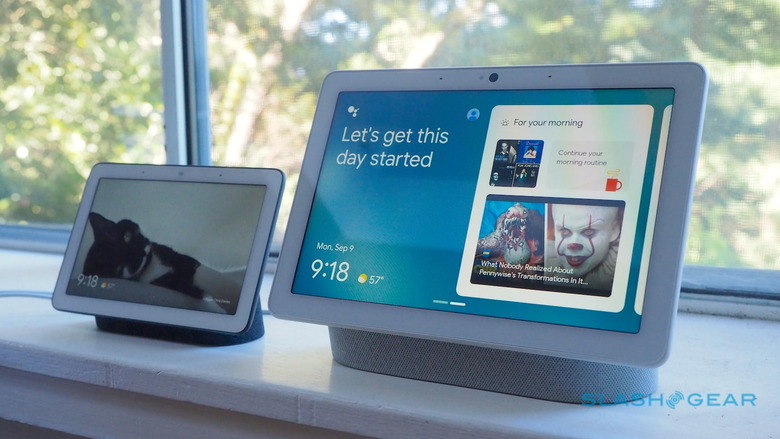 Given the regular price cuts on the smaller Nest Hub, whether the 10-inch version is worth roughly twice the price will depend on where you want to put it. The bigger screen really is a pleasure to use, and make watching video a whole lot more comfortable, while the improvements in audio make the Nest Hub Max a great kitchen speaker. Google's Face Match system shows a lot of promise, too.
All the same, the cheaper model remains my pick if getting access to Google Photos' smarts is of primary interest, and its much smaller footprint makes it less domineering on your desk, nightstand, or countertop. For now, then, the Nest Hub Max is a good buy, but it'll take software refinements making the most of the display to turn it into a great one.