Amazon Echo Show 2nd Gen Review (2018): Alexa the screen star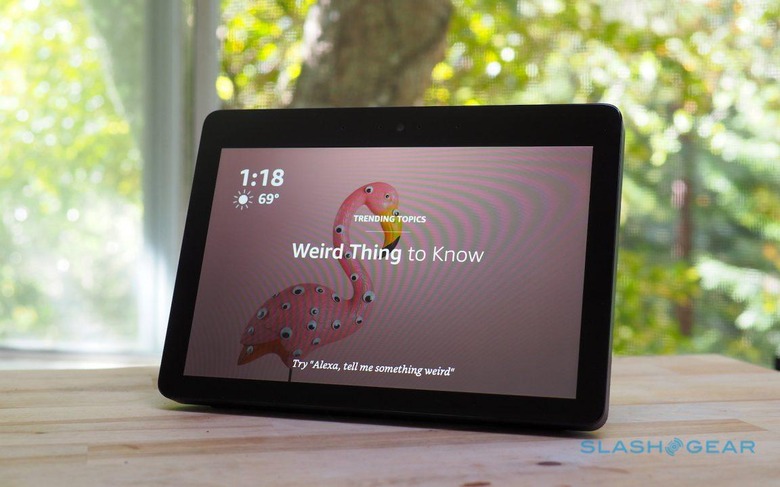 EDITORS' RATING: 8/10
We may receive a commission on purchases made from links.
The new Echo Show 2nd Gen finds a far more powerful Amazon Alexa waiting for it, with none of the touchscreen uncertainty of the original. Back when Amazon first launched the Echo Show, its first smart speaker with a display, few were convinced that Alexa skills would translate from voice-only. A little over a year later, the new Echo Show is still $229.99 but faces a whole new set of skills – and a whole new set of challenges.
A sleeker smart speaker
It's a more home-friendly design than the original Echo Show. That was all sharp-edged plastic and angular corners, like a tiny retro CRT television. For 2018 things get a lot sleeker, with the bigger display occupying a greater proportion of the glass-covered fascia, and the speakers – now moved to the sides – covered in fabric. The buttons for volume and to mute the microphone are smaller, too.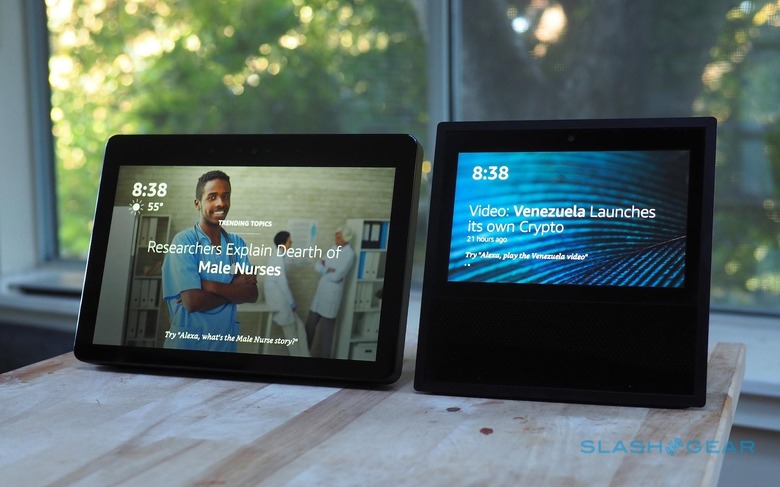 Despite the bigger screen it actually sits lower than the old model, though it's wider and a little deeper. While the kitchen may be a typical place for the Echo Show to end up, there's still no out-of-the-box mounting option to hang it underneath a kitchen cabinet, which seems like a missed opportunity.
On the back there's the (still proprietary) power socket and a port for the optional ethernet adapter, in case you don't want to use the 802.11ac WiFi. There's Bluetooth as well, which allows you to either connect the Echo Show to external speakers, or conversely to use it as a louder speaker for your smartphone. Still no 3.5mm aux-in or aux-out, though.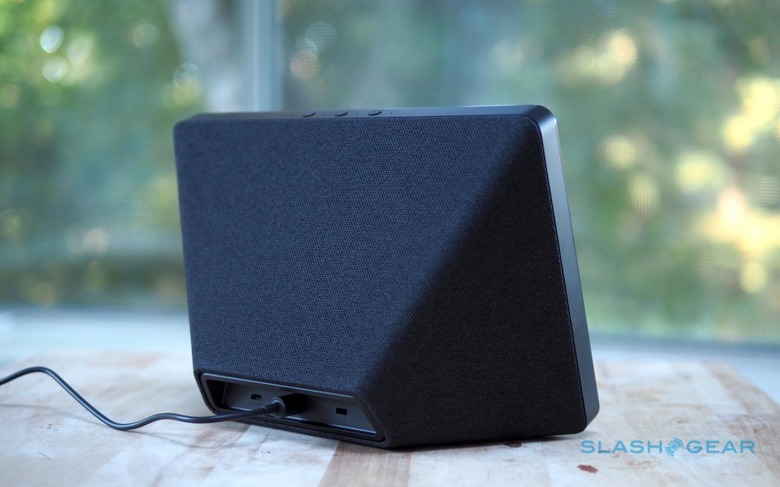 Alexa screen-first
The most obvious change, of course, is the display. Not only is it bigger, at 10- versus 7-inches, it's higher resolution. The original Echo Show offered 1024 x 600, whereas 2018's update cranks that up to 1280 x 800.
Neither may sound like a huge increase on paper, but it's a big deal in reality. The new Echo Show has a screen that's basically twice as big in terms of surface area, and it looks much more detailed. Amazon has made good use of that extra real-estate, too, with full-screen background images for the cycling headlines served up while the smart speaker is idle.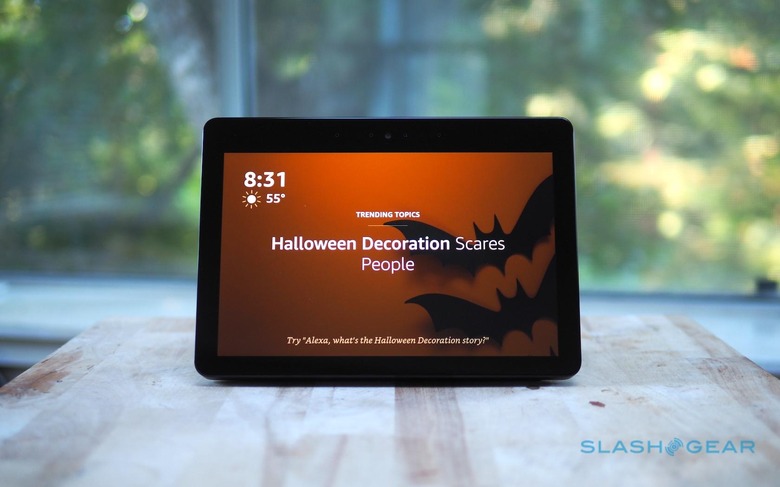 It's not the only interface change. Prime Video now gets a new landing page, with easier access to categories, Amazon Originals content, and more. The goal is to make content discovery more straightforward, though you can of course ask for a particular show. If you have a Hulu or NBC subscription, you'll also be able to get on-demand content or even live streaming TV and sports, though neither was ready in time for my testing.
Come the launch of the Fire TV Recast, Amazon's over-the-air TV DVR, the Echo Show will be able to stream content you've recorded. There's also Vevo music video integration, which works a lot better than the original Echo Show's awkward workarounds to get YouTube access.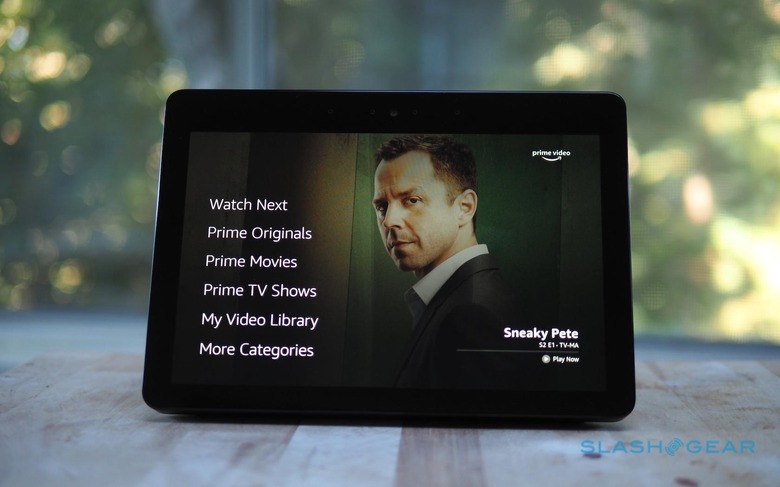 Above the new screen is a 5-megapixel camera, the resolution unchanged from before, though the larger screen does make video calls feel more immersive. Right now you'll still have to use Amazon's own video calling system, which works fine but isn't exactly commonplace, but soon it'll support Skype too. That's going to be a lot more useful.
The other new use for the screen is web browsing, with Amazon offering both its own Silk browser and Firefox. While Alexa may be voice-led, browsing isn't, at least not right now. You open Silk or Firefox with a voice command, but after that the touchscreen is used for inputing URLs and navigating through webpages. It's fine, though most of the time it's much easier to check a site on your phone instead.
A better sounding speaker
Like the original Echo Show the 2018 model has two 2-inch drivers. However Amazon has also added a passive bass radiator for more low end, and the results are definitely noticeable. The new Echo Show gets louder and deeper, and proved easily capable of filling my kitchen without needing to crank up to full volume.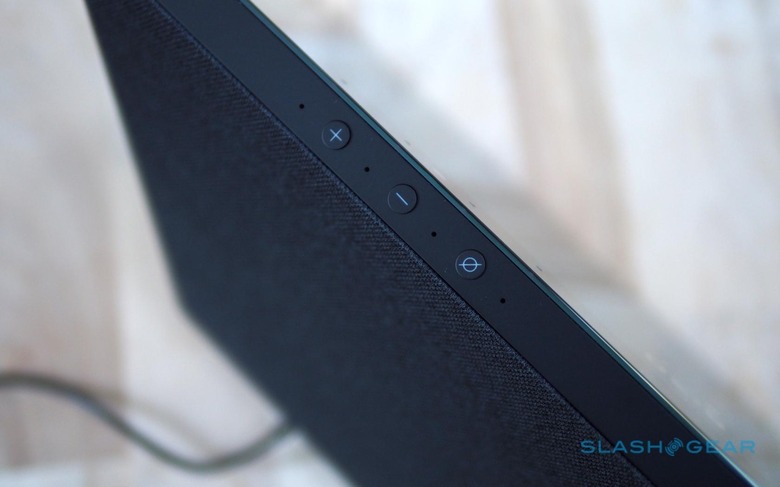 There've been some important music updates since I reviewed the original Echo Show, too. You can adjust the treble, mid, and bass levels by voice, for instance, and there's now multi-room music playback. If you have a number of Echo speakers, you can have them all play the same thing simultaneously.
Alexa, show me a smart home hub
The new Echo Show has borrowed a talent from the Echo Plus, and now includes smart home hub functionality too. That relies on a built-in Zigbee radio, which can directly connect to things like connected light bulbs, locks, switches, plugs, and sensors. There's a growing list of gadgets that are compatible, and hunting them down is straightforward, involving asking Alexa to "discover my devices."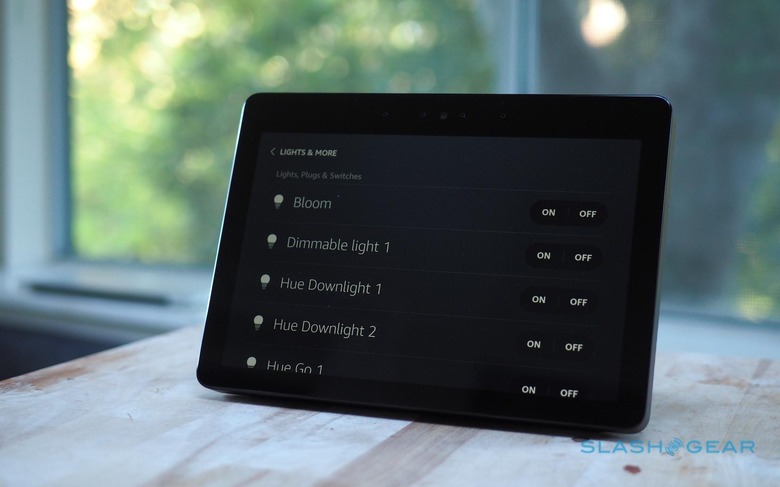 Beyond that, you can control the core functionality by voice or, usefully, by touch too. I have various Philips hue bulbs set up, for example, and so can ask Alexa to turn them on and off. However, you can also swipe down from the top of the Echo Show's touchscreen, tap the "Lights & More" option, and get a list of all your devices to control silently. It's useful if you're trying to keep the noise down while other people sleep, or to quickly switch on or off a number of different devices.
Alexa routines are also supported, again by either voice or touch. These allow you to group different actions together – switching off all the lights and locking the doors, for example – to trigger in one fell swoop.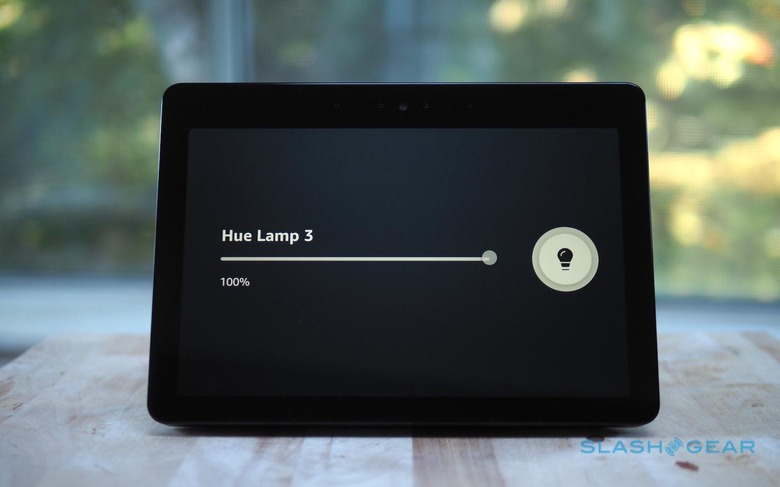 As before, you can bring up a live feed from a connected camera on the Echo Show's display. Eventually, if you have a doorbell camera, you'll be able to use two-way audio to talk with people at the door, as well as integrate it into a routine that announces movement and can trigger things like porch lights. Unfortunately there's still no way to browse back through the video history, even if your camera of choice supports that. I have a Nest Cam Outdoor, for instance, with a Nest Aware subscription, but the Echo Show will only play a live feed rather than clips that have been saved.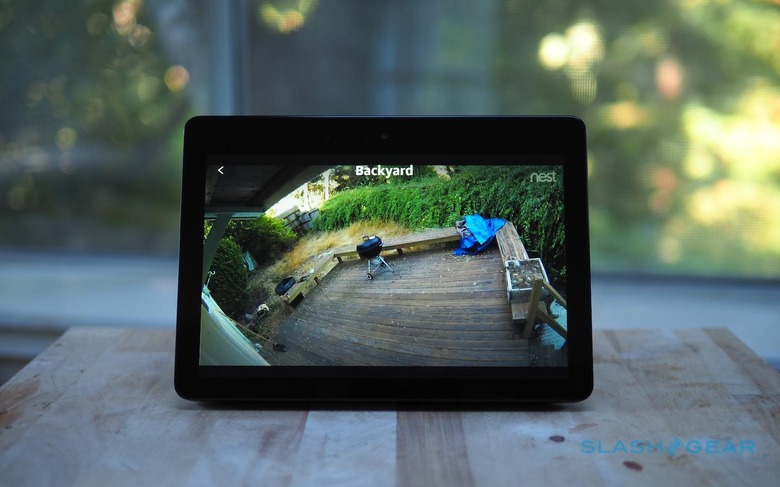 It's not the only case of partial feature support, either. Typically the native app for each smart home device offers more flexibility than Alexa does, whether that be more granular control over the color of your LED bulb, or the ability to add guest codes to a smart lock. Nonetheless for convenience it's a good place to start in the IoT, and even if you stick with setting up each device individually as normal you can still access them via Alexa and the Echo Show's control panel interface.
Alexa as cooking tutor
With the kitchen counter such a hot spot for Echo Show placement, Amazon's decision to give Alexa better cooking skills makes a lot of sense. Sadly she's not quite up to sous-chef levels, and she still won't help with the dishes, but getting recipes and guidance is a lot easier.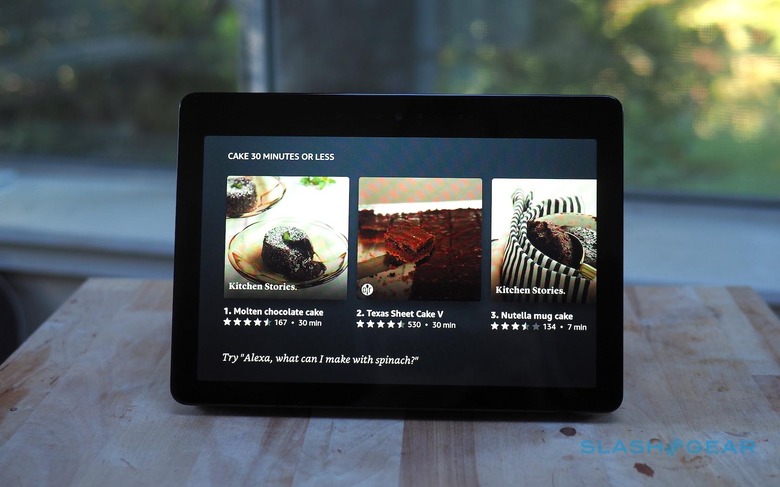 Amazon worked with partners like Allrecipes, Epicurious, Food52, TheKitchn, and SideChef to make their recipes easier to consume on the Echo Show's display. You can search for a specific meal, or by ingredient, or even for something more general like "a quick lunch recipe" and get a carousel of options. Picking one offers the video, if available, which you can play, or you can say "Alexa, let's start cooking."
That breaks each stage of the process up into a single screen of information. You can navigate forward and back by voice, and if there's a related picture you see that too. If you need another Alexa feature – to set a timer, for instance, or get a measuring conversion – the Echo Show serves that up and then returns you to the point in the recipe you left off.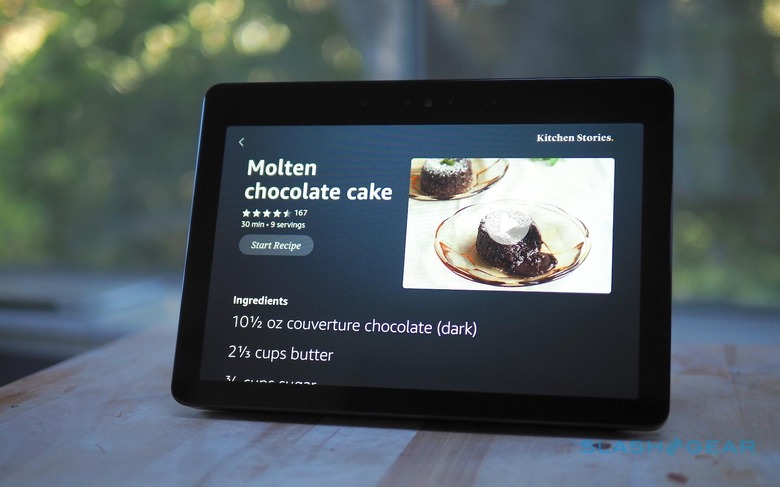 It works well, though it's still not the easiest way to browse through a whole bunch of meals. "Alexa, show me paleo recipes" and "Alexa, show me recipes with cherries" worked; however "Alexa, show me paleo recipes with yams" did not. I found myself missing the ability to find a recipe on my phone or tablet, and then send it to the Echo Show for hands-free access.
Echo Show 2018 vs the competition
Amazon may have had the touchscreen smart speaker segment to itself when the Echo Show first launched, but since then we've seen Google wade in with its Smart Displays. For the moment the Lenovo Smart Display is the best known, though we're expecting a Google Home Hub to arrive imminently, too.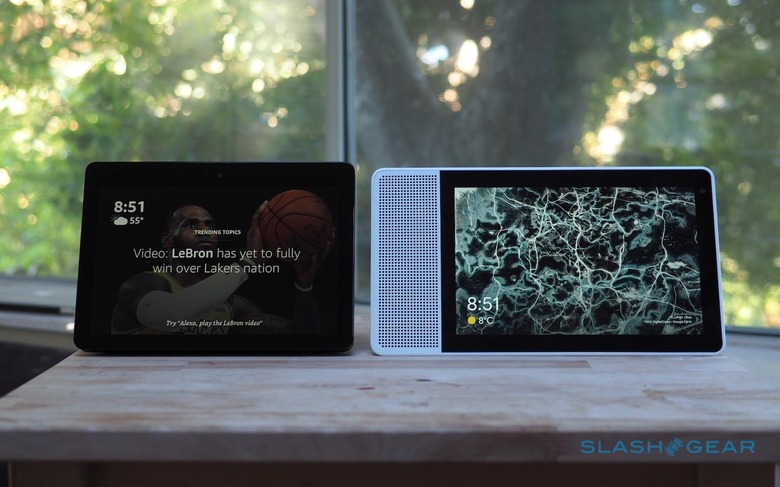 Lenovo's 10-inch Smart Display is the most directly comparable to the 2018 Echo Show. Each has the same screen size, though Amazon undercuts its $249.99 rival by twenty dollars. Side by side, the audio quality from the new Echo Show is noticeably better. Much more bass than the Lenovo, and greater clarity for the treble.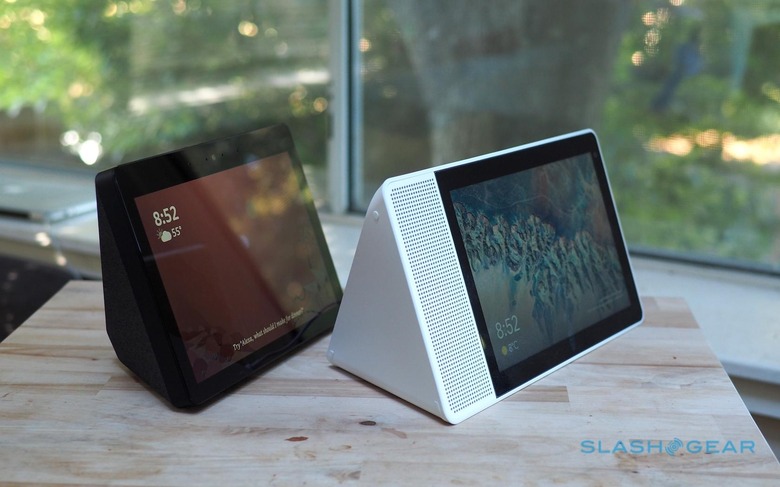 As for the smarts, which is more valuable will depend on a couple of factors. If you've already bought into a smart assistant platform then your decision is a lot easier, of course. If this will be your first smart speaker, then it'll come down to things like whether your digital life is Google-centric, which would err on the side of the Lenovo. I prefer Google's answers to general knowledge questions, but I like Amazon's multimedia, particularly how Alexa now plays nicely with Sonos.
Should current Echo Show owners upgrade?
Owners of the first-generation Echo Show might be looking at this big-screen update with no small amount of envy, but they shouldn't feel too bad. Certainly, if you want the 10-inch display and the much improved audio quality you'll need to cough up the $229.99 for a new Echo Show. If it's just the functionality you're interested in, however, it's not such a clear-cut decision.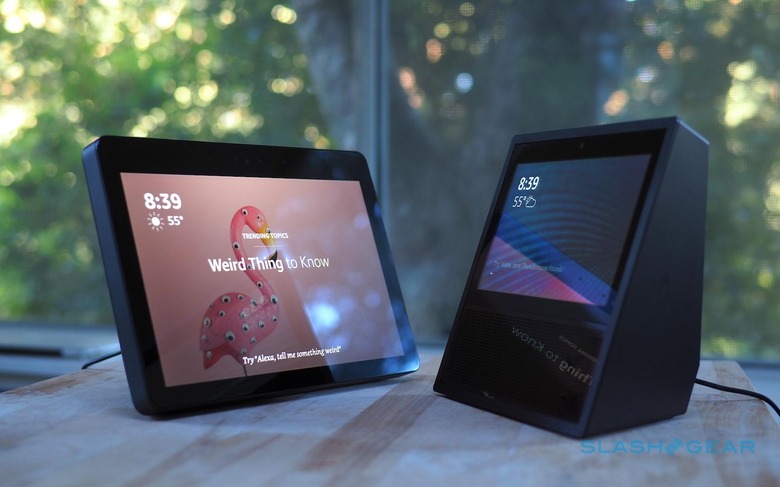 That's because Amazon intends to push out all the new software features to existing Echo Show devices. That includes the step-by-step recipes, new Prime Video landing pages, and two-way doorbell conversations. As always, the update will be delivered invisibly, typically when your Echo Show isn't in use overnight, and you'll just find the new features ready and waiting.
Whether it's worth upgrading, then, depends on how you use your Echo Show. If that's primarily for music or video, then the 10-inch screen and new speakers are clearly an improvement. If, however, it's your kitchen counter co-pilot, the smaller footprint of the original Echo Show – and the fact that it's plastic-bodied, not fabric, and thus easier to wipe clean – might actually make it easier to accommodate.
Verdict
Looking back at what I wrote about the original Echo Show, I'm struck by how many of my criticisms Amazon has addressed in less than 16 months. Multi-room audio, individual user voice-recognition, and the ability to use the touchscreen as a smart home control panel are all here. Notably, many of the features didn't even need to wait until this new hardware, with Alexa simply gaining talents over the intervening months.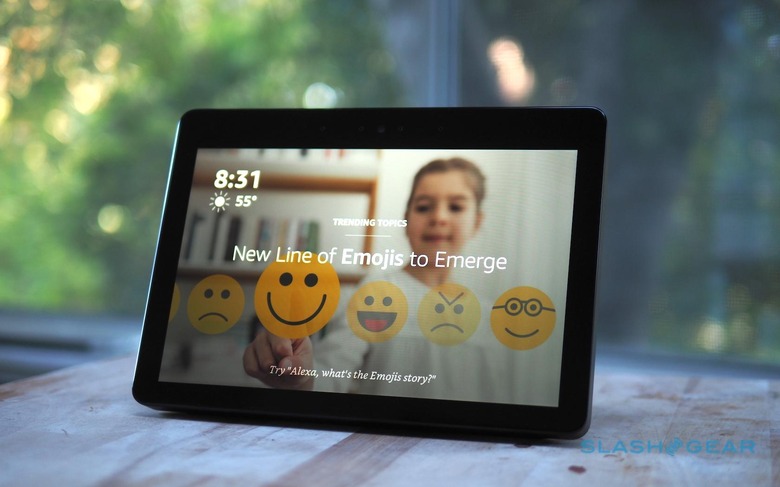 It's a relentless pace which looks unlikely to slow down, and it gives me more confidence that, though there's still room for improvement, there's a greater than average chance that Amazon will address that sooner rather than later. Honestly, that reassurance is something conspicuously missing from most tech products out there. I'm not sure there's anything on the market right now which has improved so measurably since launch as the Alexa platform.
Nestling at the heart of that ecosystem, the $229.99 Echo Show 2nd-generation has none of the uncertainty that the original suffered from. Amazon's assistant has proved herself not only at home on a touchscreen device, but arguably works better there. With the perfect mix of show and tell, the new Echo Show 2nd Gen is the best way to engage with Alexa.
SlashGear uses affiliate links, and sometimes if you buy something we'll receive a small commission