Amazon Fire TV Recast Is The New DVR To Beat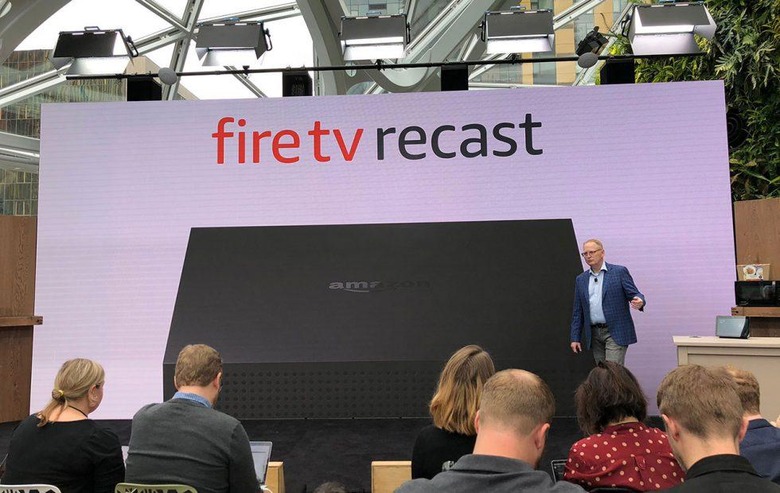 Today Amazon tapped into the DVR business with Amazon Fire TV Recast. This is a device that connects to an antenna on one end and broadcasts TV networks through Amazon Fire TV devices on the other. It's simple, and it's about to do some real damage to companies like TiVo and Dish, quite likely.
The Fire TV Recast is a DVR broadcast device first introduced this week by Senior Vice President of Amazon Devices Dave Limp at an Amazon devices event on September 20th, 2018. This device looks like a box. And really, what else would it need to look like? It's going to be hidden in your home and it'll do all its work silently.
Television show recordings can be made with the Fire TV Recast, and each of these recordings can be seen on Amazon Fire TV devices – and Echo Show – like normal TV broadcasts. This device can record 2-4 shows at one time and can stream video to multiple devices at once. Soon we'll see a full list of devices to which this DVR can broadcast. For now, courage.
The Amazon Fire TV Recast will be available in a couple of different iterations. The smaller is a 2-tuner version with 500GB internal storage, and it'll be available for $230 USD. The other version is a 4-tuner machine with 1TB storage, and we do not yet know the price – but you can surmise already that it'll likely be between $230 and $300 – or thereabouts.
UPDATE! Right in the middle! The price of the 4-tuner version of the Fire TV Recast is, in fact,
$280! Now, if only they'd sell it with a fabric cover, so I know none of my devices are just plastic, that'd be super duper.