Google Maps just evicted Uber bookings [Updated]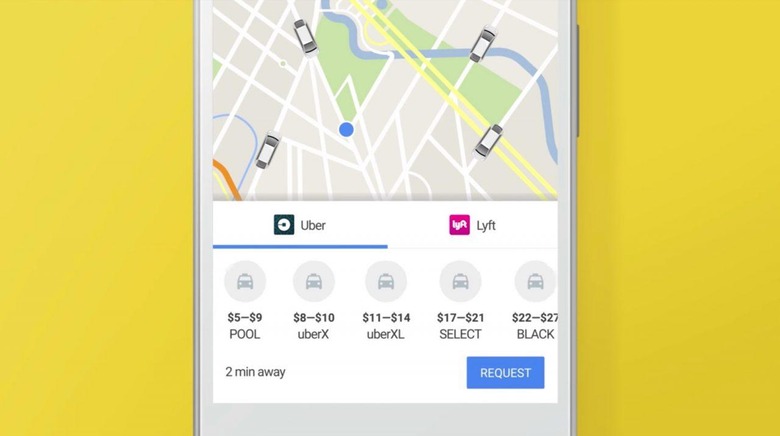 Google Maps users can no longer use the app to book a ride with Uber, with the option quietly disappearing from both the Android and iOS versions of the mapping app. The change means that, in the US at least, only Lyft is integrated as a route option when using Google Maps for directions.
Google added the ride sharing integration to Google Maps back in 2014, offering Uber as an alternative to the regular driving, pedestrian, and public transit options. In early 2016, it opened that up to some of Uber's rivals, adding a Services tab. Still, it wasn't a free-for-all: Google worked with specific companies on a country by country basis.
Later that year, Lyft showed up in the Service tab. At that point, Google Maps was showing different car types for each ride sharing service – such as UberX or UberXL – together with an estimate of how much the selected trip might cost. Come early 2017, meanwhile, Google Maps integrated Uber trip bookings, allowing the whole ride to be managed from within the app rather than requiring a handover to Uber's own software on the phone.
Now, though, things are changing again. Google Maps for both iPhone and Android is no longer showing Uber even as an option in the Services tab. In the US, that means Lyft is now the only option, location depending.
[Update: According to Google PR, what we should be seeing is Uber as an option in the Services tab, but with the "Open App" button. However, we've tested that from multiple locations and on multiple devices, and only a small number of them are actually showing Uber details at all, only Lyft. Google says it's investigating what might be happening.
Update 2: Google tells us that the reason we're not seeing Uber as an option is that Google Maps hides it when there are no nearby vehicles available.]
According to a service support page update, spotted by Android Police, the change is no mistake but an intentional switch. "You can no longer book Uber rides directly in Google Maps," the page read. "But you can still look up the route in the Maps app and then request the ride from the Uber app."
Interestingly, when we checked the Google Maps app on an Android device, the Uber option was not present at all. That's in contrast to Lyft, which still shows estimates for different car types, though you have to tap thew "Open App" button to actually order the ride in the Lyft app. If you don't have that app installed on your phone, you're directed to the Play Store or App Store – OS depending – to download it first.
It's unclear what prompted Google's change here, though it's worth noting that the company does have a stake in the game. Google's corporate parent, Alphabet, has a $1bn stake in Lyft, which it bought in late 2017 via its CapitalG investment arm. In 2013, meanwhile, Google Ventures invested $258m in Uber.
However that was followed by a lengthy legal battle in which Waymo, the autonomous driving company spun out from Google as a standalone business under Alphabet, accused Uber of stealing self-driving car tech secrets. That ended in a settlement in February of this year.