Google Maps for iOS Review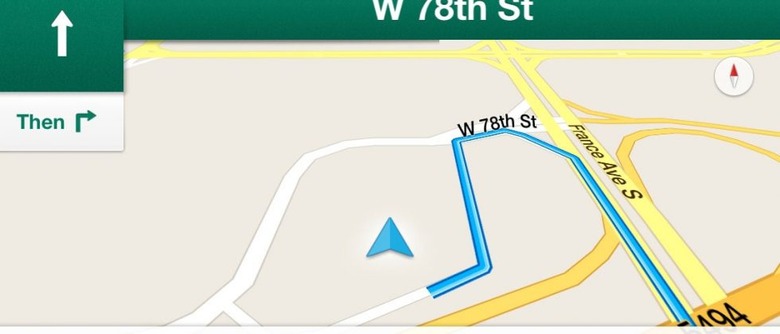 It's finally time to get (back) to business with a Google-run map app for iOS, this time with Google Maps own unique app separate from the main built-in collection of iDevice apps. For those of you that haven't followed along with the iPhone since its birth, you should know that it was only with iOS 6 and the iPhone 5 that Apple cut ties with Google Maps for their Maps app that comes with the iPhone, iPad, and iPod touch right out of the box, replacing it with their own branded Apple Maps. [See our supplemental Google Maps vs Apple Maps hands-on to the airport post for one part of the big battle.] Now with Google Maps, Google has its own unique app that brings not only a new face to the iOS version of their central mapping ecosystem, but a new look for the app for all platforms as well – in iOS 6 this UI is unique!
What we've got here is a Google Maps that allows spoken-aloud turn-by-turn directions for your iPhone (and other iDevices if you wish) as well as taking the full experience as it exists on Android on over to Apple's products. The user interface is stripped down to the bone, leaving as much room for the actual displayed map as possible as you travel through your city in your own car, on public transport, or on foot.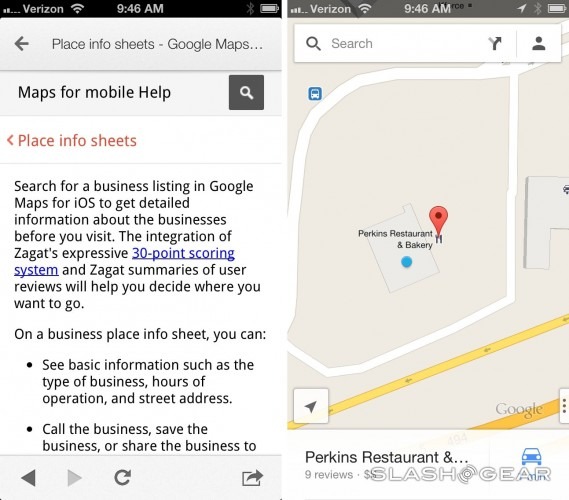 Open the app – the completely free app, mind you – and you'll see a familiar Google Maps vision sitting directly on top of you. If you're at Perkins, you'll see that location in just about as basic an aesthetic vision as possible, with roads, buildings, and landmarks marked. You need to activate your GPS on your device to make this happen, of course, and once you're in, you're ready to navigate the earth.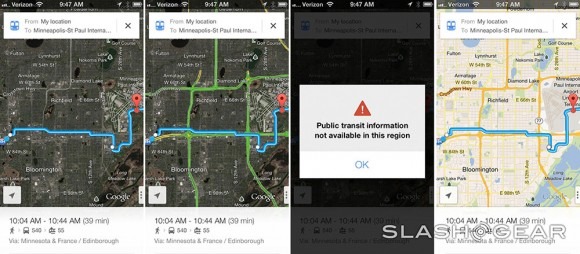 You have several choices for how you're going to view the area around you (or anywhere on the planet that Google has mapped) including Traffit, Public Transit (not always available everywhere, same for traffic), and Satellite – this last option shows you a view from Google's satellite photos taken of basically everywhere on our globe. You also have a link out to Google Earth, the app Google has to show you more 3D action on the fly of buildings and landscape in the areas they've mapped out thus far.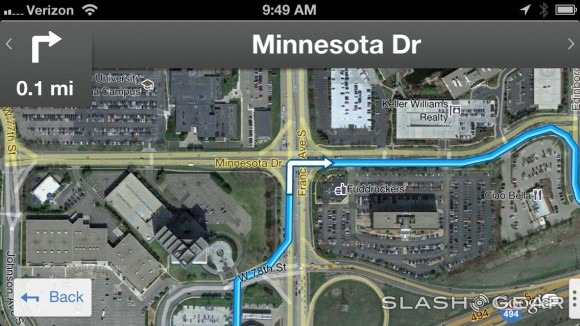 Near the top of your display you'll see a Search Bar that brings you instant results once you start typing addresses or names of businesses, and results are broken up into instant results and "nearby from your history." This nearby section shows a history of results you've worked with based on your physical location – different results if you're at home, work, halfway to Siberia.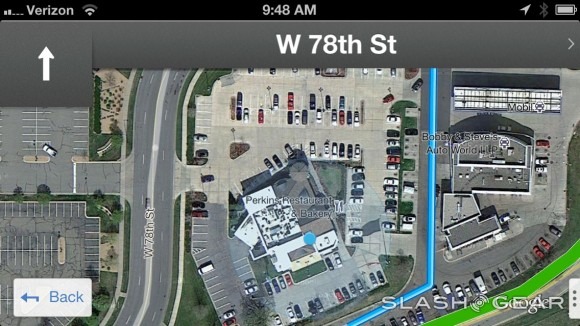 Tapping the current location button in the lower left-hand corner of the screen brings you back into your current place of existence facing the direction you're facing at the moment, tapping it again shows your location with everything correct compass-wise. There's a shortcut to recent locations you'd like to navigate to on the right of the search bar and all the way on the right of the search bar you've got a little person icon.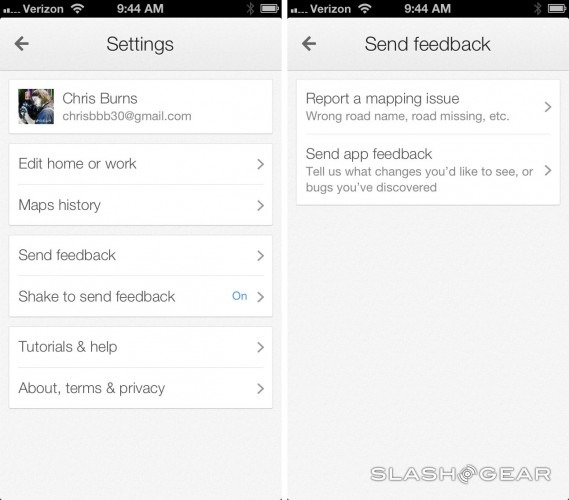 This little person icon links you in to your profile and the ability to set Home and Work locations – you'll remember this feature from SCOUT by Telenav, another GPS-centric mapping app that also offers free turn-by-turn directions as well as a top-notch user interface that really pops!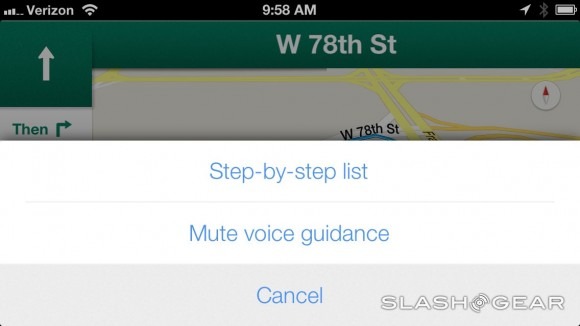 Inside your settings you'll also see the ability to edit your Home and Work locations, see your Maps history (and delete entries, if you wish), and a place to send Feedback. You can also Shake to Send Feedback – this being rather convenient if you're extremely lost and want to complain about it really, really easily. There's also a Tutorials section that allows you to see the gestures you can use to show all of the features in the app.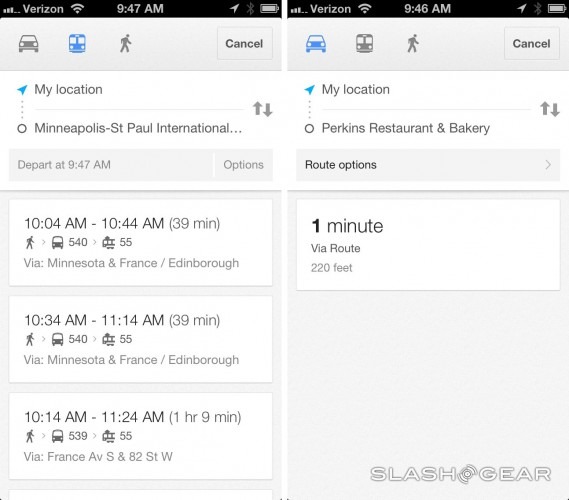 Turn-by-turn directions are as accurate as they've ever been with Google Maps and match the accuracy of the platform on all devices – on your desktop the same as on your Android phone. You can preview the directions you want to take, step by step, you can display your directions as a step-by-step guide without turn-by-turn if you're wanting to go back in time, and you can adjust for each of the separate means of transport Google Maps supports.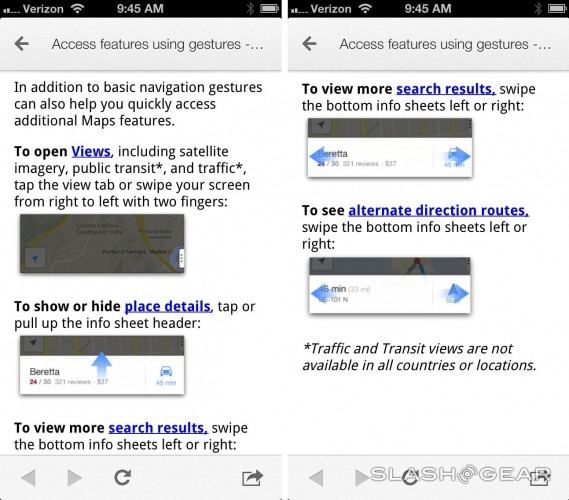 Basically this is easily one of the most deceptively simple-looking navigation apps available for the iOS platform today, packing the power and reliability of Google Maps for the masses. You'll want to take note that Google has had a "Navigation is in Beta" note on their Navigation piece to this puzzle for several years, be it on Android, here on iOS, or elsewhere, so it's not perfect: but it's close!
The Google Maps app for iOS reached #1 in the iTunes App Store in less than 12 hours – and with more than 8,000 reviews up already before its first full day on the market, it might be time for you to check it out.