Google Maps for iOS already number 1 in App Store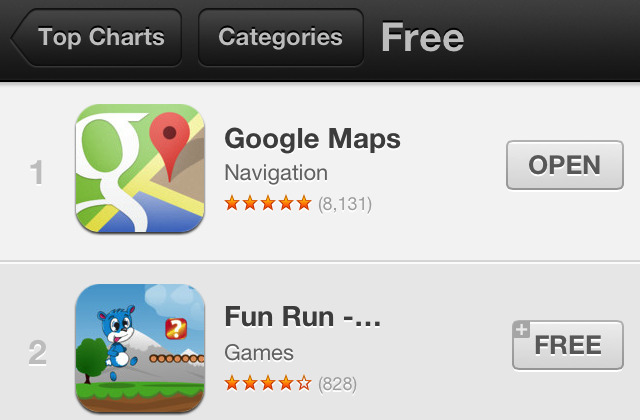 Google Maps for iOS has already grabbed the top spot in the App Store, only hours after being released, with demand for the mapping and navigation alternative proving sky-high. Currently occupying the number one position in free apps chart, with a 5-star rating based on over 8,000 reviews, the free download returns Google's turn-by-turn navigation and Street View photography to the iPhone. As for why it took a little longer than many hoped for, Google execs point out that it's no straight port of the iOS 5 version.
"The reason is that a mapping app is not a regular app with displays and images. It's like a game, its OpenGSL" Daniel Graf, director of Google Maps for mobile said of the development. "There's a huge team here. We worked on it for quite a while. In terms of timing, there wasn't any plan, to wait a bit. We wanted to get it ready, the team worked day and night and we want to give our users the best experience possible."
That could well explain why there's currently only an iPhone-optimized version, not one for iPad. At the moment, open up Google Maps for iOS on an iPad or iPad mini, and you'll have to cope with a pixel-doubled version at best.
[polldaddy poll=6765628]
The urgency to get the software out of the door, even given its completely changed UI and feature-set, may well explain that partial release. Apple's annual shut-down of app approval over the holidays could also be a contributing factor; by pushing Google Maps out now, the development team still has some time to respond to bug reports and feature requests.
Judging by the download response, however, even the first iteration of the app has found an eager audience. The fact that Apple won't allow it to be set as the default may prove frustrating, however; even with Google's new SDK, and functionality which allows developers to set addresses to open in Google Maps rather than Apple Maps, it means preloaded titles like Safari on the iPhone will always default to Apple's own mapping offering.