Google is experimenting with "call a doctor" video chat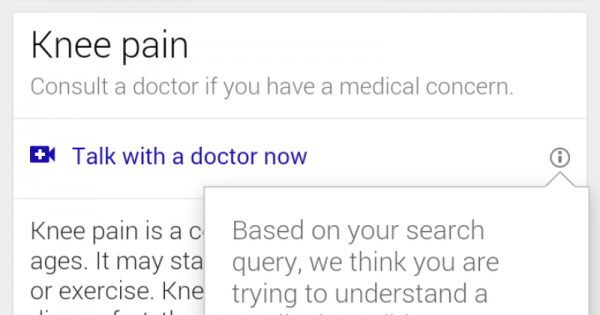 As we've mentioned before, tech companies are now getting into the health business as well. Although Google already has its hands partly inside the health cookie jar, with thrusts like Google Fit, it seems that that company is planning on getting deeper and more involved with people's medical needs. Google has hinted that it is considering a new service, integrated into its already many services, that would let users consult a proper doctor for whatever concerns they may have, like a Helpouts but with certified physicians.
Google launched Helpouts almost a year ago as a video chat help system that revolved around experts from different interests and fields, with different pricing rates as well. Lately, we haven't heard much about it, especially its health as a service and as a source of revenue, both for Google and for helpers. Last week, however, there was news that Google is starting to integrate Helpout channels with search results, allowing users to easily discover and jump to available sources without evening knowing about Helpouts. One thing that stood out, however was the fact that there was an option to talk with a doctor via video chat.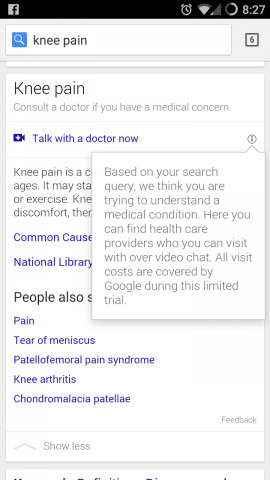 Google seemingly confirmed that it is indeed testing out an offering like that, though it doesn't go into detail about the mechanics of such a feature. If this is true, Google might be able to beat Facebook not only to the punch but also to value. Facebook has been recently said to be considering entering into the health biz as well, leveraging on the social hubs that have grown around sites that cater to people looking for opinions and advice about certain medical conditions. While easy and convenient, especially under the blanket of anonymity, users are open to abuse as well as misdiagnosis, things you are less likely to run into when professionals are involved.
That said, Facebook's rumored enterprise might have distinct advantages, especially if users are actually apprehensive about talking to a real doctor or the expenses that might be incurred. Google's call a doctor will definitely have a price tag attached as well, just like some of the Helpouts offerings available. For now, however, the service is said to be offered for free, though the exact coverage in terms of medical fields is still yet to be revealed.
VIA: Engadget