Google offering video chat sessions via Search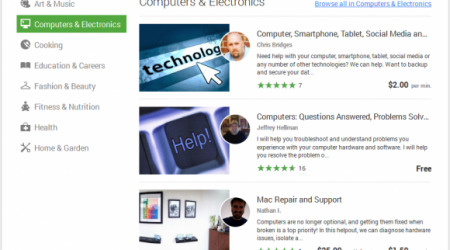 We already use Google for everything, so much so the word has become a verb (Google it!). Searching for a medical condition or some minor aches and pains often leads you down the wrong path (WebMD is evil sometimes). Now it looks like Google is priming another of their services, Helpouts, to aid you in your queries. Someone recently spotted a new option for speaking with a doctor when searching for "knee pain", which offered up a video chat. Though not specifically mentioned, it has Helpouts written all over it.
Helpouts was started by Google last year to get "experts" in touch with average users who need guidance. The launch centered around home-grown advice, where "experts" would offer up their insight free, or via a fee. The cost — if any — was determined by the person offering the Helpout session.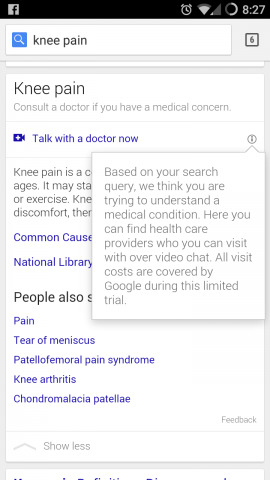 This inclusion in Search is new, and suggests Google is taking Helpouts mainstream. The service now sits in a holding pattern; not quite popular, and definitely not well-known. The listing also notes Google is putting you in touch with an actual Doctor, and covering the cost of the conference to boot.
This might have been the angle for Helpouts all along, or it could just be a recent stroke of brilliance from Google. Either way, cobbling the video chatting service into Search is a great way to get it off the ground, and us actually using it.
Thanks, Dean!
Via: Reddit