Google Glass Prescription Frames Spotted But Concerns Linger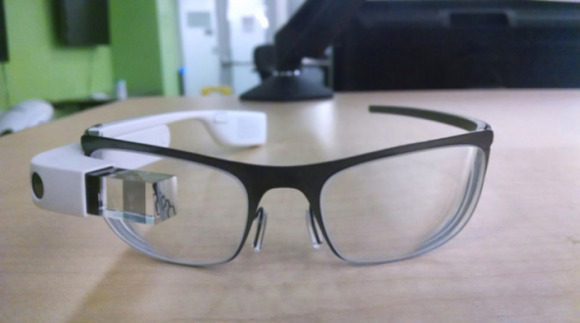 New in-the-wild photos of prescription frames for Google Glass have emerged, showing a custom set of eyeglasses that integrate with the wearable, though questions still remain about how practical Google's solution will be for everyday use. The images – which show a mostly standard set of frames aside from a replacement right arm, at which point the Glass assembly attaches – were briefly shared by Google employee Brian Matiash before being pulled, though Google is in the midst of replacing the first public release of Explorer Edition Glass hardware with an updated version that it says will work with eyeglasses.
Exactly how that support will be enabled has not been publicly detailed, though going by these latest images and previous shots of prescription frames it appears to be a direct replacement for the standard titanium band Glass uses. That detaches with a single hex screw at the temple of the headset, with Glass than sliding and pulling off.
According to a post by Google's Sarah Price on the private Glass message board for Explorer Edition users, the current prototype for the frames uses a screw to attach. It's not known whether that will continue to be the case once the production version is released; the images shared by Matiash don't include close-ups of the mechanism.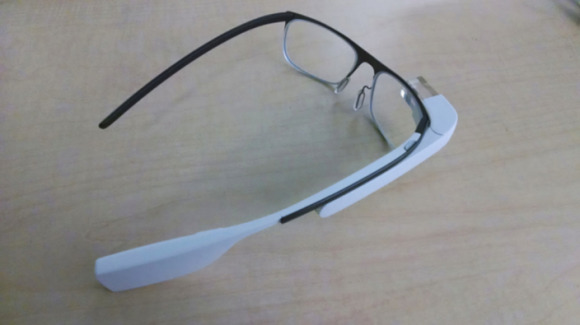 It's an important question, however, since prescription glasses wearers won't necessarily want to sport Glass all the time. If the headset is permanently attached to the frames, that will mean the user will probably have to carry a spare set of glasses with them should they be required to remove Glass – such as when driving, as has proved contentious in recent months – or if they need to recharge it.
A better solution would arguably be a snap-on or magnetic attachment, as some Glass Explorers have experimented with in DIY systems. Other approaches have seen custom polycarbonate lenses made by opticians – Venture Glass announced plans to offer them in the new year – that clip on at the front, much in the same way that the sunglasses attachment Google includes with Glass operates.
However, that too would require a secondary pair of frames should the wearer wish to use the lenses without Glass.
Google has been coy on specifics, but it's worth noting that the approach in Matiash's glasses is effectively the same as the company was trialling back at IO in mid-May, as shown below, and potentially as far back as IO 2012.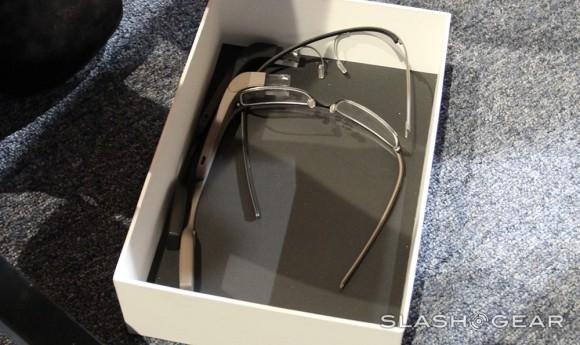 Google began issuing Explorers with invitations to swap their original Glass for an updated version earlier this week, also giving them the opportunity to change color at no extra charge if they wish to. As well as supporting prescription frames, the reworked Glass have support for a mono earbud and other internal tweaks.