GeForce NOW lets Cyberpunk 2077 stream to Mac and Android on launch day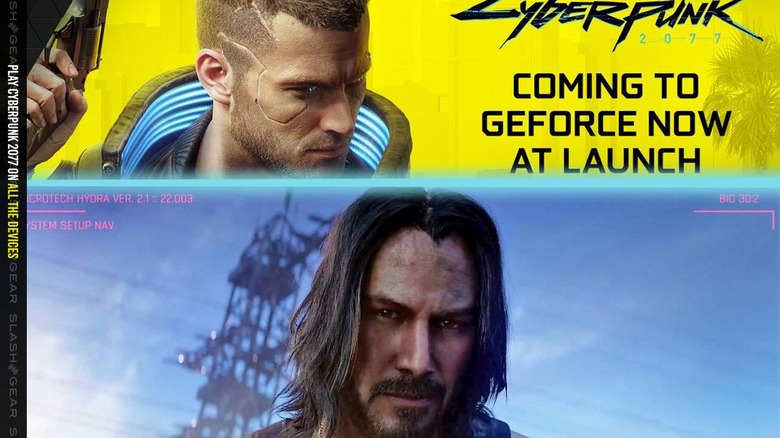 Cyberpunk 2077 will be playable on an Apple computer on launch day – despite its complete lack of compatibility with macOS (or Mac OS, if you prefer). This release works with GeForce NOW, the NVIDIA game streaming system that allows users to take advantage of NVIDIA's game servers to play anywhere you've got a good internet connection. Cyberpunk 2077 is also supposed to be released with Google Stadia, but no release date has yet been revealed.
It might've been obvious, given the recent announcement (and confirmation of existence) of the CD PROJEKT RED collaboration with NVIDIA for a Cyberpunk 2077 custom graphics card. That's the NVIDIA GeForce RTX 2080 Ti Cyberpunk 2077 Edition, in full eye-searing electric yellow. Despite that effort, a high-end GPU will not be required for users to play the game – so long as they're hooked up with a streaming game service that supports the game.
NVIDIA's GeForce NOW system allows RTX graphics support ON, allowing highest-end support (outside of a boss PC in your own basement) for the best graphics possible on whatever platform you do so choose. That includes Mac OS, NVIDIA SHIELD (Android TV), Android, and Windows PC.
Some games played on NVIDIA GeForce NOW require specific sorts of controllers. If you're playing Fortnite on your Android device with GeForce NOW (instead of playing the Fortnite mobile app, that is), you'll need a gamepad. The game Cyberpunk 2077 will likely play somewhat like it would on Xbox of PlayStation when played via Android or NVIDIA SHIELD with a gamepad – but we shall see!
Cyberpunk 2077 also comes to PC, Xbox One, and PlayStation 4 on September 17, 2020. This game was originally scheduled to appear in April of 2020, but they delayed the game right on into Avengers. Meanwhile, we'll probably see more streaming game services appear – alongside Google Stadia – from other major companies in the next few months – everybody's got a service!