NVIDIA GeForce RTX 2080 Ti Cyberpunk 2077 Edition made to be rare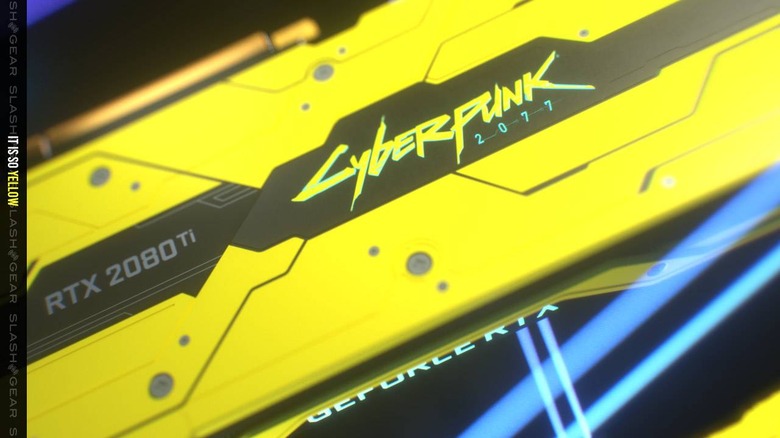 Today the NVIDIA GeForce RTX 2080 Ti Cyberpunk 2077 Edition was revealed in full. This GPU was made to "honor the loyalty and dedication of GeForce and Cyberpunk 2077 fans around the world" and won't be cheap – if you ever get the opportunity to buy one. There will be an opportunity to earn one VIA a promotional event online this month – with a message of good will, shared publicly.
Exactly 77 of these GPUs were made by NVIDIA in collaboration with CD Projekt RED. This device has a custom AL5052 aluminum shroud, "Cyberpunk 2077's signature yellow styling," and it'll be gift wrapped in a "special edition Cyberpunk 2077 box. Under the hood is an NVIDIA GeForce RTX 2080 Ti in full effect. There'll be no performance differences between the standard RTX 2080 Ti and the hardware under the hood of the "NVIDIA GeForce RTX 2080 Ti Cyberpunk 2077 Edition."
To get in on this sweepstakes thing for the Cyberpunk 2077 GPU, you'll need to "share a message of goodwill and positivity with the friends they tag" with the hashtag #RTXOn in one of three social networking posts. You'll find all three over at NVIDIA's page for the event.
Per NVIDIA, there's a possibility that "other giveaways and charity auctions" will occur with the GeForce RTX 2080 Ti Cyberpunk 2077 Edition made available as such.
Above you'll see the latest trailer for the game Cyberpunk 2077. This game is scheduled for release on April 16th, 2020. At that time, the game Cyberpunk 2077 will be released to Xbox One, Playstation 4, and PC. Note that this video was released several months ago, and all imagery is subject to change. For now, this is as close as we're allowed to get!
ALSO: Another video, shown above, gives us a look at how the music artist Grimes is involved in the project. This was performed live at The Game Awards in December of 2019.