Galaxy S9 may set new power benchmark
This week we're having a peek at what the Samsung Galaxy S9 may well bring to the smartphone universe in 2018. One item we're almost certain will be onboard is the new Qualcomm Snapdragon 845, and with it, the swiftest charging solution ever released for a smartphone battery. That is to say Qualcomm Quick Charge 4.
A recent entry into the "fastest" battery charge race was the OnePlus 5T with its own brand of speedy charging tech. But for all the distance OnePlus claims out in front of the rest of the pack, a Samsung implementation of Qualcomm Quick Charge 4 could do the industry one better. Earlier this year Qualcomm outlined the abilities of their newest charging system.
Samsung device users will be glad to hear that Quick Charge 4 is made specifically with charging safety in mind. One big part of this initiative is the ability to monitor both connector temperature and the temperature of the phone case at the same time.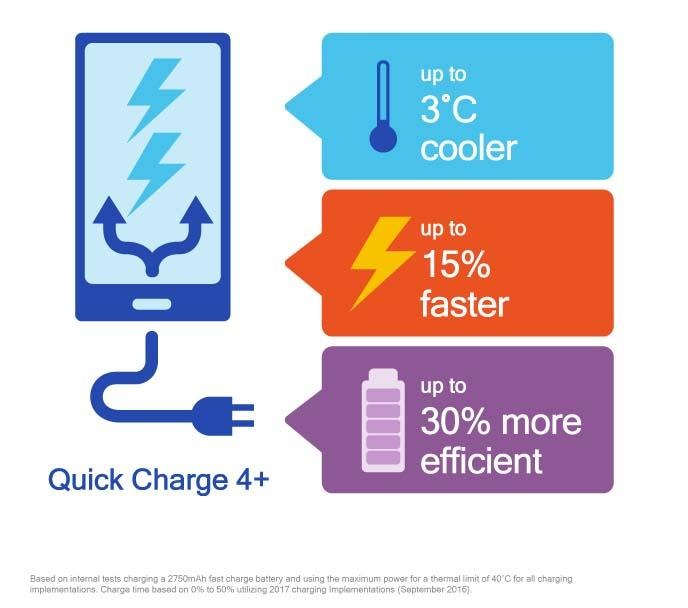 Quick Charge 4 works with a feature called Intelligent Thermal Balancing. With this system, the processor monitors the heat level of each of two channels into the battery, sending power to whichever channel is cooler. The Galaxy S9 might well have use this feature to avoid the Galaxy Note 7 fiasco altogether – if it'd existed back then.
While I don't think it's realistic to assume Samsung will tempt fate with a battery that's able to charge 5-times faster than any before it, the Galaxy S9 will certainly charge faster than its predecessors. If only from the Qualcomm Quick Charge tech, the Galaxy S9 will charge up to 15% faster.
In addition to the charging speed update, the Samsung Galaxy S9 is sure to get a bevy of new features both inside and out. We've gone over quite a few Galaxy S9 features in our most recent capture-all article, too. Have a peek, and stick around for the most likely date for the event at which this device will be revealed: February 24th or 25th, 2018!