Galaxy S8's first detailed secrets spilled in Korea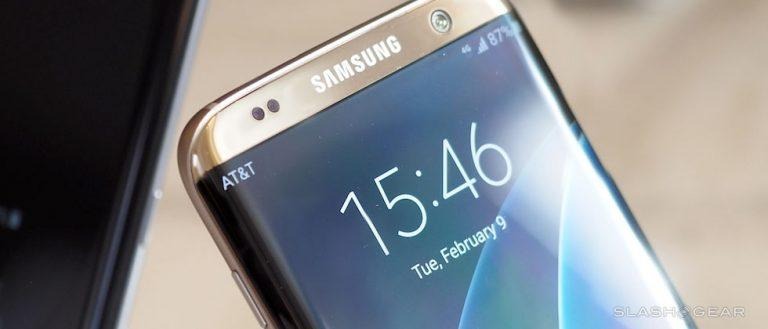 The Samsung Galaxy S8 appears to have started its trickle of leaks this week with details dripping in from South Korea. The first big change seems to be in the device's next-gen display. It would seem that the company is eager to distance themselves from the design and feel of the Galaxy Note 7, thereby pushing the Galaxy S8 into a different school of industrial design thought. This version of the Galaxy smartphone may be a bit more fragile than previous generations.
The first big point from South Korea's ETNews says that a full-screen display may be in play. Samsung, they say, is considering going full-tilt with the display which folds over the sides of the smartphone, thereby eliminating much of the bezel. The Galaxy S8 may have the "Edge" element on more sides than two.
One part of this set of insider tips we can't imagine coming to fruition is the kicking out of the Samsung logo from the front of the phone. Samsung would only do this if it meant that everyday users mistaking their phone for another phone would be a positive effect. It could also be that Samsung's new design is so unique, it'll be unmistakable.
This leak suggests that the next Galaxy smartphone will use a new generation of OLED material composition. Where the Galaxy S7, Galaxy Note 7, and Galaxy Note 5 used M7 material, they suggest that the Galaxy S8 will move forward with M8. From OLED news source OLED-A we have this English version of a similar chart shared by ETNews.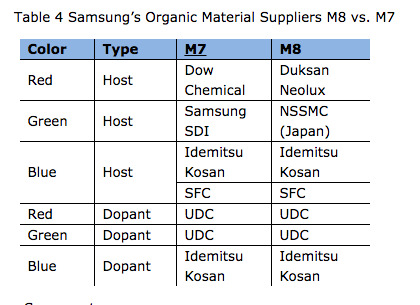 Red and Green color suppliers have switched in this chart, Green from Samsung's SDI, Red from Dow Chemical, switching to NSSMC (in Japan) and Duksan Neolux respectively. We can safely assume that a move from one generation's color technology to the next means better color accuracy, higher brightness, and more efficient power consumption. Most smartphones lose the majority of their battery power to their display – so this could be a significant bump for the Galaxy lineup.
Galaxy S8 to feature Samsung's re-named and revamped personal assistant
This all goes in line with a previous bit of information on the next Galaxy smartphone reported last week. That report cites a report from Korea in which Samsung Display engineer Park Won-sang said the following.
"Samsung Display would roll out a full-screen display whose display area ratio reaches more than 90 percent next year," said Park Won-sang at iMiD 2016 in Seoul in late October. A similar tip from back in September suggested that a 4K display from Samsung would make the Galaxy S8 part of a new generation of smartphones with displays far sharper than any that've come before it. This would be ideal for virtual reality headset applications, as eyes are closer to the display than expected under normal circumstances.
The Samsung Galaxy S8 is expected to be released on or around February 21st, 2017. This expectation is based entirely on the reveal date of the smartphone earlier this year at the same time. The Galaxy S8 will almost certainly be joined by its big buddy, the Galaxy S8 Edge, as it was with the last two Galaxy hero releases from Samsung.