Galaxy Note 7 model SM-N930F officially listed on Samsung site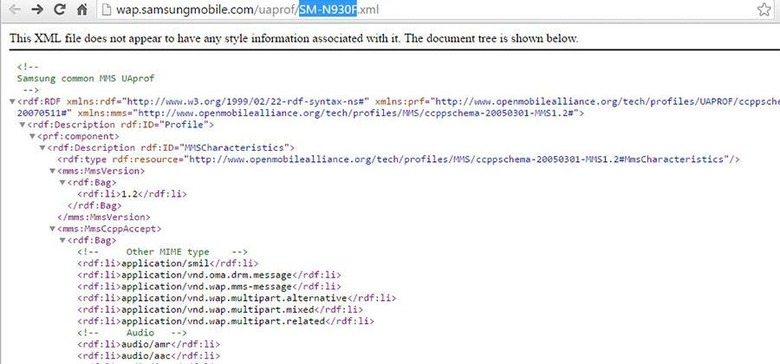 The first official mention of the next Galaxy Note smartphone has happened in an odd way on the official Samsung website. The link in the source opens to reveal what appears to be a basic XML info, showing a document tree with no real information to be found in it except the model number SM-N930F.
The important bit here is the WAP link itself that lists model SM-N930F in the address bar. As you may know, the model number for the Galaxy Note 5 was N920, so N930 would seemingly indicate the next model in the line. There have been plenty of rumors about the next Galaxy Note. Back in late May, we first heard that Samsung might change its naming convention and call the next Note the Note 7 rather than the Note 6.
If Samsung followed its normal naming convention, the next Note would be the Galaxy Note 6. Sources claimed that the name change would be done to bring the Note line to parity with the Galaxy S line of devices. We have seen a teaser image supposedly from Samsung turn up hinting at Note 7 as the name. Another leaked teaser image shows a dark phone with the tag line "Write on the Edge" suggesting a screen with curved edges.
Earlier this month the invite to the Galaxy Unpacked 2016 event leaked showing a date of August 2, 2016 for the unveil. Rumors suggest that the Note 7 will have an iris scanner and that the scanner will come from Patron. Iris scanners have already been added to other Samsung products so that particular rumor is no real stretch. Galaxy Note 7 production will kick off net month according to an industry source with Samsung aiming to have 5 million units available at launch.
SOURCE: Samsung Mobile