Galaxy Note 7 leaked invite notes an August 2 announcement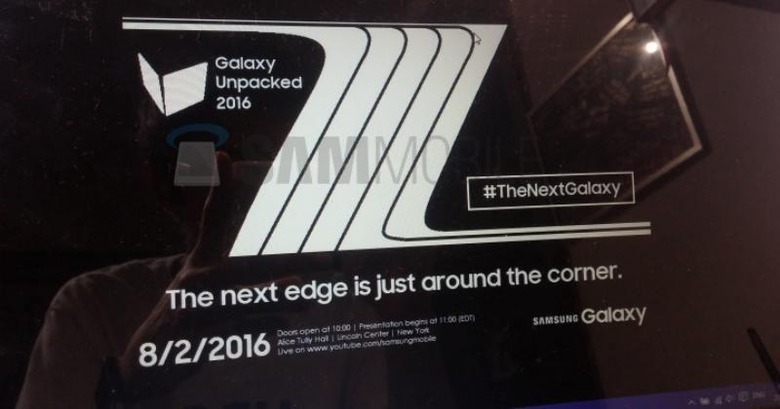 The answers to our burning questions might not be that far away after all. Perhaps hoping to repeat the circumstances that led to a rather fruitful first quarter for Samsung, the Korean manufacturer is believed to be announcing and most likely launching the Galaxy Note 7 earlier than ever. An alleged screenshot of the next Unpacked event's invitation marks the date as 2nd of August. The graphic also seemingly confirms the number "7" as well as the "edge" names to be used in that upcoming phablet.
Of course, it leaves the door open for some doubt as well. The "7" implied in the graphic could also be interpreted as a "Z", though Samsung is unlikely to start using that letter now that Lenovo and Motorola have embraced it. It also doesn't say that there will only be one model revealed on that day. While an "edge" smartphone is definitely in the books, a flat variant might still be possible as well.
Presuming the invitation is legit in the first place.
Regardless of the form, we are expecting a very high end late 2016 smartphone to come on stage in August. That means a snappier Qualcomm Snapdragon 823 and 6 GB of RAM. There is talk of a USB Type C port, making it the first in Samsung's lineup to support the new standard. Another late rumor is the inclusion of an iris scanner for biometric security, which has been mentioned again and again for every new Samsung flagship.
By itself, the Galaxy Note 7, especially an edge, might be interesting, or at least controversial. However, recent rumors might force the phablet out of the limelight quickly. Samsung is rumored to have its first foldable smartphone early next year, so consumers might take a longer "wait and see" attitude when it comes to buying the Galaxy Note 7.
VIA: SamMobile