Galaxy Nexus uses fortified glass, not Corning Gorilla Glass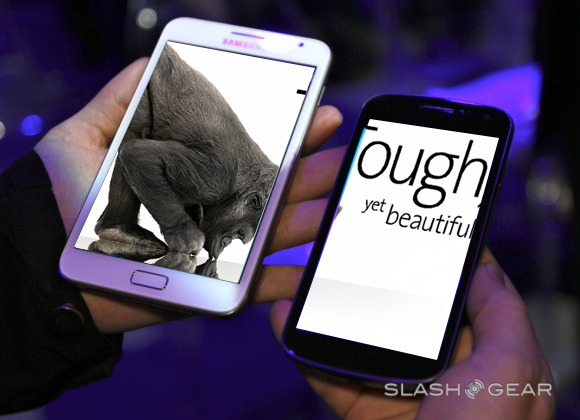 Though Corning's Gorilla Glass has all but dominated the review circuit when it comes to must-have features on mobile devices over the past year, it appears that Samsung and Google have opted for a different solution for their next hero device, the Galaxy Nexus. This device will play host to Google's next-generation mobile OS Android 4.0 Ice Cream Sandwich and is set to have a host of powerful features that make it a force to be reckoned with. Corning has assured the public that lo, and alas, the Galaxy Nexus does not have Gorilla Glass sitting on its front.
When you hit the search button on the term Gorilla here in our archives on SlashGear, you'll find that Corning's ultra-strong glass formula appears as recently as the upcoming most powerful Android device on earth, the ASUS Eee Pad Transformer Prime, a tablet toting NVIDIA Tegra 3 quad-core chipset. What we must assume here is that either Samsung and Google had a special deal going on with a separate company for the glass, or they saw that Corning's Lotus Glass would be the next big thing to have anyway, and opted for a nameless glass in the interim. Note in that Lotus Glass article that Rue suggests that its possible the high resolution has something to do with the switch as well.
Peek at a hands-on with the Galaxy Nexus next to the Galaxy Note here if you've not already, the Galaxy Note is another new Samsung device to refrain from having Gorilla Glass for one reason or another.
What do you think, do you need Gorilla Glass in order to have a great time with a device and not worry about it getting scratched? Have a peek at this hands-on with Gorilla Glass from earlier this year as well and see what it means to have nearly un-damageable fronts to your mobile devices. Heed the breaks.
[VMS cf995530ea53652ddf8f]
[via Android Community]