This morning it was confirmed – believe it or not – that Marie Claire is at the Apple Event expected to reveal the iPhone 6 and iWatch. This brand is almost certainly not alone in its origin and aim – attending the event, essentially confirming the idea that Apple will be revealing the iWatch today. Or at least something very fashion oriented. Perhaps Beats-related.
Apple "reblogged" the tweet you'll be seeing here from Marie Claire in their Apple Live portal. This suggests Apple is interested in making the hype live – it's close enough to announcement time, what's left to lose?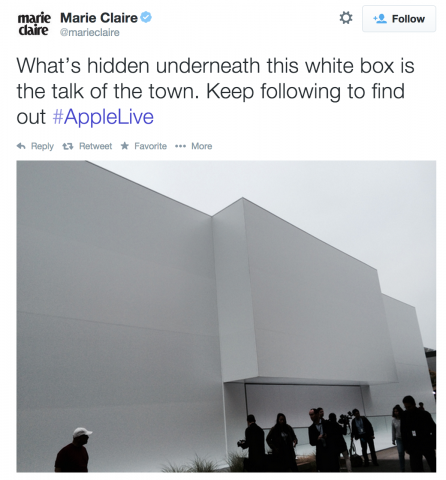 We'll go ahead and assume this has nothing to do with the Selfie Brush, anyway. But what's inside that big white box? Maybe it's an Apple Store, just waiting to show us the future of retail.

No matter what's inside, the online Apple Store is down for the count. We WILL see new products today – and we're guessing there'll be more than one. Stick around SlashGear's Apple hub for more all day long – up close and personal!