Faraday Future joins Formula E with Dragon Racing partnership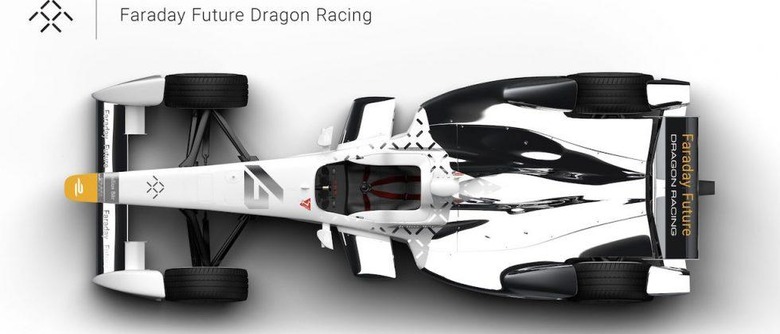 As the Formula E electric car racing series ends its second season in London this weekend, the new EV startup Faraday Future has announced its participation starting with season three this fall. Faraday Future, which made waves in January with the unveiling of its FFZero1 supercar concept, says it has entered into a technical partnership and sponsorship deal with Dragon Racing, one of the 10 existing Formula E teams.
Formula E's third season, which begins in October, will see Faraday Future will help Dragon Racing improve its vehicle's powertrain and help develop "key technology software solutions to maximize performance capabilities." The years that follow, however, will see the partnership expand, with Faraday Future providing its own powertrain components in season four, and helping to develop a new chassis and battery tech by season five.

By that year, in addition to building more drivetrain components as well as new software and firmware, Faraday Future says the team's Formula E car will be using the same "FF Echelon Inverter" that will be installed in their eventual consumer production vehicle.
READ NEXT: Electric Racing at the Formula E Long Beach ePrix
Faraday Future is has high ambitions, as it not only continues to work on its supercar and consumer model, but it has plans to work with Aston Martin on their own electric car, and is developing its own self-driving technology as well. It's likely the startup is eager to use Formula E racing as a way to test its components and technology in harsher conditions than everyday driving.
"Partnering with Dragon Racing allows us to further showcase our electric vehicle leadership and technical capabilities in one of the most exciting Formulas in the world," said Nick Sampson, Faraday Future's SVP of R&D and Engineering in an announcement. "I clearly see Formula E as the right venue to challenge our engineers and technologies in the most extreme performance conditions."
SOURCE Faraday Future