Facebook Messenger embraces 3D Touch on iPhone 6s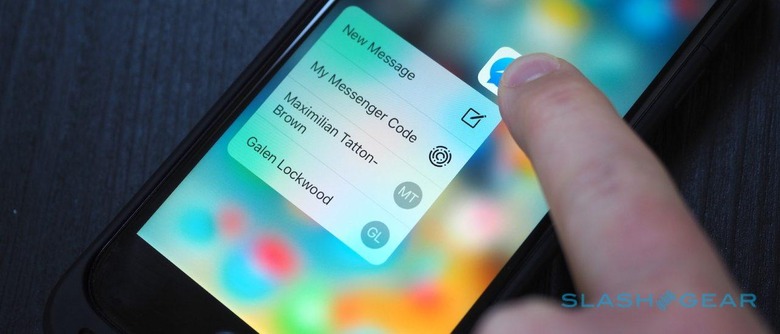 Facebook continues to embrace 3D Touch, with Apple's pressure-sensitive touchscreen tech now being added to Facebook Messenger. In an update to the Messenger app released for iOS devices today, there's now support for previewing contacts, conversations, photos, videos, stickers, links, and locations with a firm press on the iPhone 6s' display.
Apple bills 3D Touch as a way for app developers to offer shortcuts and contextual menus to their software, and sure enough that's what Facebook Messenger offers: it's now quicker than ever to start a new conversation or preview a new message.
It's not Facebook's first dalliance with 3D Touch, mind. The company added the pressure-sensitive technology to the core Facebook app back in October, introducing support for jumping straight into capturing and sharing photos and videos from the iOS homescreen.
A subsequent update in January of this year extended 3D Touch support into the Facebook timeline, meanwhile.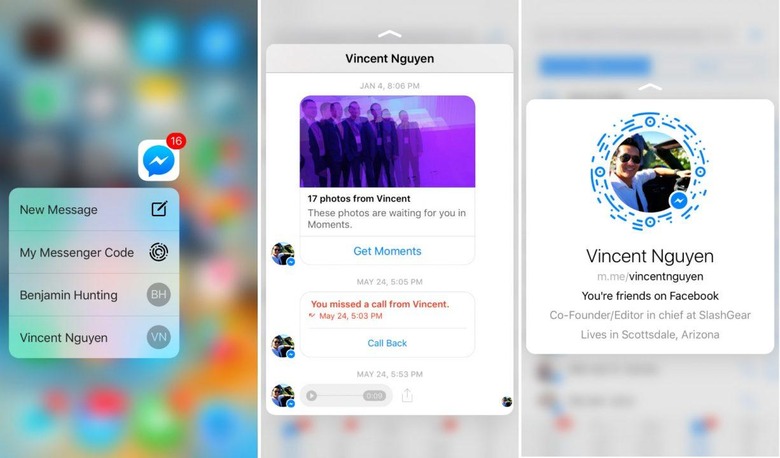 As ever, if there's a problem with 3D Touch it's that it's not always entirely clear what you can and can't firm-press on. In the case of this particular update that's especially confusing, since there's a fairly long list of additions.
For instance, you can use the new feature from the homescreen to start a new conversation or summon your "Messenger Code", the glyph which allows new contacts to easily add you to their friends list.
From within the app, meanwhile, you can 3D Touch on a contact to see a preview of their profile information, or do so on a conversation to see the last few chats and other updates.
3D Touch works by introducing a new technology to the touchscreen itself, which measures the change in the tiny gap between the display's layers and thus calculates the pressure being applied. Although Apple offers developers a couple of preset thresholds for when 3D Touch is considered to be "triggered", helping keep the experience for users consistent across apps, in reality it's capable of far more granular measurement.
That's been used to good effect by apps like ROLI's Noise, which use the continuous pressure tracking to adjust things like volume, pitch, and other factors on an on-screen musical keyboard.
You can find the 3D Touch-compatible update to Facebook Messenger in the App Store today.