Ender's Game trailer wrap-up: a new vision for a sci-fi classic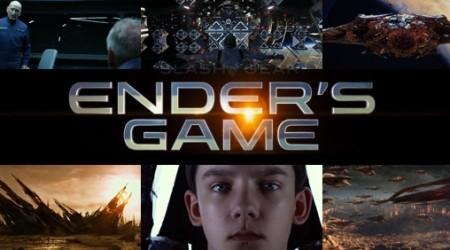 This week the folks at Summit Entertainment have released what they're calling a "Final Trailer Preview" for the upcoming sci-fi film Ender's Game. This trailer shows many of the key elements involved in telling the Ender's Game story, aiming to entice both those new to this story environment and those that are fans of the original novel. Here Harrison Ford narrates and stars as one of many guides for Ender as the tale of youngsters battling aliens unfolds.
This film will not follow the storyline as presented in the Ender's Game book precisely. Let there be no mistake: more than a few liberties will be taken with this presentation of the original science fiction tale. As you'll see in this newest gush of visual information, the folks responsible for creating the Ender's Game movie are aiming to excite in a way that's explicitly different from the book.
UPDATE: Here's the full spot, all 2 minutes of it!
These changes are made to bring the viewer in to this universe in a much more slight way than the book. One example is allowing the aliens to do battle with the humans here inside our atmosphere with fighter jets. In the book, this battle was waged inside our solar system, but was done in space with futuristic human-run battle-ready spaceships.
As for the trailer's mention of Mazer Rackham and instant reveal of his contribution to the war – well – that's a bit spoiled. While you don't know much of anything about Rackham until well into the book (he's not really relevant until then), here he's made a central part of the story from the start.
You'll also see here some International Fleet video aiming for viral success as the movie edges closer to reality. These videos continue to the push for fan engagement started months ago with releases of in-movie graphics and on-set photography.
You can expect these sorts of bits and pieces to continue right up until the release of this film – that is the first of November, 2013. Coming up quick! Below you'll see the first trailer in all its glory, as released earlier this year.