Driving Toyota i-ROAD: Crazy tilt meets genius strategy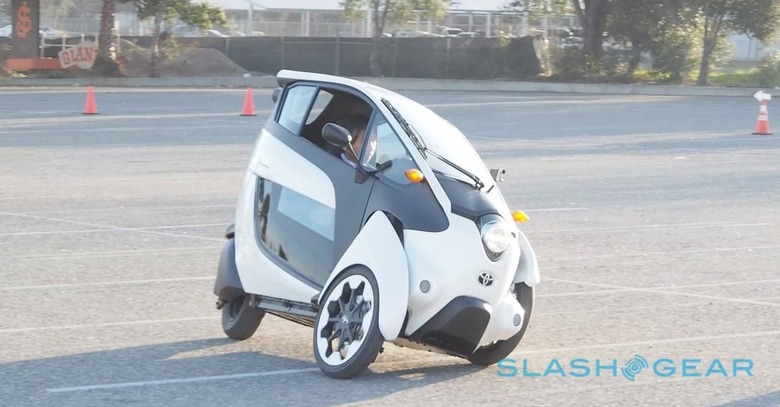 Who says electric cars have to be boring? Toyota's Prius may be poster child for the eco-pious, but its i-ROAD tilting trike shows there's still potential for madness in the EV. SlashGear is no stranger to the i-ROAD, and in fact we've driven earlier prototypes over in Japan before now. They're less commonly found in the US, however, but Makoto Morita, Grand Master of the Product Planning Division and lead of the i-ROAD project brought a handful with him to test the waters among potential American drivers.
It's not my first time in an odd EV – I have happy, albeit cold, memories of testing out Renault's moon-buggy styled Twizy a couple of years ago – but while it may still be a concept, the i-ROAD feels surprisingly well put together.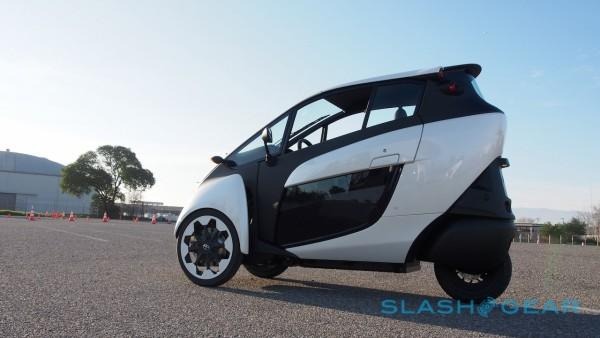 The doors, with their transparent upper and lower panels, are light and a little on the flimsy side (the structural part is a brace across the middle), but close them and you're safe from the elements. Makoto tells me that rain isn't a problem for the car, though you probably should have a backup plan prepared in case of snow.
As for the dashboard, that errs on the simplistic side rather than the multiple displays and touchscreens of something like the Mirai fuel-cell car. A small LCD shows speed and battery status, while three buttons – forward, neutral, and reverse – on the left take the place of a traditional shifter. Brake and accelerator pedals are joined by a footbrake pedal.
Things get weird as soon as you turn the wheel, since that's when i-ROAD starts to tip over. At least, that's how you feel initially – even if you're used to a bike, where you'd commonly lean into corners, the sensation of "toppling" to the side when enclosed is disconcerting.
The tilting itself is entirely computer-controlled, and can't be turned off: it's designed, Makoto told me, to ensure maximum stability at every speed. The angle itself is dependent on your speed and the sort of g-force you're pulling at the time, and though it's an odd sensation initially, you quickly get used to it.
In fact, after little more than a figure-of-eight I was pushing i-ROAD into the corners, the haptic steering wheel buzzing in my grip as I reached the limits of the tilting mechanism. Unsurprisingly, it makes you feel like you're going much faster than the actual 37mph top speed; happily, it also feels very safe and planted, even when you glance to the side and see the ground much closer than normal.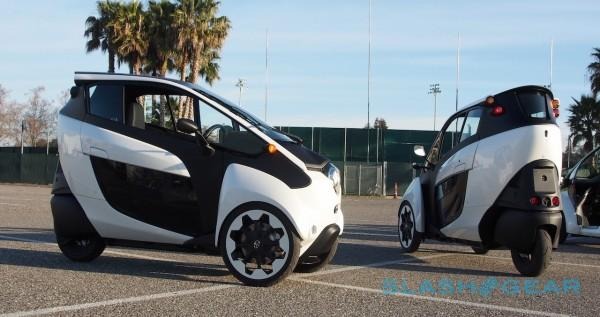 Tempting fate or maybe just setting a challenge to cocksure tech press, Toyota had set up a slalom to throw the i-ROAD down. Twin electric motors whizzing happily, it handled it without complaint. You get a little understeer when you reach the limits of the car's dynamics, but I never felt lacking in control.
Visibility is good, though the rear window is more like a porthole, and you can't really see much through it in regular driving anyway as there's no rear-view mirror (since it would show you your own forehead). Parking and low-speed maneuvers are handled with particular ease, with a 3m turning circle and a footprint small enough that you could probably fit three i-ROAD into an average parking space.
Expect to spend about three hours there recharging. A full battery is good for around 31 miles of driving – not much in the grand scheme of EVs, maybe, but solid for the city – though that depends on whether you have a second person squashed into the rear, or (more likely) some shopping there.
I asked Makoto about other approaches to urban electric transportation, particularly with startups like Gogoro looking to change the way power distribution is managed. Gogoro, for instance, may be starting out with an electric scooter, but its interchangeable batteries – charged at stations the company expects to see spread around cities – could easily find their way into compact cars like i-ROAD.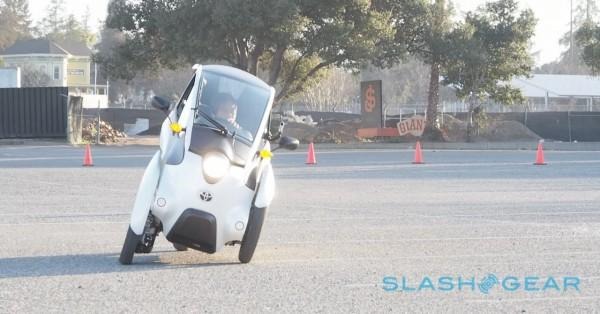 Although seemingly curious at the idea, Makoto is still conservative about infrastructure. Toyota designed i-ROAD to have sufficient power for an average day's use, he explained, though he and the team will be watching distribution alternatives closely.
Meanwhile, the company is also working on improving other components essential to the EV powertrain, with trials underway to test new semiconductors that could significantly improve efficiency.
Similarly, i-ROAD isn't Toyota's only all-electric city car experiment underway. The Toyota COMS is a more traditional four-wheeler, without any of the tilting action that makes i-ROAD so interesting to drive, but that simplicity has meant Toyota could bring it to market sooner.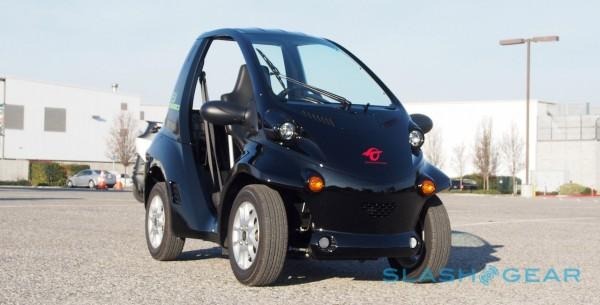 In fact, two versions of COMS – one targeting business use, the other personal – are already on sale in Japan, where they've proved popular with pharmacies and stores running local deliveries, and city dwellers doing quick trips, the company tells me.
Toyota COMS
Like i-ROAD, the focus is on the tiny footprint and instant torque rather than taking the whole family with you, though the business COMS does have a large lockable cubby on the back for deliveries. It feels a lot more like a golf buggy than its trike sibling, however, and despite the extra wheel is actually less practical in bad weather since it lacks doors.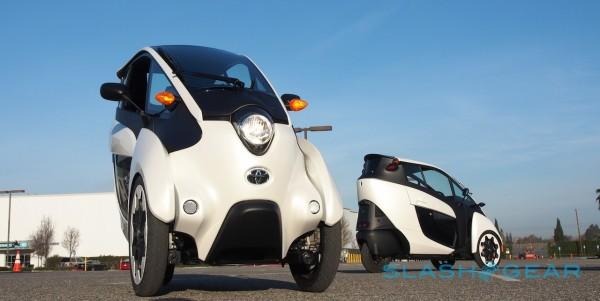 What comes next for i-ROAD isn't entirely clear. Toyota still sees it as a test car, though efforts are underway to have it certified for use on US roads – something the company's US arm tells me shouldn't present a problem – and there's no telling where the next trial may go, or indeed if there even will be another.
Makoto wouldn't be drawn on how much i-ROAD might cost, and those involved in the trial weren't given any idea of what a final sticker price might be, though that didn't stop all of them asking to go on the (non-existent) wait list after having to give the keys back.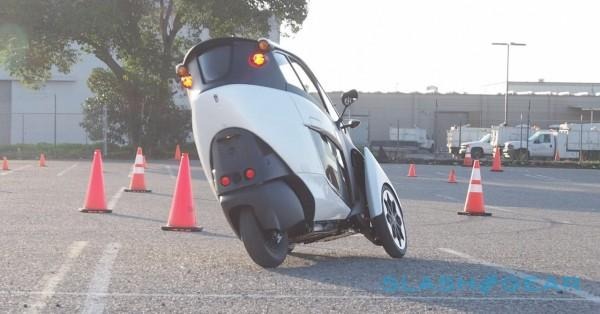 Still, while Toyota may not be short of eco-friendly vehicles, Makoto is confident that there's a place for i-ROAD or something like it in the line-up. As he sees it, the hydrogen powered Mirai is perfect for long-distance trips, Prius and other hybrids for medium journeys, leaving tiny EVs like i-ROAD and COMS ideal for dashing about the city.
As a result, Makoto says Toyota isn't settled on how drivers might actually pay to get behind the wheel. One likely possibility is some combination of outright sales – for those, he suggests, who like the idea of driving a tilting EV for fun – and then pay-per-use for more casual trips around the city.
We're still some way from that happening, but if electric has a place in the urban landscape then I think Toyota may have hit on the key to breaking down resistance to it. i-ROAD's appeal isn't just its environmentally-friendliness but the fact that it drives like little else on the road: you don't so much care whether it uses gas or electricity, you just want to go for another spin. That's a recipe that's worked well for Tesla's madly-performing Model S, and i-ROAD shows that it can also be applied in more unusual ways.