Dell Streak 5-inch 3G Android MID leaks [Update: Video!]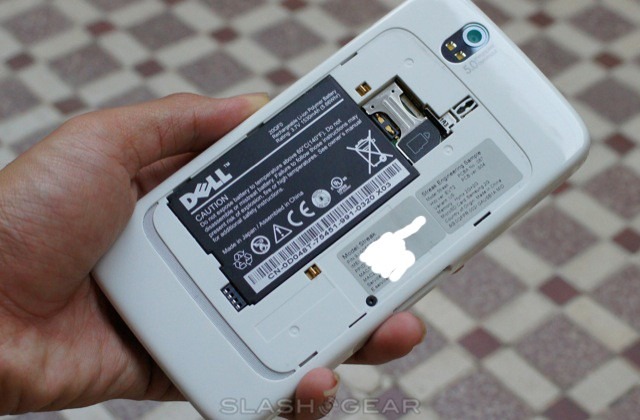 After Dell CEO Michael Dell confirmed that the company's Android smartphone would, in fact, make it to the US – albeit with some changes from the original Chinese model – details of a second Android-based device have leaked.  According to Tinhte.com and another image supplied to SlashGear, you're looking at the Dell Streak, a 5-inch WVGA 800 x 480 touchscreen Android 2.0 Donut MID, with WiFi, Bluetooth and 3G WWAN connectivity.  Front photos of the Dell Streak – together with size comparison shots – in the gallery, together with a hands-on video after the cut.
The Dell Streak – as the prototype is labelled – also has a 5-megapixel camera with dual-LED flash, a microSD card slot and a 1,300mAh battery.  Hands-on feedback is scant, aside from that the WiFi was very sensitive.  From the video, below, we can see that hardware controls are minimal, with three touch-sensitive buttons along the right-hand side of the display and volume controls – together with a camera shortcut and an unknown key – on the top edge.  A multifunction dock connector is on the bottom edge, and there appears to be a front-facing camera – presumably for video calls – on the left-hand side of the display.  On the "engineering sample" label, meanwhile, the model variant is listed as "US", suggesting that at least prototypes using US-spec 3G are being tested.
The existence of the device fits in with rumors from back in June, when the Wall Street Journal reported that Dell had been developing Android MID prototypes.  Described as "larger than Apple's iPod touch", the speculation was fuelled by later comments from Dell's consumer devision president, Ronald Garriques, who suggested that the company was considering screen sizes ranging from 4- to 12-inches.
[Thanks Trung Tran!]