Dashboard Wars: Are iOS and Android Infotainment Cuckoos?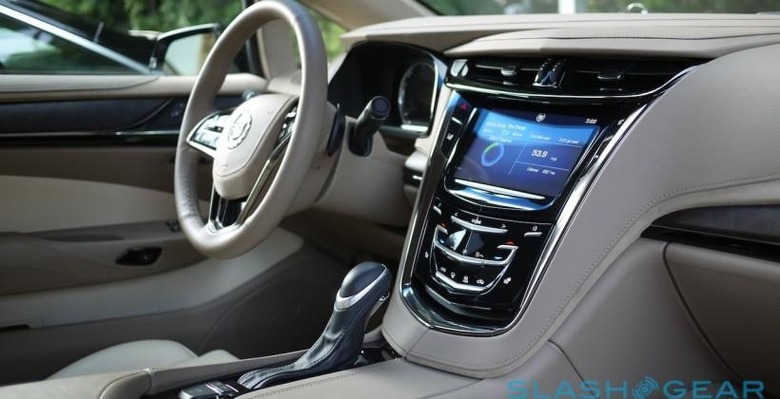 Forget phones and tablets, the next big thing in mobility really can move. Audi, so the latest rumors claim, is readying an announcement that it will put Android on future car dashboards, supposedly set to unveil a plan for NVIDIA-powered infotainment systems alongside Google at CES 2014 next week. The deal is said to be a strike back against Apple's play for the car industry; yet, not every car manufacturer is so keen to throw in with the mobile heavyweights. Soon, the battle lines will be drawn: do you embrace smartphone platforms on your dashboard, or stand against them?
Car tech has long been the sluggish cousin to phones, tablets, and computing. A tape deck might not be something you'd expect to find on most dashboards any more, but it's not that long ago that you would, and CD slots – although increasingly supplemented with USB ports and aux-in sockets – are still commonplace.
Even when higher levels of technology are present, they can often prove so mind-numbingly complex or confusingly implemented that most drivers won't use them. Convoluted Bluetooth settings buried in the deepest strata of the menu structure, for instance, or half-baked "app platforms" with a few basic titles mere shadows of their full-fat phone counterparts.
That given, it's no surprise that the concept of phone software translated straight over to the dashboard display is a tempting one to many. It's not just Android we're expecting to see on dashboards, either. Apple's "iOS in the Car" has got off to a slower start than some predicted, but BMW, Mercedes-Benz, Honda, and others have all voiced interest, and Honda has already baked Siri Eyes Free into its new 2014 Civic.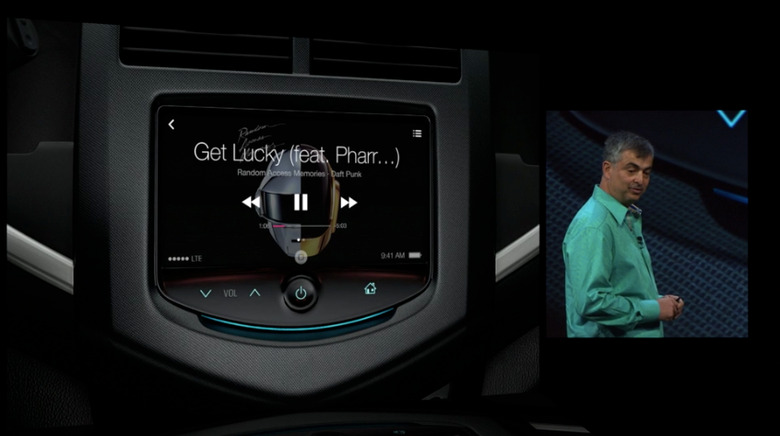 Apple's system is somewhat different to what Google and Audi are said to be doing – Android will actively run on Audi's infotainment kit, whereas iOS in the Car will work as a bridge between dashboard and iPhone, leaving Apple's OS running on the handset – but the end result is roughly the same. Our phones are generally upgraded faster than our cars; they already have legions of app developers coding for them, not to mention data connections and all of our content loaded on them. Why, so the theory goes, should all that effort be replicated by car companies?
Of course, platforms associated with mobile devices like phones and tablets are no strangers to in-car use. QNX, the foundation to BlackBerry 10, has long powered infotainment systems (not to mention train controllers, routers, ECG machines, and casino games), but its always been heavily customized to each manufacturers' needs, and delivered in a silo'd way. You couldn't take a QNX app from your friends' car and install it on your own; in fact, you'd probably not even know that the two systems were necessarily based on the same underlying platform.
Not every car manufacturer is so open to embracing Android or iOS, however, with control over the driver experience the key issue
Not every car manufacturer is so open to embracing Android or iOS, however, with control over the driver experience the key issue. Car brands may be traditionally thought of as slow moving in comparison to smartphone and tablet manufacturers, but that doesn't mean they're not watching what's been going on in those segments.
The growing tension between Android OEMs and Google, for instance, as device manufacturers try to differentiate their products with custom skins and enhancements, while Google pushes for a "pure" experience as on the Nexus, has left some car firms wary of handing over too much control of what's playing an increasingly large role in the ownership experience. A number of GM brands – Opel and Chevrolet – were among those Apple confirmed were partnering on iOS in the Car, for instance, but others under the marque's umbrella, like Cadillac, have told SlashGear they're less willing to embed Apple in the dashboard.
Instead, Cadillac wants to stick with its own CUE system, as in the new 2014 ELR, which the infotainment team says gets great feedback from owners as-is. CUE will wirelessly connect to smartphones to access their contacts, make hands-free calls, read out text messages, and play content (complete with track ID provided by Gracenote for voice-controlled playlists), but Cadillac says it has purposefully stopped short of full iOS in the Car functionality.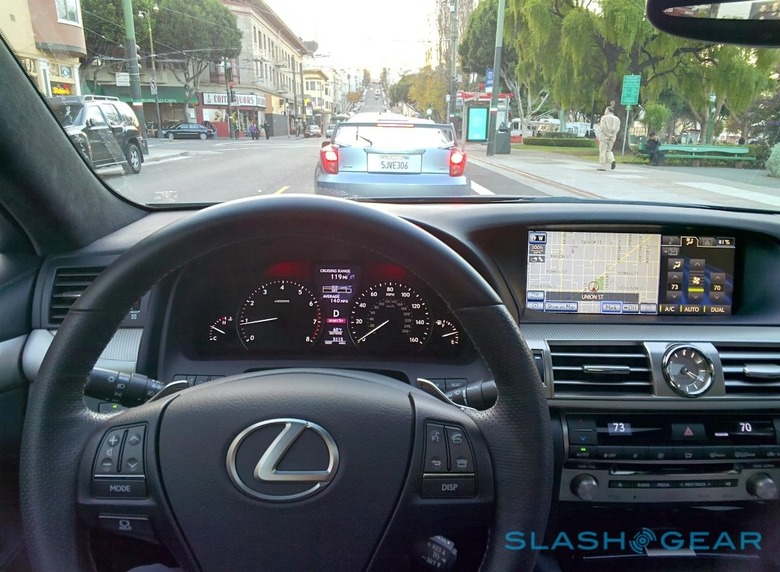 Infotainment systems are meanwhile evolving at a much faster rate than the cars they're embedded in, too. CUE, for instance, is being updated several times a year, Cadillac tells us, albeit without the same fanfare as an Android or iOS release might receive. Lexus, meanwhile, is using updates on both the in-car system in cars like the LS 460 and the companion Encore app for iOS and Android to boost integration in a way that it can more readily control.
The lingering concern is that once Google and Apple have been invited in, they're unlikely to leave, and that the short-term benefits in accelerated access to apps and services may come with longer-term headaches as infotainment spreads beyond a double-DIN touchscreen to all-encompassing digital dashboards. One thing's for sure, with drivers more demanding as to how their mobile devices integrate with their cars, manufacturers need to sign up with Apple or Google, or step up their own infotainment efforts, if they want to compete.