Lexus LS 460 F SPORT Review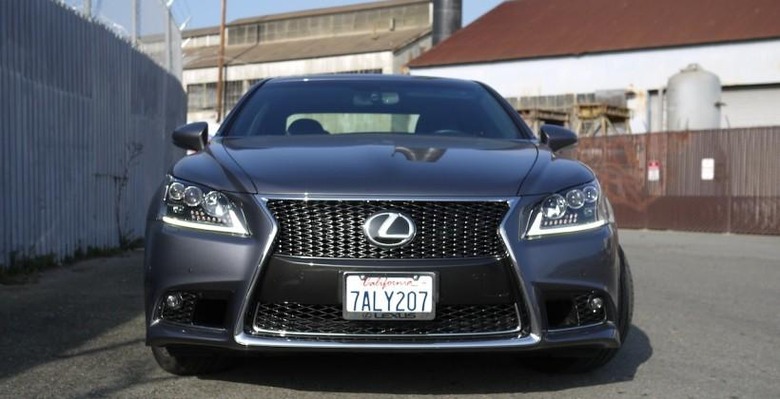 You may not have heard of the Lexus F SPORT brand, but the Japanese luxury car company thinks models like the LS 460 F SPORT will change that. Taking every discrete executive's favorite sleeper-sedan and throwing some LFA-inspired sports magic at it, the LS 460 F SPORT may not give those in Mercedes-Benz's AMG division or their counterparts at BMW's M Sport labs sleepless nights quite yet, but it's still one of the biggest shake-ups to the Lexus brand since it expanded into SUVs. That, lest we forget, was a decision that did Lexus proud, so it would perhaps be a foolish car fan that dismissed this niche curio as nothing more than a gimmick. SlashGear slipped behind the wheel to find out more; read on for the full review.
LS 460 F SPORT Video Review
Design and Interior
It's fair to say that the LS 460's design – in fact, the whole L-finesse style language Lexus has adopted recently – is controversial. From the sides and the rear it's a fairly sober sedan; nicely proportioned, with some strong body-lines that nonetheless aren't especially challenging. Up front, though, it's a somewhat different story, with the "spindle" grill proving most divisive.
As we found with the IS series, the LS looks more cohesive in the metal than it does in pictures, but there's no denying that the gaping grill – which some have compared, only perhaps a little unfairly, to the Predator's yaw – is an acquired taste. It makes best sense on the F SPORT, we'd argue. If you're going to roar up into the rear-view mirror of the person ahead of you on the freeway in a Japanese sports-sedan, you probably want to do it in something that's fairly intimidating: Lexzilla on its way to crush another prefecture.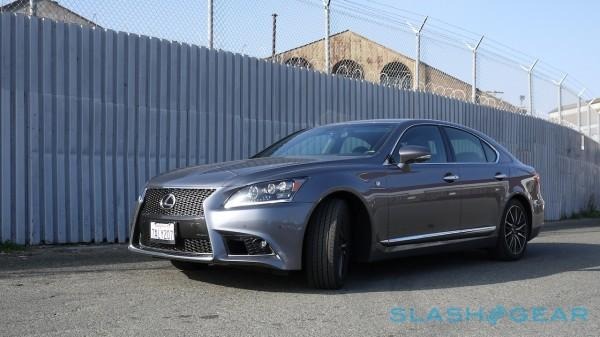 Some of the other detailing is more subtle. The headlamps, with their hockey-stick daytime running lights and Xenon main lamps, are beautifully detailed, while the F SPORT badging is subtle: a few small insignia above the front wheel arches, and nothing extra on the trunk lid. The smokey black, lightweight alloys are eye-catching, however, as are the chromed tailpipes. It's a handsome car, though as restrained – even in this most aggressive of versions – as you'd expect from a Lexus.
Inside, that balance of luxury and restraint continues, for the most part successfully. The F SPORT is officially a five-seater – the airline style rear seating complete with reclining ottoman option is limited to the long-wheelbase LS 600 – and it's a capacious one, with plenty of room even in standard wheelbase form. As you'd expect there's plenty of leather, and although ostensibly the sports version, Lexus hasn't skimped on luxuries like a X-direction motorized driver's seat, and X-way power front-passenger seat, both of which have adjustable heating and cooling.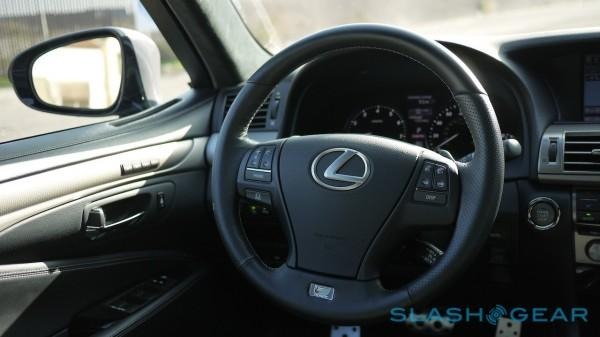 The two outside rear seats get multi-stage heating (although not cooling) too, along with a powered rear blind, though Lexus fits the controls in the broad armrest so they can't be reached if there's a fifth person sitting in the middle. Obviously there are power windows, and the sunroof, wing mirrors, trunk lid, and tilt/reach adjustable steering wheel are all motorized too. Both front seats have three position presets, and the steering wheel is heated for those cold morning starts (something we scoffed at initially and then came to love). Even the doors will automatically ease themselves closed when you pull them mostly shut, while the analog clock uses GPS to set itself automatically.
Dominating the center console is a 12.3-inch LCD display, broad enough to fit three separate panes of infotainment data on simultaneously if there's need for it; more task-specific data can be pushed to an hourglass-shaped LCD in the driver's binnacle, between the rev counter and speedometer. Our test car had the optional Mark Levinson audio system installed, complete with 19 speakers and a CD/DVD player; there's USB, aux-in, and Bluetooth for hooking up external sources, though while multiple phones can be paired over Bluetooth, only one can be active at a time.
Lexus doesn't stint on what data is presented on-screen. There are plenty of buttons which can be clicked, and at times it can be a little confusing; happily you can adjust the extent of the controls that are shown. It's also possible to bypass the joystick altogether: Lexus Enform – which comes with an app suite that runs on iPhone and Android handsets, for things like Pandora streaming – comes with support from a live customer services team, who you can summon through the infotainment system, have locate an address or point-of-interest, and then send the navigation instructions directly to the nav system. An "SOS" button on the upper console pings the same team with your location and the status of the car's airbags and such if you're in trouble.
The audio system and standard dual-zone HVAC get physical buttons, but control is predominantly through Lexus' joystick in the center console. It takes a little getting used to: it notches across and is only partially center-sprung, pressing down to select, with two shortcut buttons for the main menu and the map screen just above it. A touchscreen would be a whole lot easier. Once you're familiar, though, the huge expanse of display makes using the system generally a joy: by default, the 2D map takes up the left two-thirds while the remainder is put aside for audio, HVAC, or other settings. Shortcuts on the wheel trigger voice commands and the hands-free phone functionality.
If we've a complaint, it's around some of the trim finish. Everything you might be expected to commonly touch – the buttons, the stalks, the wheel – are given a tactile soft-touch finish, with the exception of the gearshift knob, which is topped in hard plastic. Similar plastic runs in a silver, carbon-fiber-esque strip across the dash, and it simply doesn't feel quite as premium as the real metal or wood in rival top-end sedans from Mercedes-Benz and BMW.
That F SPORT magic
This isn't a direct competitor to Mercedes' AMG or BMW's M Series range; Lexus isn't positioning the F SPORT brand as a "hardcore" sports sedan line. Instead, it's billed as a warmer, more responsive driving experience for the slightly more eager driver. Someone who expects more than just silky-smooth limousine duty from their Lexus.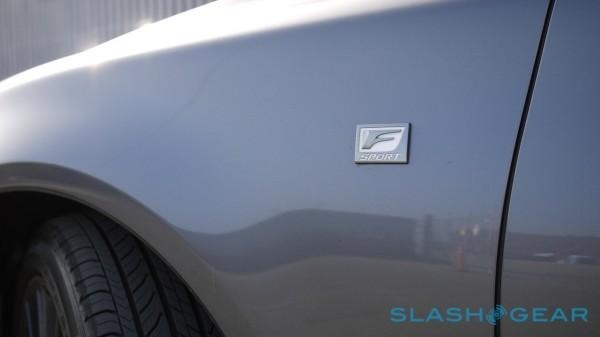 So, the LS 460 F SPORT doesn't actually get any more power than a regular LS 460, it simply changes the way that the car delivers that power. "More enthusiasm" is a good way of describing it: leave the driving mode dial in "Normal" and the car performs much like a standard 460; turn it to the left, to "Comfort" or "Economy" and it'll waft with the best of them.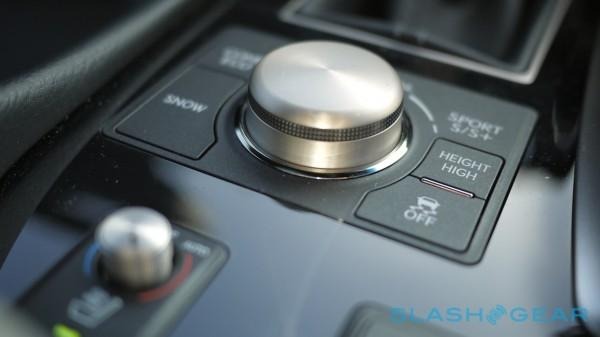 Flick it to the right, however, and you wake the F SPORT system. In "Sport" and "Sport+" modes the air suspension – already around 10mm lower than the standard car – is progressively tauter, while the throttle response gets a little more eager, the eight-speed transmission a little quicker to shift, and, most noticeably in the Sport+ setting, the steering weightier and less assisted.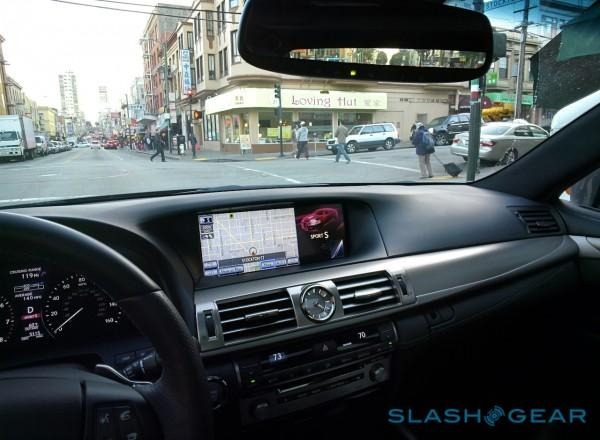 Engine and Performance
Lexus may not have given this particular LS any more power, but that doesn't mean it's under-equipped. The 4.3-liter engine pushes out 360 HP and 437 lb-ft of torque through the all-wheel drive (AWD) system of our test car; Lexus also offers a regular rear-wheel drive (RWD) version, which sacrifices a little handling in favor of a slight increase to 386 HP. On paper, it's good for up to 130 mph – electronically limited – and a 0-60 mph time of 6.0s (or 5.4s for the RWD).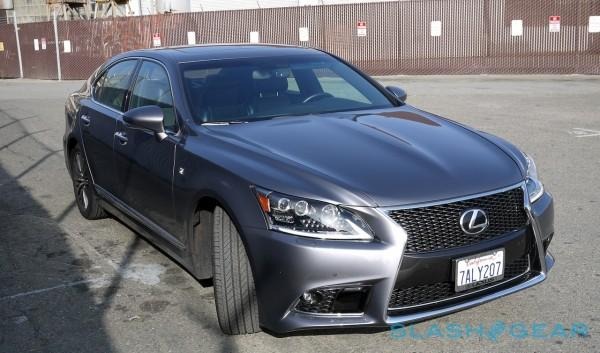 In practice, the Lexus does a good job balancing the demands of an executive cruiser with some weekend sparkle. Under regular conditions, it surges to higher-than-highway rates without more than a grumble, and sits comfortably at speed with little complaint. Well poised, it's still capable of slipping between lanes with a jolt of power, the air suspension smoothing out the transition to the point that passengers might not even realize you've changed.
The changes wrought in Sport and Sport+ modes vary in their effectiveness, we found. Most impressive is the meatier steering feel delivered when set to Sport+, with the LS 460 F SPORT feeling direct and precise through corners, and belying the car's size. The air suspension is another success, helping mask the not-inconsiderable 4,674 lb curb weight and keeping the car surprisingly nimble. Happily the brakes – Brembo opposed six-piston calipers with 14.8-inch ventilated discs up front, and opposed two-piston calipers with 13.1-inch ventilated discs at the rear – are comfortably up to the job of pulling the LS to a halt.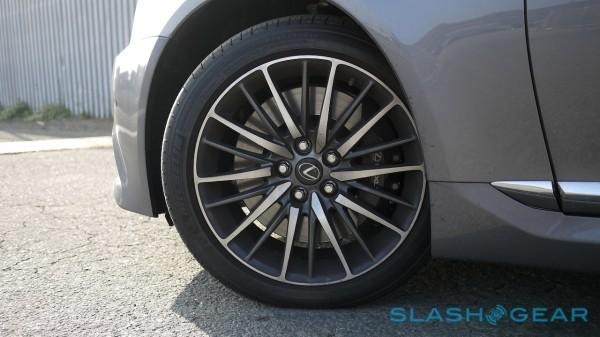 In contrast, the F SPORT settings' changes to the transmission, throttle, and the engine noise are less noticeable. Gear-changes are fast enough, but lack the immediacy we'd associate with a true sport sedan; the paddle shifters are tactile, but they too don't have the snap-shift that would make us opt for them over the auto 'box. The throttle, too, was perkier but never quite felt like it was fully rousing the 4.6-liter engine in the way it could, and the F SPORT seemed ever-reluctant to shake off its Lexus roots and truly roar.
Those in the market for a $90k luxury sedan might not care about fuel economy. Still, the LS 460 F SPORT delivered an average of 15 mpg during our testing, which included a mixture of city, country road, and highway driving, in all of the five modes. Spend more time in "Economy" mode, or simply watch your right foot in "Normal" mode, and you could easily get that a few points higher; conversely, during more spirited "Sport+" driving we pushed it under 10 mpg.
Price and Value
Lexus is known for its high level of standard-fit tech, but even so, F SPORT ownership doesn't come cheap. Our test car has a sticker price of $88,584 before delivery fees, of which $7,860 was for the F SPORT package, $2,090 for the F SPORT comfort interior (including the climate-control front seats, heated rear seats, power trunk lid, and power rear blind), $1,450 for the LED headlamps, and $1,570 for the Mark Levinson infotainment upgrade.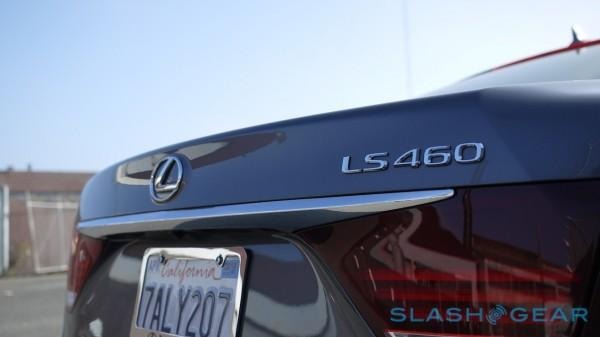 More eager drivers not quite looking to the excesses of AMG or M Sport ownership might look instead to Audi's A8, known for being a more driver's focussed car, or indeed the Jaguar XJ. The XJ Supercharged, for instance, starts at $90,600 but gets a 5.0-liter, 470 HP V8 engine that's considerably more powerful than the Lexus; alternatively, those rooting for the home crowd might find a bargain in Cadillac's XTS, which squeezes 410 HP from its 3.6-liter twin turbo engine and costs from around $63,000. It's an impressive car, though it lacks the supple, Bullet Train style cruising ease of the Lexus.
If we've a lingering frustration, it's Lexus USA's decision not to offer the full F SPORT line-up in the US market. In particular, that includes not offering F SPORT versions of the company's excellent hybrid cars (though you can apply F SPORT add-on packs to select hybrids, like the CT200h). Earlier this year, we drove the incredible GS 450h F SPORT, a car that quickly became our favorite Lexus hybrid for its combination of electric torque, aggressive performance and styling, and yes, a little fuel economy too.
The company tells us that decision is one based on clarity of range: Lexus USA doesn't want to muddy the perception of F SPORT as a fledgling sports brand by connecting it too greatly with hybrid branding. We can't help but feel like the firm is missing an opportunity to dominate a new "sports hybrid" segment, though, much like how the Lexus RX has come to epitomize the hybrid SUV.
Wrap-Up
Lexus' aspirations for F SPORT are humble, at least initially. Although cars like the latest IS have conclusively demonstrated that the brand is more than just Toyota with polish, there's still a step from there to convincing keen drivers that models such as the LS can have legitimate fire in their belies. Halo experiments like the LFA help, certainly, but the Lexus audience is a traditionally conservative one.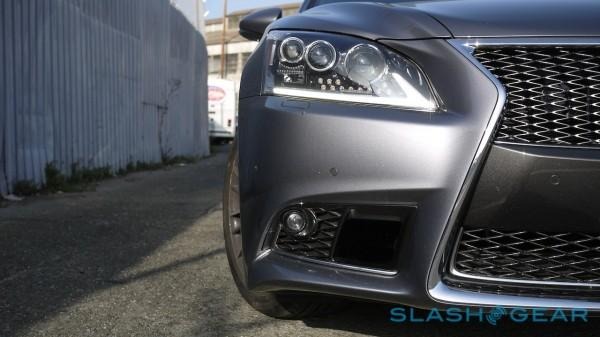 That's showing signs of changing, however, and the IS is leading the way. New Lexus buyers are getting younger, and the concept of a car that both delivers on the superlative comfort historically associated with the marque and some driving excitement at the same time is no longer anathema. The LS 460 F SPORT doesn't push the envelope too greatly – it's more eager, not a frenzied animal – but its combination of refinement with urgency when you want it holds no small amount of allure. The admiring glances may be less frequent than something with an obvious bodykit from Germany, but there's enough to differentiate the F SPORT from its more sober counterparts when you look closely.
There's a lot to be said for a car which can be a legitimate limo on the one hand and then deliver some driver satisfaction after you've dropped off your passengers. Lexus could have compromised on its core luxury proposition and made something more aggressive, but it would likely have turned off its typical audience in the process. As one of the first plays in Lexus' performance gambit, this warmed-up LS holds enough intrigue to make it not only rewarding for today's owner, but to leave us particularly curious about what's next in line for the F SPORT treatment.