Honda bakes Siri Eyes Free and HERE Maps into 2014 Civic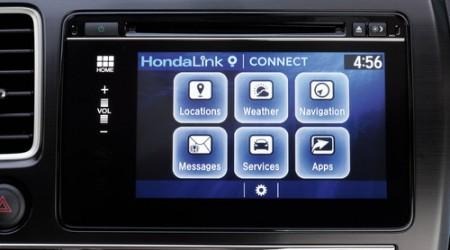 Honda has baked both Apple and Nokia technology into its latest infotainment system, bringing Siri Eyes Free and HERE Maps with remote route planning support to the 2014 Civic. The new car – and the 2015 Honda Fit which will follow it – gets an updated version of HondaLink, with a 7-inch multitouch-capable display in the dashboard for navigating through audio, phone, directions, Pandora, and web-based points of interests using the Aha app. However, the 2014 Civic will also be the first car to get Siri Eye Free technology, Apple's integration of its personal digital assistant into the dashboard.
Paired with an iPhone via Bluetooth, Siri Eyes Free uses a single command button on the wheel to trigger the voice-controlled system. With it, text messages and emails can be read out and sent; calendar entries, reminders, and alarms set; weather forecasts requested; sports and stock results read out; and Apple Maps directions ported through the infotainment system's speakers.
However, Apple Maps isn't the only option for navigation. Honda has cooked up its own directions app, using Nokia HERE mapping data, with live traffic and 3D graphics. Priced at $59.99, the app will support remote planning on a smartphone and then transferring the route into the car; it will also have turn-by-turn guidance, and points of interest.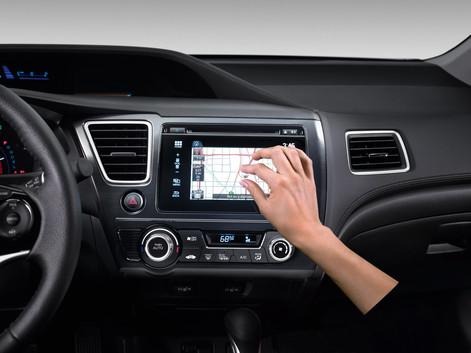 Meanwhile the new Connect App will pull together location searches, local weather, messaging, maintenance alerts, and other information. If the car has a cellular connection via Bluetooth to a nearby phone, it'll automatically put out a call for help should one of the airbags be triggered, report the location of the incident, and offer two-way communication with an emergency services operator.
The Display Audio system with Siri Eyes Free mode and HondaLink with Navigation will be fitted on EX-grade 2014 Civic models or above when the car goes on sale from tomorrow. It'll also be offered on the 2015 Fit, which Honda says will arrive in the spring of 2014.