Cadillac's first 2014 ELR pulls off production line (but it's not for showrooms)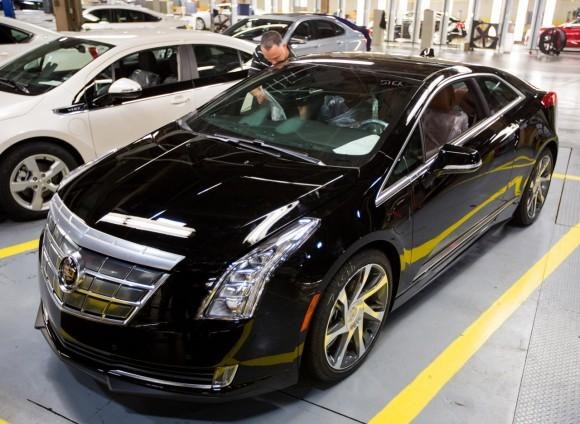 Cadillac's first 2014 ELR hybrids have been snapped leaving the production line, though the "range-extended" car itself still isn't expected to arrive in showrooms until early in the new year. The initial ELR cars – which borrow much of their mechanical and technological magic from the Chevrolet Volt, but wrap it up in a coupe shell with various luxury extras – are destined for further testing, similar to the cold-weather conditions tests GM put the ELR through back in February.
The photos, shared by GM, were taken at the car company's Detroit-Hamtramck plant this week, where various Chevy and Cadillac race drivers had been invited to watch the first ELR models be completed. Among the guests was Team Chevy IndyCar driver Simona De Silvestro, shown in the photo below.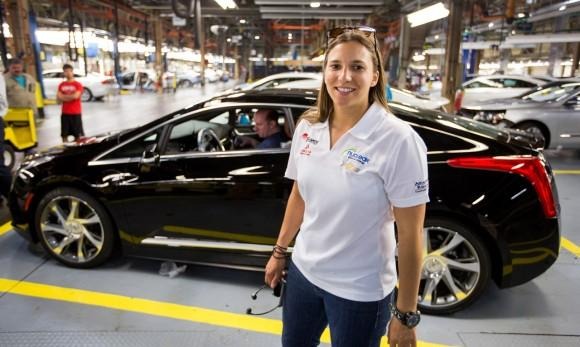 Cadillac's goal with the ELR is to ween its luxury customers off of their big gas engines as well as lure a younger audience onto the forecourt. Outwardly based on the 2011 Converj concept, under the skin there's a 1.4-liter four-cylinder gas engine that's used solely to recharge the ELR's batteries, rather than to actively drive the wheels.
"Cadillac ELR pre-production vehicles will be used to validate manufacturing, engineering and other quality measures before production vehicles are assembled at the end of the year for sale in 2014" GM
Drive itself is provided by the electric motors, and Cadillac says the ELR will run for up to 35 miles on a full charge. However, with a full tank of gas, the coupe can manage in excess of 300 miles, the company claims.
[vms 0d6d8462016d2fc6276b]
Interestingly, GM leaves gearchanges to the ELR's digital brain, and instead puts the driver in charge of regenerative efficiency. The steering wheel paddles, rather than flitting through ratios, actually adjust how much of the car's momentum is converted back into power for the batteries. Dubbed "Regen on Demand", when the driver takes their foot off of the accelerator and pulls one of the paddles there's a downshift-style jump in deceleration, with the resistance of the electric motors turning speed into a useful power top-up.
That works in tandem with the regenerative braking system, which also converts momentum to electricity when the driver hits the brakes. However, Cadillac expects Regen on Demand to be more popular with sportier drivers, given it allows the ELR to shed speed more rapidly, build up a boost of energy, and keep their foot close to the accelerator, all at the same time.
VIA: Autoblog