Cadillac ELR blends EV with luxury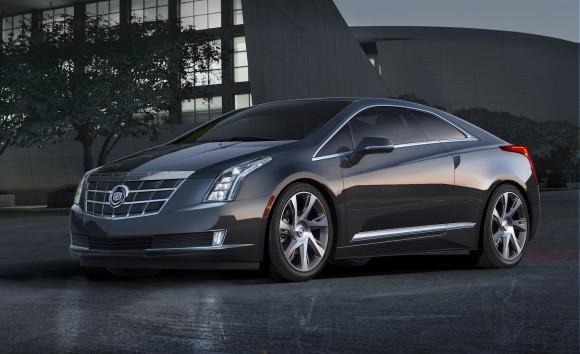 Cadillac's thinking big for its reinvention plans, but the new Cadillac ELR is a surprisingly compact four-seater coupe for the luxury tourer market, promising both eco-friendly performance and a cosseting ride. Revealed at the North American International Auto Show in Detroit this week, and set to hit showrooms in early 2014, the ELR is based on Cadillac's Converj concept from 2011, and uses a small gas engine to supplement Li-Ion batteries and electric motors for 300+ mile range.
The petrol engine is a 1.4-liter four-cylinder plant, and is used to charge the ELR's Li-Ion battery array. That 16.5kWh system powers two front electric motors mustering 207HP in total, and 295 lb-ft of torque, for a top speed of 100mph; Cadillac is yet to confirm 0-60mph times, but says the ELR should be capable of around 35 miles in pure EV mode, or more than 300 miles with a full battery and a full tank of gas. Interestingly, the steering wheel paddles don't control gear-changes but battery regeneration efficiency: drivers can adjust how much of the ELR's momentum is transferred back into electricity, topping up the battery in the process.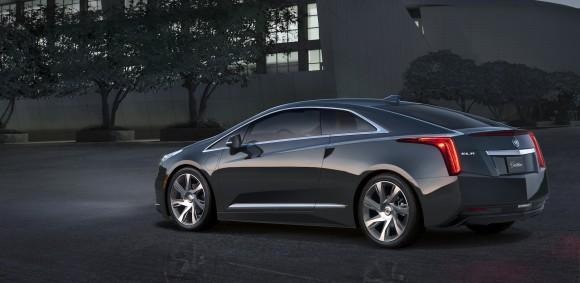 In that way, the gas engine never actually powers the wheels directly, but instead keeps the battery full; Cadillac calls it an Extended Range Electric Vehicle (EREV), and says it has broader plans with the system for other models in its upcoming range. Of course, most eye-catching is the clean-cut exterior, complete with 20-inch wheels and vertical front and rear lighting clusters (which use LEDs). There's also some clever aerodynamic work, with shutters behind the grille to adjust airflow and reduce drag, and a steep rake on front and back glass to make the ELR extra slippery.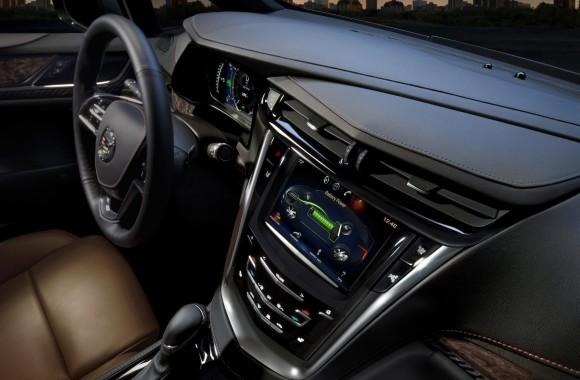 Inside, it's a 2+2 layout, with lashings of leather, wood, and real chrome (while carbon fiber is an option); Cadillac throws in some sueded microfiber too. The center console is dominated by an 8-inch capacitive touchscreen for the company's CUE infotainment system, as we fondled on the ATS last year, as well as showing details on driving efficiency, energy usage, charging status, and other hybrid-related information. The display motors up to reveal a storage nook with USB connectivity, ideal for a phone.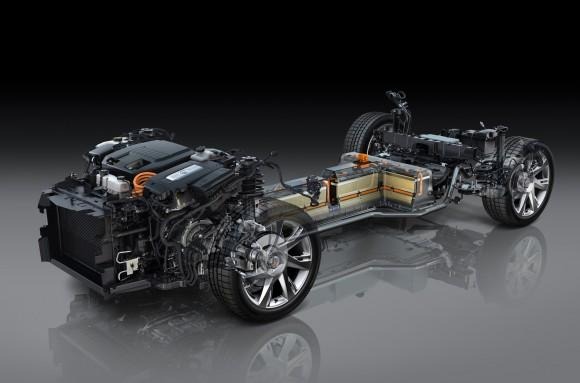 Charging up the ELR's battery from an external source is expected to take around 12hrs from a 120V power point, or 4.5hrs from a 240V charging station. The whole process can be scheduled to suit lower electricity rates or to be matched to a specific departure time, and ELR owners will be able to monitor and remotely-control things via a browser or the RemoteLink app.
[vms 0d6d8462016d2fc6276b]
Cadillac isn't talking pricing for the ELR at this stage, only saying that the car will go into production late this year. It'll be offered in limited quantities, however, which suggests this won't be a direct alternative to the Volt.