Cadillac Elmiraj Concept Wants To Give BMW Sleepless Nights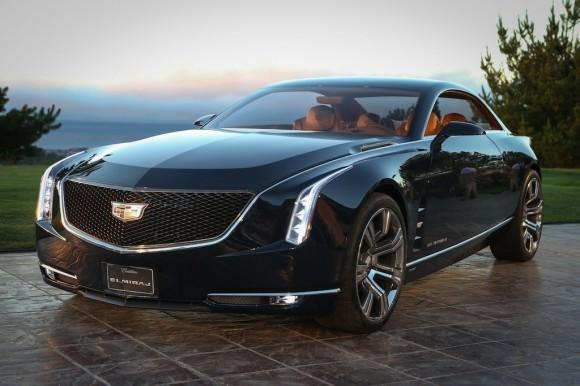 Cadillac has taken the wraps off of the Elmiraj Concept, the company's latest design study, a luxury four-seater grand coupé borrowing design cues from the monstrous Ciel Concept. Over 5.2 meters long, with the sort of menacing styling Darth Vader might approve of, the Elmiraj Concept runs a 4.5-liter twin-turbocharged V8 good for around 500HP, pushing its power through the rear wheels in what seems a direct – if only theoretical at present – challenge to BMW's 6-Series tourer, and wrapping the interior in backlit titanium and leather.
The car company's production models, like the Cadillac ATS, aren't afraid of some sharp crease-lines in the bodywork, but the Elmiraj Concept ramps it up a notch with its design. GM's design team describes it as "an expression of the confidence and poise you feel driving a high-performance car"; whether you like the lengthy hood, razor-slash lights, and revised hood crest or not, you can't deny it's striking.
It's not all design frippery, either. Two of the vent hoods are functional, helping cool the twin-turbos, while the 22 x 9 inch aluminum wheels get oversized ceramic brakes and monoblock calipers to rein the Elmiraj Concept in.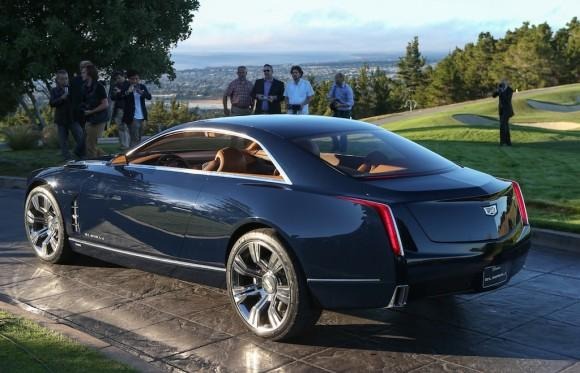 Inside, meanwhile, Cadillac has split the dashboard into a single, sweeping upper section and a more encapsulating lower half. Both are picked out with titanium trim, backlit to bisect the camel-color leather and Brazilian rosewood. The two bucket seats in the back each recline, and have an easy in-out feature whereby the front seats motor forward 10-inches and the back seats follow 4-inches, making entry through the long doors more dignified.
Cadillac Elmiraj Concept:
As for the instrumentation, the rev counter and speedo are both analog and transparent, sitting in front of a widescreen high-res display for other information and a feed from a front-mounted camera. A 10-inch touchscreen pulls out of the instrument panel, for navigation and entertainment.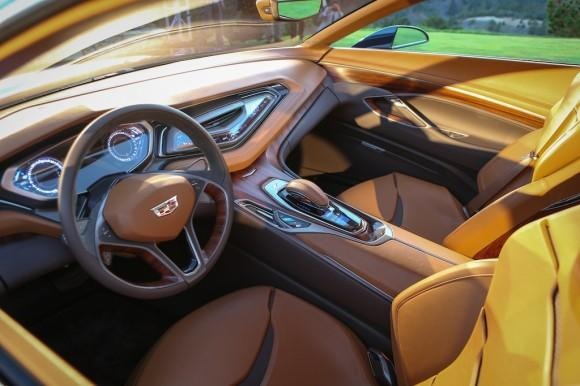 Unfortunately, Cadillac isn't saying anything about production plans for the Elmiraj Concept. The Ciel – shown below at its 2011 Pebble Beach outing – despite initially being intended for a road-going version, was eventually dropped by GM as an ongoing project, after the company decided the market for a roughly $100,000 droptop tourer wouldn't be sufficient to warrant the cost of development.
Cadillac Ciel Concept:
However that's not to say that there's no change of an Elmiraj you can actually buy. The Cadillac ELR, for instance, was based on 2011's Converj Concept, keeping much of the distinctive design for the road-going hybrid.
Cadillac Elmiraj Concept design process: