B&N pares back NOOK hardware team as ereader slumps [Update]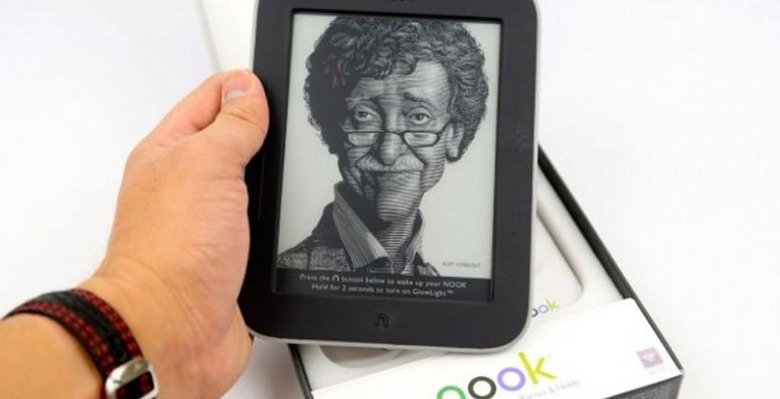 Barnes & Noble has made further cuts to its NOOK engineering division, taking a scythe to the hardware team responsible for its ereader in the aftermath of slumping holiday sales. Sales fell more than 60-percent over the 2013 holidays, B&N admitted last month, and has now confirmed that more staff losses have taken place, though it still insists it's committed to NOOK.
Word of the cuts initially came courtesy of a Business Insider tipster, who claimed that B&N had in fact axed its entire NOOK hardware engineering team. The company quickly pointed out that, in fact, it hadn't been a clean sweep of the division, and that some people remained.
However, it declined to give specific numbers, and with NOOK now the weakest-performing part of the company's business overall, it's not hard to imagine enthusiasm for the ereader product waning.
Barnes & Noble had already effectively washed its hands of NOOK tablet development, announcing in 2013 that it would instead be licensing out the name to third-party manufacturers. The firm subsequently tried to minimize the perception of NOOK as a dying brand, but products like the GlowLight failed to get as much attention as Amazon's Kindle and Kindle Fire ranges, despite heavy price cuts around Christmas.
NOOK isn't the only ereader struggling. Last week, Sony announced it would shutter its own ebook store and leave users of its Sony Reader range reliant on the Kobo eBookStore in a few months time.
Update: Barnes & Noble gave us the following statement from spokesperson Mary Ellen Keating, reiterating that the NOOK team is still operational within the firm:
"We've been very clear about our focus on rationalizing the NOOK business and positioning it for future success and value creation. As we've aligned NOOK's cost structure with business realities, staffing levels in certain areas of our organization have changed, leading to some job eliminations. We're not going to comment specifically on those eliminations. We believe we have a strong management team in place at NOOK, having recruited significant new talent. The new NOOK management team is focused on managing the business efficiently so that it becomes financially strong while at the same time aggressively moving to drive revenue growth" Mary Ellen Keating, spokesperson, B&N