B&N NOOK Hardware U-Turn: New CEO Teases "At Least" One Launch In 2013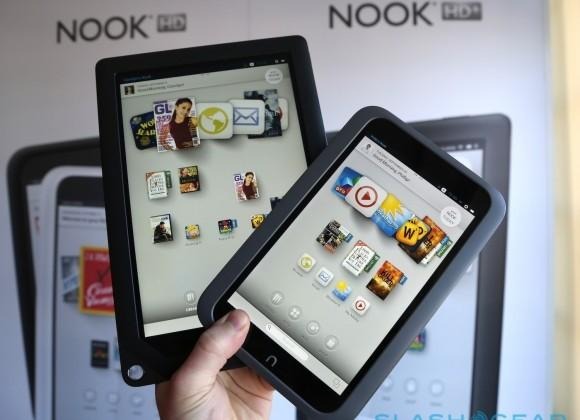 Barnes & Noble has backtracked on plans to axe internal development of new NOOK tablets, promising continued R&D into both black & white and color models, with at least one new NOOK for the holiday 2013 season. The about-face, announced during B&N's dreary quarterly results, comes after the company said back in June that it intended to focus on e-paper models itself and license out the NOOK HD brand for tablet-style versions to third party manufacturers instead. Now, B&N's new CEO Michael Huseby claims, that strategy was "interpreted incorrectly."
That means no longer leaving it up to external hardware partners to direct NOOK tablet development, but continue to make the devices itself. "The company intends to continue to design and develop cutting-edge NOOK black and white and color devices" Huseby said in a statement. "We will continue to offer our award-winning line of NOOK products including NOOK Simple Touch, NOOK Simple Touch with Glow Light, NOOK HD and NOOK HD+ at the best values in the marketplace."
Speaking during the investor relations call, Huseby alluded to the decision as having been B&N's intention all along, with any other conclusion being an error on the part of the media. "Unfortunately, many people interpreted these comments incorrectly and determined that we were getting out of the device business" he insisted.
"At least one new NOOK device will be released for the coming holiday season and further products are in development" Huseby promised. "All NOOK devices will continue to be backed by world-class pre- and post-sales support in Barnes & Noble stores, as well as ongoing software upgrades and improvements to the digital bookstore service."
Huseby took over from former NOOK CEO William Lynch in July, taking charge of the ereader division. Mitchell Klipper is CEO of B&N's retail division.
As for the suggestion that B&N's drastic price cuts on the entire NOOK range – which most recently saw the NOOK Simple Touch with Glow Light cut to under $100 – Huseby said that it was an inventory issue, not the company floundering, GigaOm reports. "We overestimated demand for the products that we put out" he argued. "As a result of that, we had to discount those products and we're selling them now."
The goal for the better-unified NOOK ecosystem, Huseby says, is to put content first and lower the cost of entry to ways to consume that content. "Eventually we'll move to a business of lower priced [NOOK] at higher volume" he explained, as well as confirming that plans to sell off the NOOK division – which Microsoft was tipped to be interested in buying at one point – had been put on ice for the moment, while the segment recovers.
Overall, B&N's consolidated revenues for fiscal Q1 2014 were down 8.5-percent year-on-year to $1.3bn, while the NOOK business – incorporating devices, content, and accessories – declined 20.2-percent year-on-year, with revenues of $153m.