Nook GlowLight unveiled with design overhaul and improved glow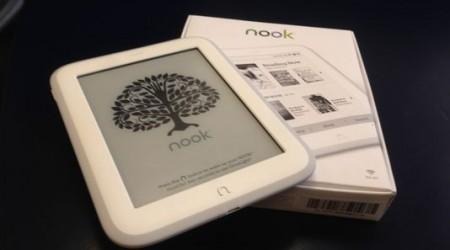 It was a bit over a year ago that Barnes and Noble introduced its Simple Touch with GlowLight ereader, something that has become old news as of today as the company announced the Nook GlowLight — no Simple Touch to be found. This ereader is said to be a complete redesign on all fronts, bringing readers both hardware changes and updates to the system's interface, as well as more seamless page flipping.
With the Nook GlowLight comes a lighter ereader that weights in at a touch over 6 ounces, making it lighter than the competing Kindle Paperwhite. The outside has a soft-touch design intended to make it comfortable to hold the ereader. The coloring is a soft sort of white, and the edges appear to have what is similar to a bumper, making it an interesting, somewhat mute visual.
As mentioned, the GlowLight aspect of the ereader has also been improved. The glow back-lighting is most evenly dispersed and covers the entire display evenly. The new model brings a couple gigabytes of additional storage, bringing 4GB in total to the table. While not a huge boost, when taken in light of how small a book file is, readers will be able to tote around about 2,000 more books than with previous models.
Rounding it all out is the new user interface, which is tweaked in an effort to give readers incentive to buy books from the company's service. Personalized recommendations are offered to users via the utilization of metadata. Purchase history, searches, and more are used to find content in the system that the reader might enjoy. The device is available now for $119 USD.
SOURCE: ZDNet
Image via USA Today