Best of the 2016 Detroit Auto Show: Buick, Lexus, Volvo, More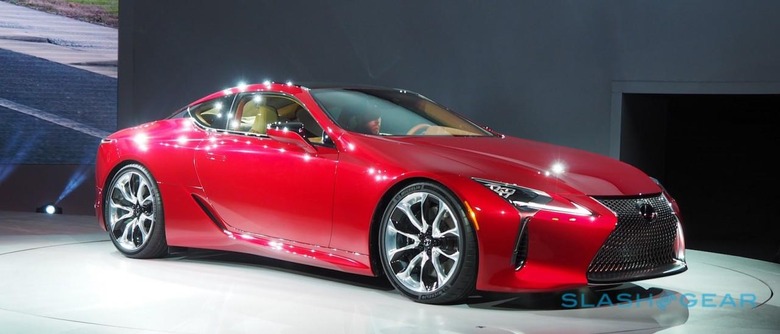 They've officially slipped the silk off of everything on four wheels at the 2016 North American International Auto Show, and a few automakers selfishly hogged all the attention. Our team was in full force at every debut, talking to the people that brought these cars and concepts to life. We've combed our brains, scanned our notes, and are bringing you our top five of the Detroit Auto Show.
Buick Avista Concept
None of us saw this coming. Vegas probably had the odds of Buick making a best-of list at a thousand-to-one. For a company that hasn't had anything that's truly excited us for eons, this is big. The fact that we're talking about Buick — and it's all positive — is a victory right there. GM says much of the architecture and underpinnings are borrowed from the Chevy Camaro, and without a doubt, the Avista's lines are sensuous and alluring.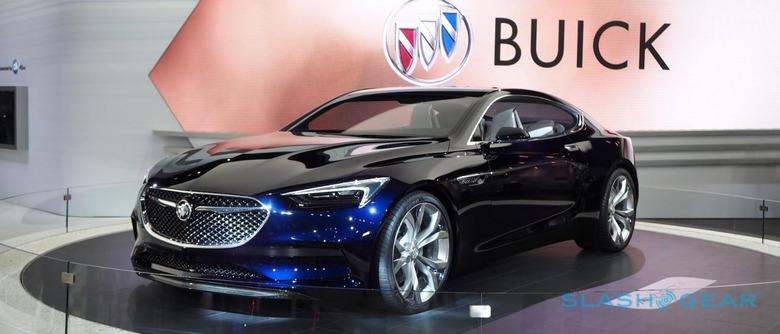 Now, it's up to Buick to deliver on an actual production car that will also drop our jaws. Our team on the ground in Detroit had much to say about Buick's looker:
Chris Davies: "Remember the last beautiful Buick? No, me neither. That the Avista concept so thoroughly wowed just about everybody at NAIAS this year is all the more impressive, then, given our minimal expectations. Certainly, there might be hints of Tesla from some angles, or the Jaguar F-Type, or Bentley's Continental, or the Audi A7, but the end result manages to look not just like a Buick but – miraculously – a Buick you might actually want to own. The mood among execs is apparently tentatively positive, so we're crossing our fingers that something at least Avista-inspired could end up on forecourts."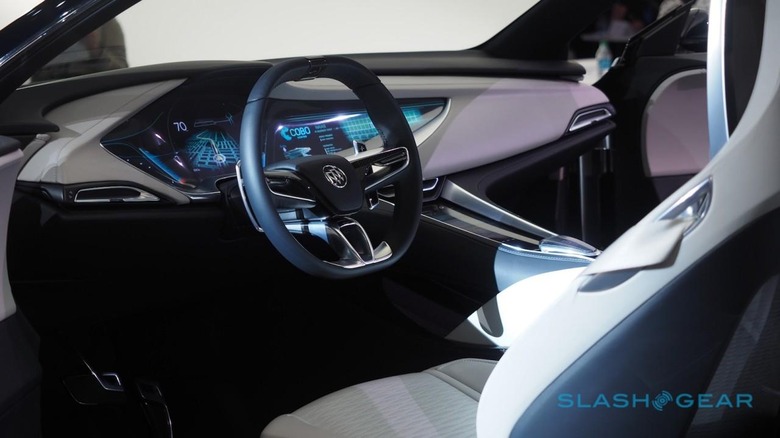 Benjamin Hunting: "Is the Avista concept a bigger threat to Cadillac than it is to Acura or Lexus? It's hard to imagine such a pretty rear-wheel drive GT leaving GM without a wearing a wreath and crest on the hood."
Jaclyn Trop: "'Damn' was the collective sigh heard 'round the automotive industry when the veil dropped on the Buick Avista concept. Next was 'This is a Buick?' This stunning 2+2 turns the old Buick on its head. Well done!"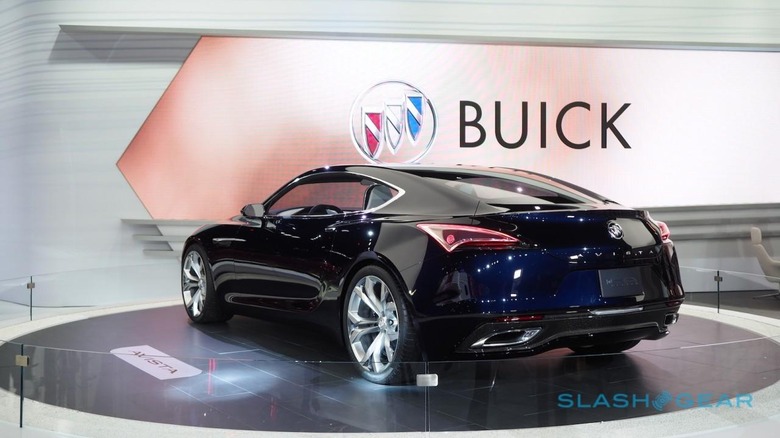 Lexus LC 500
Easily the best-in-show, for the simple reason that this new stunning flagship coupe from Lexus is actually a real car. Depending on when it debuts, it may be the world's first 10-speed automatic transmission, too. It boasts the same V8 from the Lexus GS F and RC F, and has an active sound feature that pipes engine notes into the cabin when over 3,000 rpm.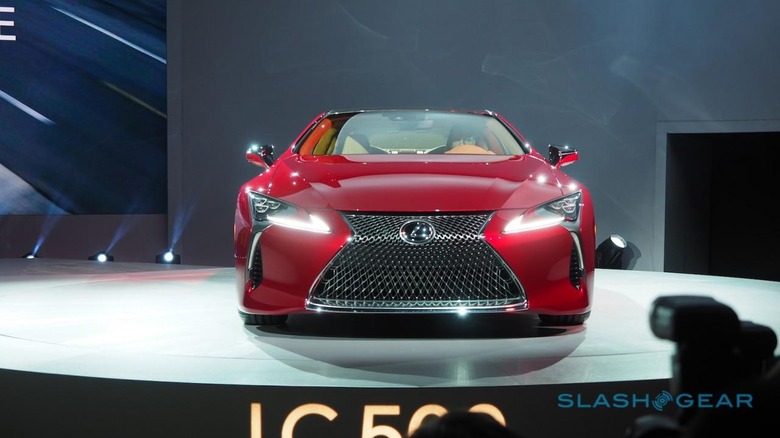 Akio Toyoda challenged Lexus to be more emotional, and Chief designer Mori-san says the team takes great pride in how close to the actual concept — originally showed off in Detroit four years ago — the LC 500 is. Some people were apparently confused, not realizing that the LC was not a concept, but that it will arrive early next year, priced starting somewhere around $95,000. One particularly striking feature? The three powerful and tiny jeweled-LED headlights in an uncommonly small, concept-like housing. Our team had the feels on this one.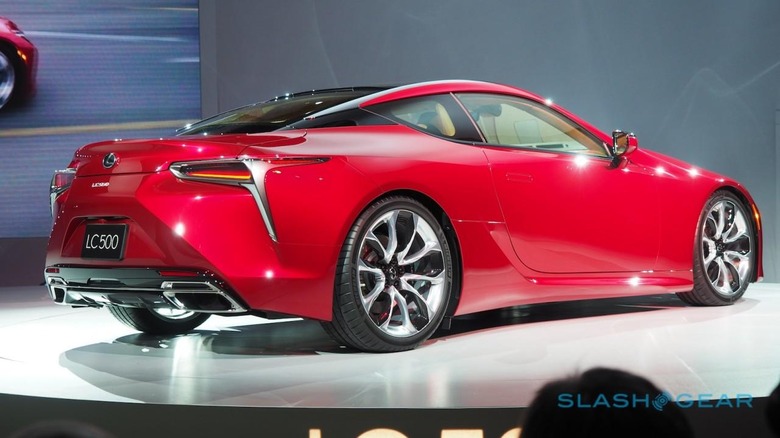 Chris Davies: "Witness the rebirth of Lexus, and the astonishing concept-to-coupe journey that's responsible for it. I think we were justified in doubting the LF-FC would ever make it to production, but it's one of those occasions that I'm glad to be proved wrong. Every measurement, every panel, every piece of the LC 500 is different from the concept that inspired it, making the fact that Lexus so closely captured the spirit of its grand tourer all the more impressive. If the LFA demonstrated they could make a legitimate sports car, then the LC 500 is shaping up to prove Lexus is a new force to be reckoned with in cars you don't just want to drive, but drive hard."Benjamin Hunting: "The LFA's staying power was brief, but the LC more than makes up for it with a less frenetic take on the luxury sports car trope. Potential buyers must ask themselves, however, if they can handle the paparazzi flashbulbs that will follow them everywhere. This is a whole new customer for Lexus."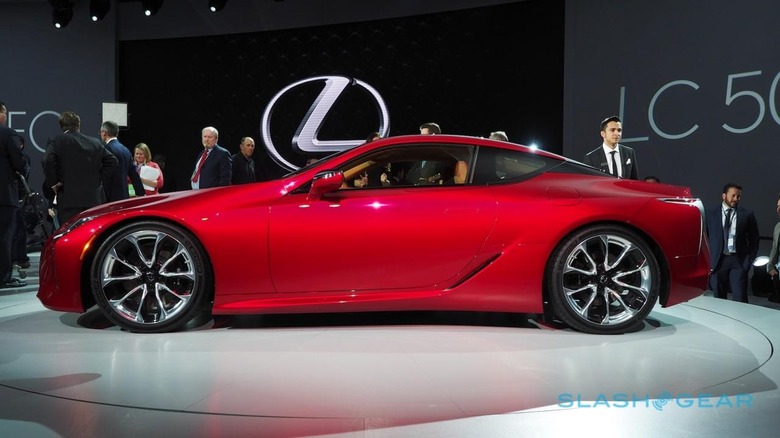 Jaclyn Trop: "Agile and aggressive, the Lexus LC 500 is a surprisingly sporty rear-wheel drive coupe that heralds the brand's commitment to a more expressive and emotional tomorrow."
Volvo S90
It's one thing to stun the world with a flagship car that completely reinterprets what a brand stands for, like the Volvo XC90 did last year. It's another, possibly more challenging thing to then follow that up with a second home run, but Volvo easily pulled it off with the S90.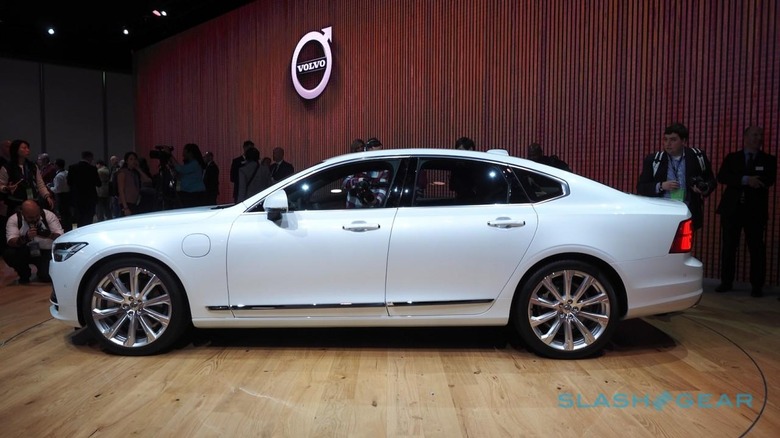 Once again, Thomas Ingenlath's design team — with a major assist on the extremely well-thought-out interior from Tisha Johnson — showed us what a modern, upscale, and elegant car truly looks like, inside and out. In fact, it made the interior of some of the other luxury car debuts—cough, Lincoln Continental, cough—look almost dated on arrival.
Volvo's done away with all of the buttons that litter most cabins, and replaced them with four 'tiles' on their high-res touchscreen, like on the XC90. New are air-blade vents, wood that has intentionally been given a distinct 3D shape to demonstrate solidity, and a metallic spline that runs under the dash and really anchors the cabin aesthetically. We won't even mention that the semi-autonomous autopilot system comes standard — an industry first. For automakers looking for a way to reinvent their brand, we'd start examining Volvo's playbook.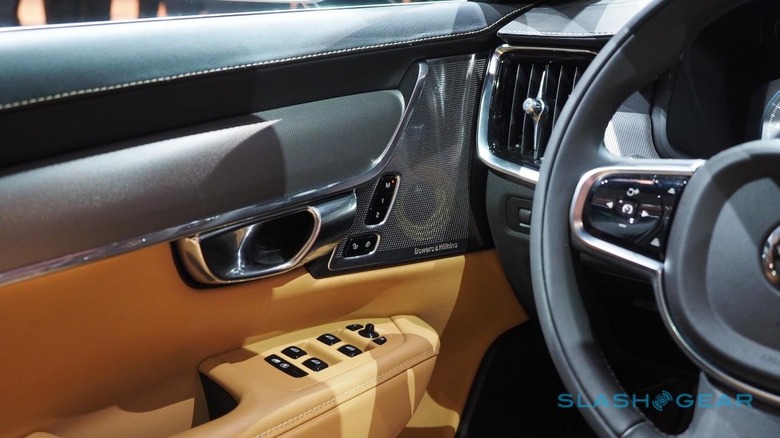 Chris Davies: "I've never been stripped naked, bundled into a steam-filled wooden box, and whipped with birch twigs, but I feel like the Volvo S90 could give me that experience. For me, the XC90 worked because it was so distinctly Scandinavian and, as such, offered something noticeably different in terms of luxury from its German rivals. The S90 recaptures that feel, only in a handsome sedan, proving in the process that this new Volvo is no one-trick elk."Benjamin Hunting: "Volvo's struggle to regain Euro-luxury relevance has a second act, and it's called the S90. After the tour-de-force that was the XC90 SUV, Volvo is hoping lightning will strike twice and give it some full-size sedan glory. This time, Sweden is invading Germany."
Mercedes-Benz E-Class Interior
The Mercedes-Benz S-Class boasts the nicest interior this side of anything that doesn't have a Rolls-Royce or Bentley badge on it, and once you factor in technology, it may be the most advanced and luxurious sedan in this stratosphere. Why are we talking about the S-Class interior? Because Benz basically dumped its luxe flagship's guts into the E.
Fittingly, Merc's newest sedan is also its most technically advanced, too. New features like a system that can minimize hearing loss in the event of an accident shows off the continued innovation we've come to expect from Stuttgart.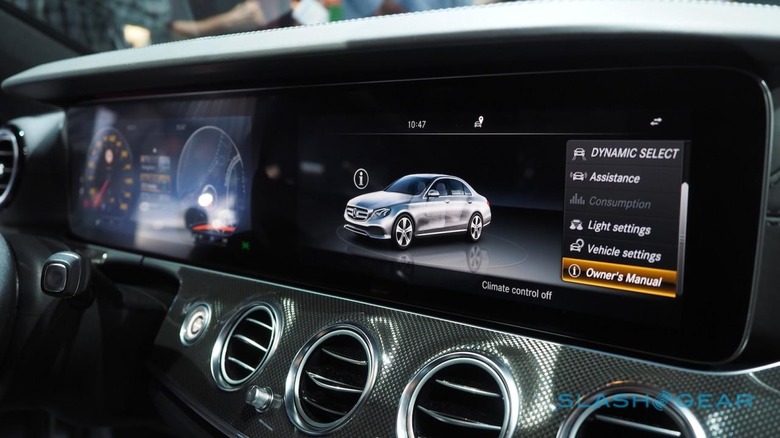 Vincent Nguyen: "Great dashboard design is about more than just big screens. Mercedes has those in the E-Class, yes, but it's how you interact with them that most impressed me. The steering wheel control sticks mean you can avoid reaching for buttons but not have to resort to voice commands. Meanwhile the graphics are high-resolution and so nicely designed, you'd think they came from a concept car not a production model."
VLF Force 1
The VLF Force 1 is legendary designer Henrik Fisker's newest project, and as can be expected, we're completely captivated. Fisker is behind some of the most ogle-worthy cars of the past two decades, including the sensuous BMW Z8, the Aston Martin Vantage, and striking Fisker Karma. Projecting muscle from every angle, the 745-hp V10 Force 1 is a tour-de-force of American muscle.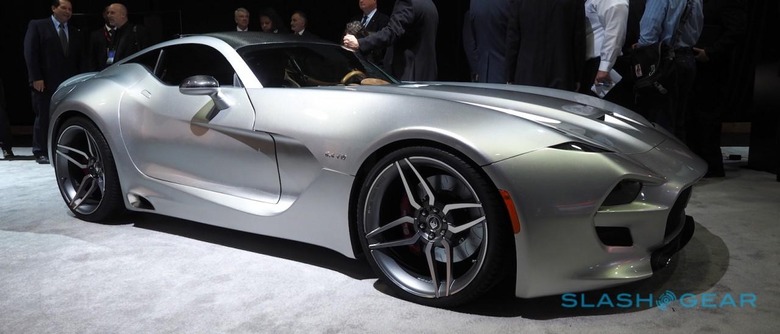 It's based on the latest Viper, and despite that car's excellent performance prowess, it never quite caught on in the U.S. As one spectator said over my shoulder, "well maybe if it looked like this it would have." The Force 1 begins production in April, deliveries begin in June, but with a $268,000 starting price, this one's going to be exclusive, and low volume. Fisker says that's the right way to start. The Force 1 has also put VLF on our radar.
Honorable Mentions
While these five were clear standouts, there were others that caught our attention. The Acura Precision Concept is a design study, but Acura says we'll see elements of the Precision on future cars. The concept boasts unreal proportions as it should, but we're curious to see what translates in the future to production.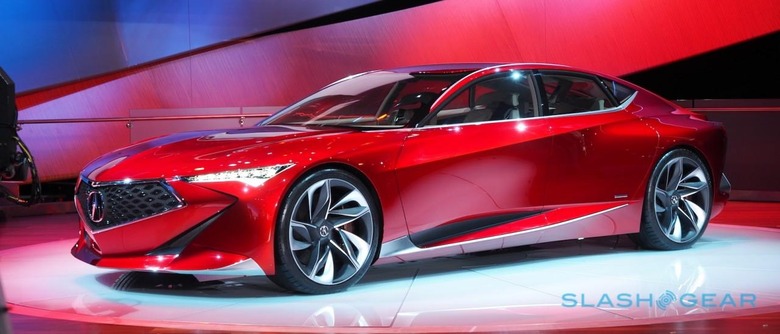 Hyundai officially launched its Genesis brand with the G90, formerly called the Equus. Hyundai has been the darling of the industry in the past decade, revolutionizing our perceptions of Korean cars with unique, striking design, feature-heavy cabins, and relative value. That also means the days of saying 'that's a Hyundai?' are long gone. We've now come to expect big things from Hyundai. The G90's exterior is reserved—much like the Equus was—but the interior is attractive and should please newcomers to the Genesis brand. We're looking forward to getting behind the wheel, and seeing for ourselves.
And lastly, Ford brought its crowd-fave, the Raptor. As Jaclyn Trop says, "The Ford Raptor is a metallic contradiction: an athletic bird of prey that allegedly offers a 'cushy, pillow-y ride' over rough terrain. Baja, beware." We hope the Detroit Auto Show — a huge success for the industry this year in our eyes — is a harbinger for the year to come.
[gallerybanner p="422949"]