August View Review: A video doorbell for renters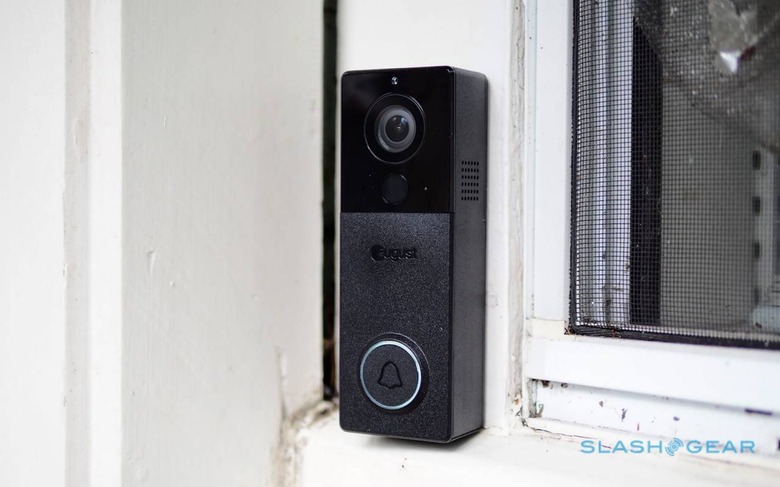 Sometimes the smart home can seem not-so-smart when you're renting, something the new August View doorbell camera aims to address with its wire-free installation. Latest in the connected home security company's range of smart locks and accessories, the new video doorbell promises not only easy installation but more useful results, courtesy of an unusual camera. Question is, is all that worth $229.99?
No wires, but a few screws
This isn't August's first doorbell camera: the first Doorbell Cam arrived in 2016, followed by the Doorbell Cam Pro in 2017. With their square designs and oversized buttons they didn't look particularly like traditional doorbells, but they could tap into their wiring. If you already had a wired doorbell, so the theory went, you could unscrew that, replace it with a Doorbell Cam, and use the existing cabling for power.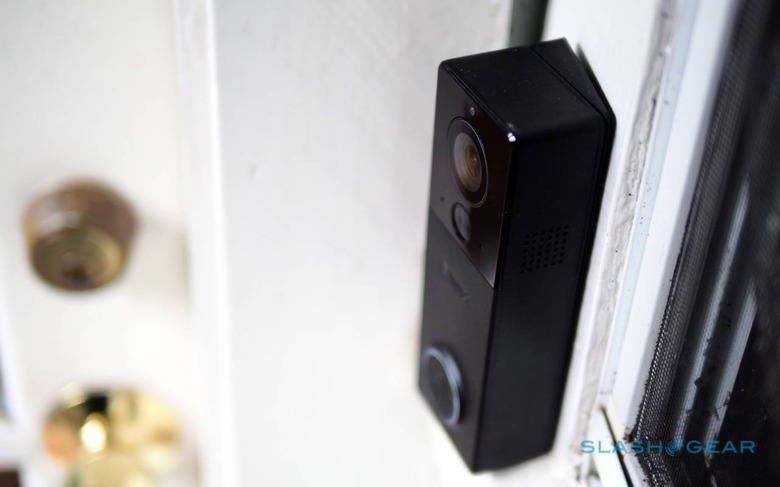 If you didn't already have a wired doorbell, though, or you couldn't drill a hole and run new power cables – whether because you rent, or simply because of the nature of your front door – then they were both much trickier to install. The new August View addresses that with a battery, so that there's a good chance that there'll be no drilling involved.
You'll still have to fix the August View to your doorframe, of course. That's via a simple bracket and two screws, though an angled bracket is also included to help get the right perspective for the camera if your door is in an awkward spot. In theory you might be able to use double-sided adhesive pads, too: August suggests that, though doesn't actually include the tape. If someone steals your August View, the company will replace it free of charge.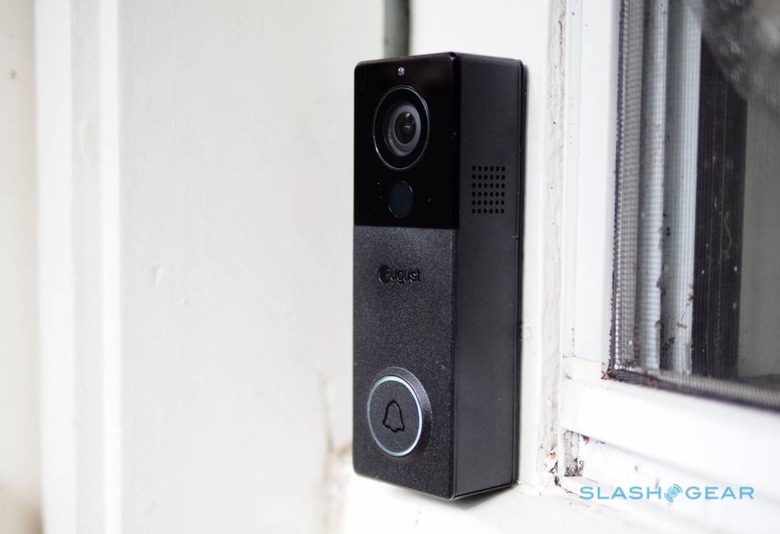 Assuming a few screws are okay, the setup process is straightforward. The app walked me through charging the removable battery via its microUSB port, installing it, getting it onto my WiFi network, and then mounting the View on the door frame. Screws are included, plus plastic plugs should your wall require them. Finally you plug in the indoor chime, straight into a spare outlet. It has a range of up to 100 feet from the doorbell.
A more traditional shape
August's square doorbell cameras have a couple of issues. If your door frame is too narrow, getting them to fit can be problematic. Once you do have them installed, not everybody recognizes them as actually being doorbells.
August View addresses both problems in one change: rather than being square, it's a tall, narrow rectangle. That makes it more likely to fit on a slimmer door frame, as well as more recognizable as what we expect a doorbell to look like.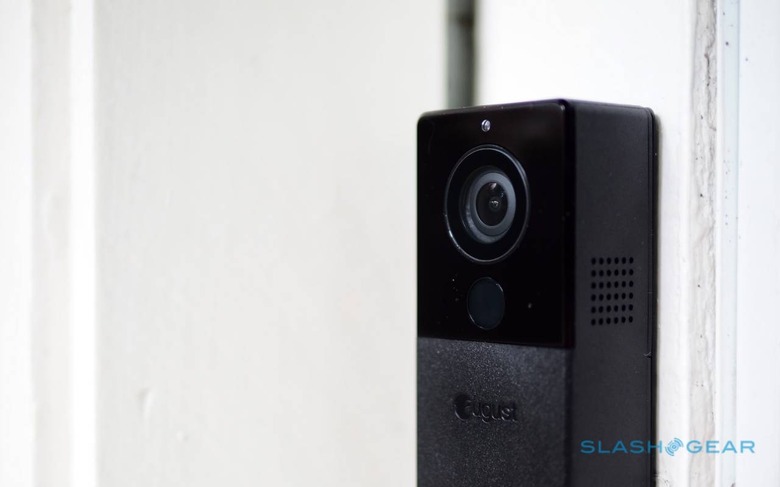 The standard finish is matte black plastic on the lower half, with a glossy black camera and motion sensor lens. That lower section pulls off, though, and can be replaced with other finishes: August has various colors at $14.99 each, along with metal versions at $29.99 each. Oddly, if someone steals just the faceplate, not the whole doorbell, August's free replacement warranty doesn't apply. Best hope your neighborhood thieves are thorough.
August View in use
August's app allows you to manage multiple homes, and then multiple doors or locations within each home. After that, when someone presses the doorbell button you get a notification on your phone. The doorbell itself has a chime, and the plug-in chime will ring, too; there's the option to turn that off if you prefer. The button's light ring blinks slowly when the bell is chiming; on a couple of occasions I pressed the button but didn't get an alert on my phone, though August tells me that's a known issue that it's working on fixing now.
The motion sensor wakes the doorbell when someone approaches, so that it can quickly reconnect to WiFi. It generally took less than two seconds from pressing the button for a notification to arrive on my phone. There's a thumbnail image attached, but unlike with a Nest camera no animation of what's going on outside.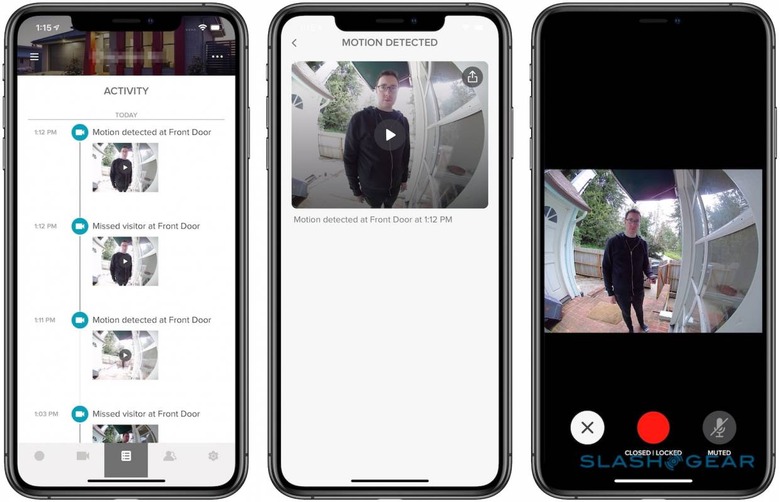 Tap the notification and, after a second or two as the connection is made, you get a live video stream from your door. August has opted for a fairly unusual 1920 x 1440 resolution, the same width as Full HD but with a taller frame. It makes sense, though, when you realize you can see packages that have been left on the step, or the faces of particularly tall visitors.
There's some fisheye distortion around the edges, unsurprisingly, and August seems to bias its brightness levels so that faces are most visible, even if that means the surroundings are over-exposed. You can pinch-zoom in to see details like name-badges. While the quality is reasonable, there are moments of occasional blockiness which seem to affect saved clips more than viewing the camera live. Viewing videos in the August app timeline view can also be oddly jerky, almost like a timelapse; the same clips, saved to my phone's camera roll, were much smoother.
The motion sensor automatically turns on the light ring around the doorbell button when triggered, though unlike the Doorbell Cam Pro there's no LED floodlight. Instead it uses infrared LEDs for night vision. You can also optionally receive notifications whenever motion is spotted. A Power Saving Mode trades night vision and streaming quality, as well as motion sensitivity, in the name of better battery life. Turn it off, and you can manually adjust motion sensitivity, night vision brightness, and video quality. In the video below, the night vision brightness was at its lowest setting, while video quality was at its best.
As for how long a charge will last, that depends on how frequently the August View is used. The battery itself is a sizable 6,500 mAh, which the company says should manage up to three months of use. Obviously if you frequently turn on the live video preview in the August app, that time will be cut down.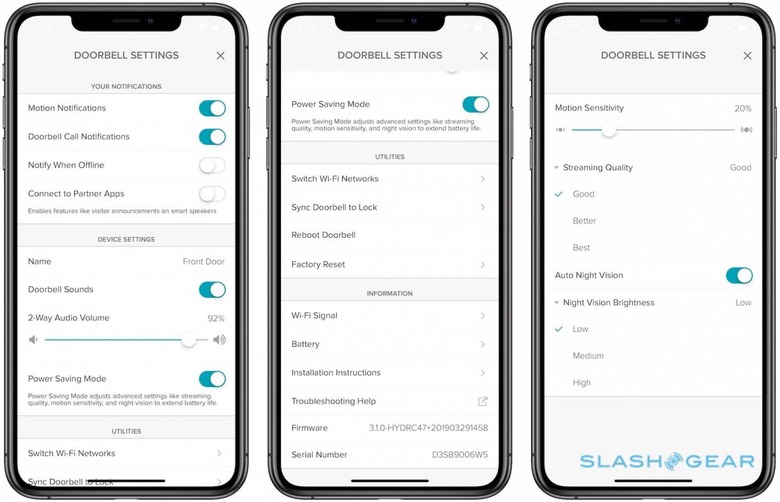 Still, a side benefit to using li-ion rather than the AA batteries in an August Smart Lock is much better power reporting. August tells me it should have a much more accurate idea of when the battery is in need of a recharge. When that time comes, you'll need to slide the whole doorbell off the wall: the microUSB isn't accessible with it mounted.
When you're viewing live video, either because someone rang the doorbell or because you switched it on manually, you can hear through the View's microphone. Press the mic button in the app, and you can talk to whoever is outside.
A lock is optional
August View's big differentiator is that, unlike other video doorbells, it can link to an August smart lock and allow you to unlock the door from within the video preview. For that you'll need a lock with an August Connect WiFi Bridge. Unfortunately the View's chime doesn't double as a bridge, but all of the company's current smart locks come with the Connect in the box.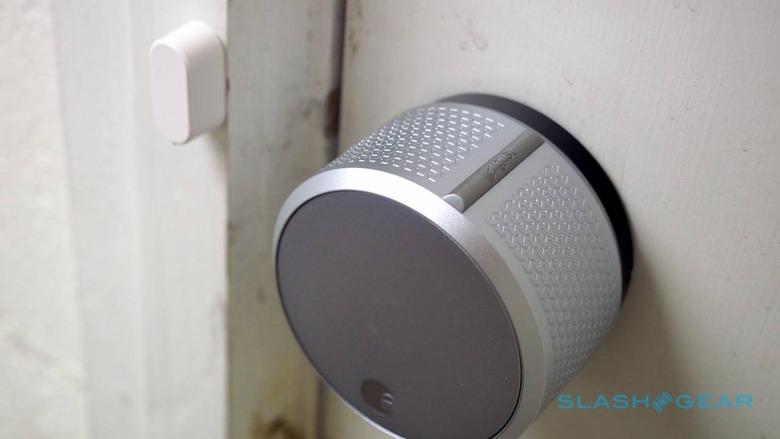 Linking the View to a lock is a straightforward matter of choosing the door you want to control. The doorbell needn't even be on the same door that the August smart lock is fitted to. I set up the View by our front door, but have an August Smart Lock Pro on the back door; on the rare occasions I want to allow someone inside when I'm not home, I can direct them through the two-way audio to go around the side of the house.
Video subscriptions and the broader smart home
Like other smart home video cameras, August has a choice of free and paid subscriptions. Without a subscription, you'll get a snapshot of whoever pressed the doorbell button or triggered the motion sensor. August's "Premium" plan offers 15 days of storage for $2.99 per month, while its "Premium Plus" plan doubles that to 30 days for $4.99 per month. They're competitive fees.
What you don't get, unlike Nest, is facial recognition. August View will notify you if it spotted motion, and capture a photo or clip depending on your subscription, but it won't differentiate between, say, a car passing versus a person's face. Nor can it tell you who it spots, if it recognizes that face.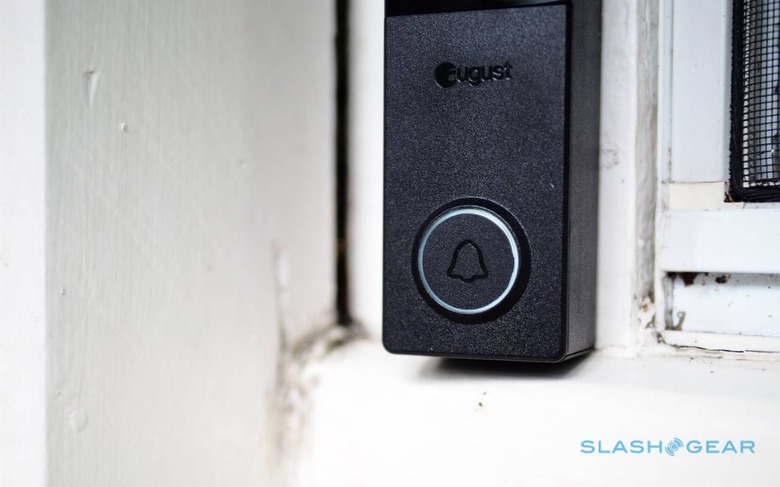 August argues that's a conscious choice, based on privacy. "We want to ensure that any offerings in this space addresses privacy and safety concerns before we bring this technology to our customers," the company says. That's admirable restraint, though I do appreciate the Nest Cam IQ Outdoor's ability to flag when it spots strangers in its notifications.
As for the broader smart home, currently August View supports Amazon Alexa and the Google Assistant. Paired with an Alexa- or Assistant-powered device, you can be alerted whenever the doorbell button is pressed, or motion is spotted, through your smart speakers. Right now there's no way to actually view the video if you have a smart display, however.
Verdict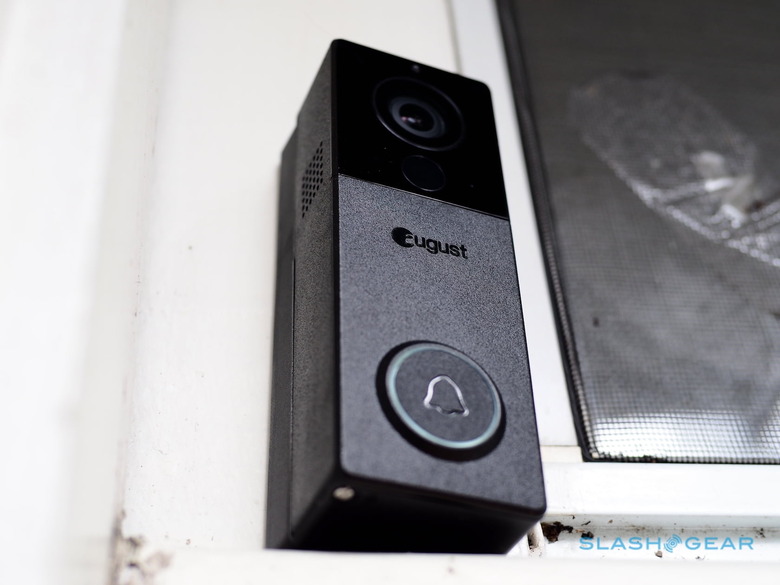 There's no shortage of video doorbells around right now, but your options are a lot more limited if you don't want to wire it in permanently. August View's primary competition is the Ring Video Doorbell 2, which offers cheaper video subscription but is physically larger and doesn't have as encompassing a field of view. While Ring's doorbell is $30 cheaper than August's, it doesn't include an indoor chime – you'll pay $50 for that – and of course the fact that Ring is now owned by Amazon may give some potential buyers pause.
If you can wire a video doorbell in, you'll probably get better results than battery-powered models. There's always some compromise made to maximum battery life. Where August View stands out is how small those compromises are, however. Easy to install and set up, with the convenience of tight integration with August's smart locks, it's a video doorbell that actually looks like it should live on your door. While it may not be cheap, those features add up to a great combination of security and convenience.