Audi Q8 concept previews super-luxe SUV for NAIAS 2017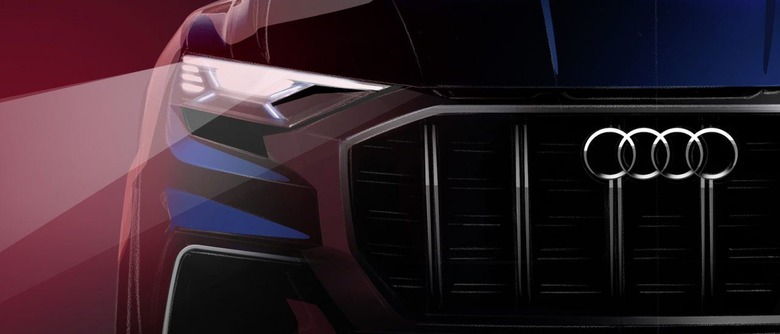 Audi has previewed the Q8, a new performance SUV that could soon compete with luxury behemoths like the Bentley Bentayga and upcoming Rolls-Royce Cullinan. Set to make its official debut at the North American International Auto Show (NAIAS) 2017 taking place in Detroit, MI. in January, the Audi Q8 would sit at the top of the German automaker's Q-badged sports utility vehicle line-up. There, Audi says, there's room for a whole new segment.
It's being described as having the "emotional styling" you'd associate with a coupe, but the internal space that you'd expect from an SUV. Translated into the real world, that means a lower roofline than the Audi Q7, which is currently the company's most expensive and luxurious truck, not to mention more distinctive and sculpted body lines. However, the focus inside will be on quality of space, not just squeezing in as many kids as possible.
NOW READ: Inside Bentley's achingly-lavish Bentayga SUV
That means seating for four, rather than the five or even seven that many mainstream SUVs offer today. It's something we've seen unabashed luxury car companies offer already: Bentley's Bentayga, for instance, can be had either with a traditional bench seat in the rear, which accommodates three people, or optionally with a pair of individual captain's chairs identical to the front seats. Coupled with the inherent space inside an SUV's cabin, it means significantly more room compared to a typical luxury sedan.
It's something which has lured one of the companies you'd probably least expect to make an SUV into the segment, in fact. Rolls-Royce isn't calling its Project Cullinan a sports utility vehicle, preferring instead to describe it as an "all-terrain, high-sided vehicle", but you'd be forgiven for not spotting a difference if you saw one. What the production car will be like inside remains to be seen.
Somewhat more affordable, but potentially faster, Alfa Romeo's Stelvio broke cover at the LA Auto Show a little more than a month ago. Intended to offer crossover practicality with high performance, it's likely smaller than the Q8 will be, but will probably end up targeting a similar audience.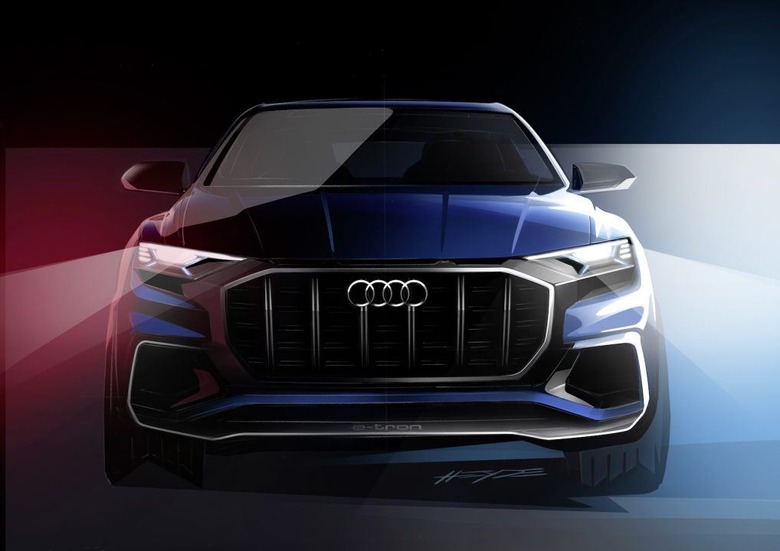 "With the Audi Q8 concept, we have created a new spearhead within our Q model line. Its design strongly evokes sportiness and prestige," Audi Head of Design Marc Lichte said of the new SUV. "What's more, we believe an important aspect of this showcar is that it offers a spacious interior with four equally comfortable seats, even with the flat roof line."
Even though these are just design sketches, and we'll have to wait a few weeks for the actual car, there are clearly some differences between the Q8 and the current Q7. Audi's distinctive grille – which it calls "Singleframe" – is wider, and it sits at the front of a more sculpted hood. The automaker says it borrowed inspiration from the Ur-quattro of the 1980s for the flared wheel arches and flat, wide C-pillar. Unsurprisingly, the Q8 will indeed support quattro all-wheel drive.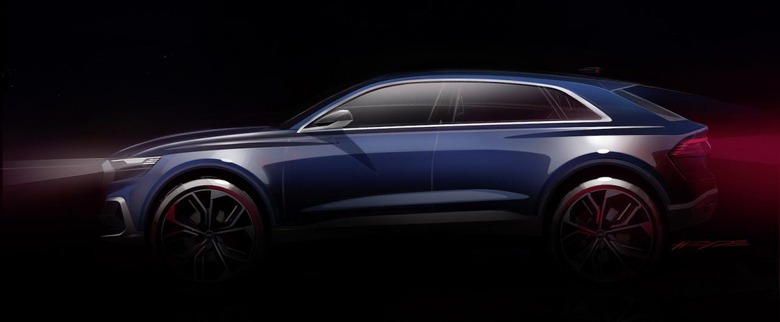 NOW READ: 2017 Audi Q7 Review
When, exactly, Audi could deliver a production version of the Q8 to market remains to be seen, but with its SUV sales currently so healthy you could imagine it wanting to do that sooner rather than later. Demand for the Q7 in the US more than doubled in November 2016, the automaker announced earlier this month, with SUV sales making up more than a fifth of total sales.