ASUS ZenFone AR Tango Phone Review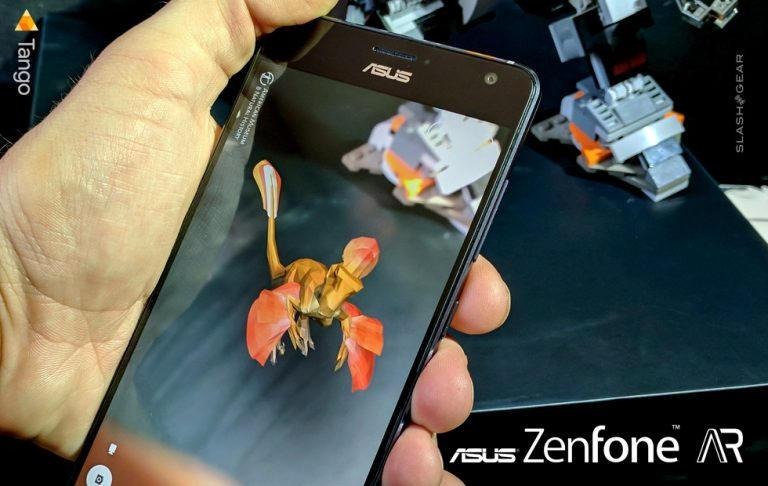 EDITORS' RATING: 6/10
This is SlashGear's ASUS ZenFone AR Review – complete with Google Tango onboard. This is a review of both the device and the AR – reviewed together and separately. While the device's full worth does take Tango into account, we've also considered the idea that a consumer might not end up using the AR features here as often as they thought they might. With a fine software build and hardware that's quite top-notch, it wasn't difficult to look beyond the hype.
Look and Feel
ASUS has managed to create a phone that's reached Google's Tango spec without looking completely bonkers in the process. This device is 6.24 inches tall, 3.05 inches wide, and 0.18 to 0.35 inches from its thinnest point to its thickest. The ZenFone AR weighs in at 170g and comes in any color you like, just so long as it's black.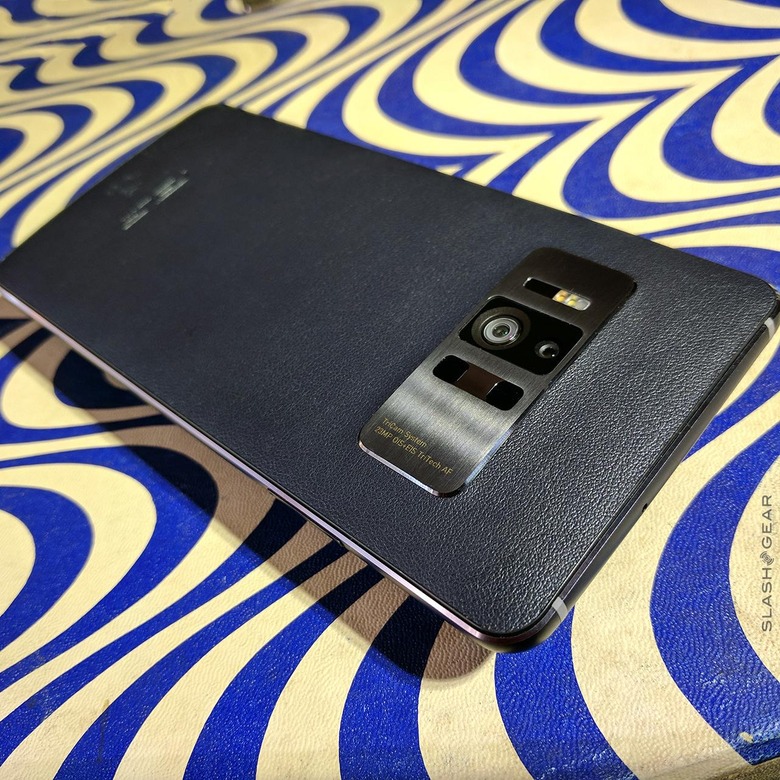 The front of this phone is covered with a pane of Corning Gorilla Glass 4, protecting the display from everyday scratches. The edge of the phone is "premium-crafted metallic diamond-cut" and is cool to the touch. The backside of this smartphone has a "leather-like" finish that ASUS calls Charcoal Black.
The ZenFone AR is a combination of several elements that make me feel as though ASUS is aiming to treat its users like they want all the bells and whistles – even if they don't plan on using them. That means a microSD card slot, headphone jack, and capacitive buttons up front. The physical home button contains a quick-reading fingerprint scanner, too.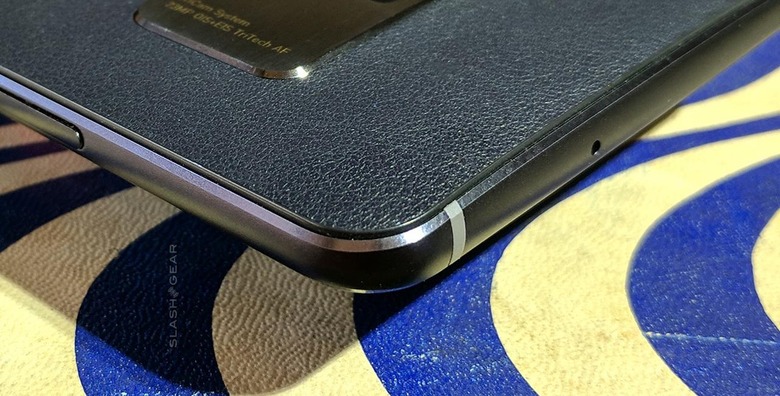 Special features like Tango are sometimes used as license to create a less-than-great phone to test the market's interest in the burgeoning platform. ASUS didn't do that here. ASUS delivered a smartphone that's ready to do battle with the finest smartphones on the market – with Tango on top like frosting on a tasty cake.
Display
ASUS hasn't delivered a curved display and it hasn't pushed this phone's display to the point at which my fingers inevitably cover some screen real estate. ASUS kept their display within reasonable boundaries. At the same time, they came correct with a sharp, color-correct panel that's also super bright.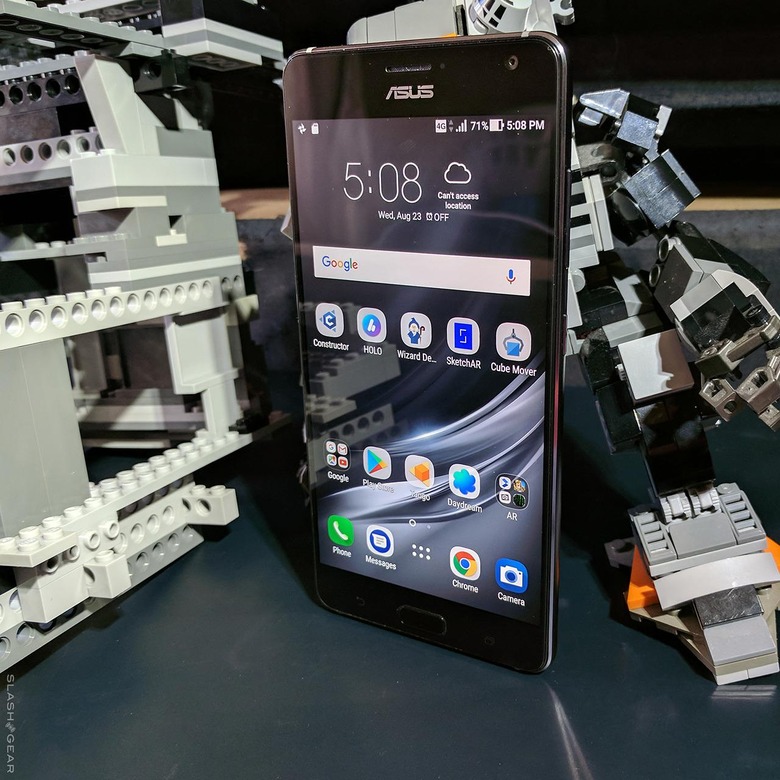 The ASUS ZenFone AR comes with a 5.7-inch WQHD (2560 x 1440) (aka 2K) Super AMOLED display. This display has 10-finger capacitive touch and responsiveness that parallels the Google Pixel XL (that's amongst the best in the world). ASUS says this device has an "industrial-leading 60ms touch response time" as well as glove touch support – we'll see about that this winter.
ASUS doesn't mention this in their main presentation for the device, but the ZenFone AR has localized haptic feedback. That's the thing where the device seems to vibrate right under your finger when you tap the display in any given spot.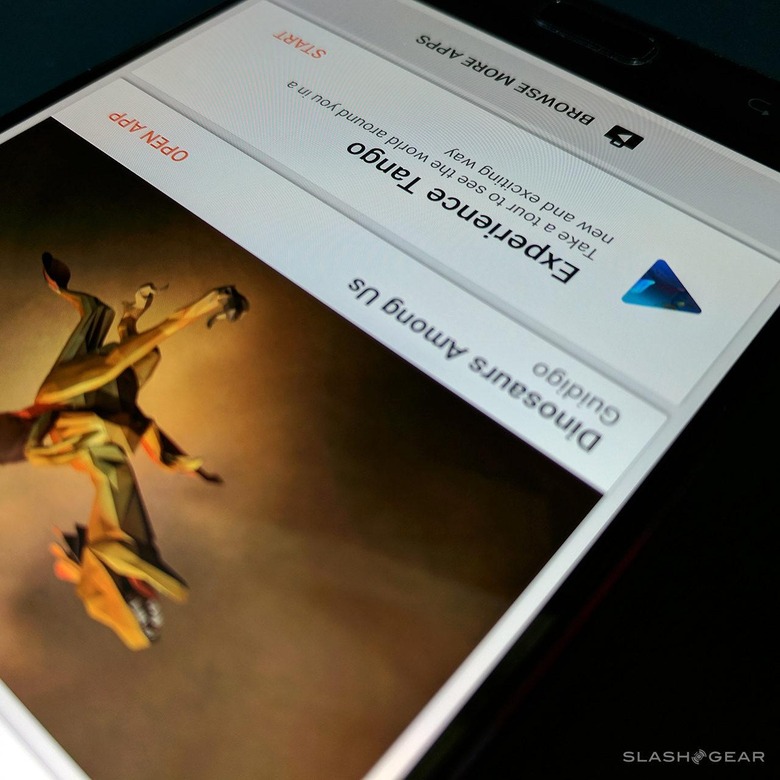 Localized haptic feedback not been on a whole lot of smartphones over the past decade. The lack of localized haptic feedback thus far is likely due to the difficulty with which the feature is presented. But when it's in a smartphone, I know it, I can feel it, and it's something that makes the device feel all that much more unique and premium.
Sound
This device rolls with an impressive amount of sound – especially for a single-speaker setup. Inside is a 5-magnet speaker with its own NXP Smart AMP that's able to play sound at a level that's surprisingly loud. While the best sound comes from external audio sources plugged in to this device's headphone jack, the one internal speaker here is one of the most impressive I've heard blast music from a smartphone – now, if only it were forward-facing.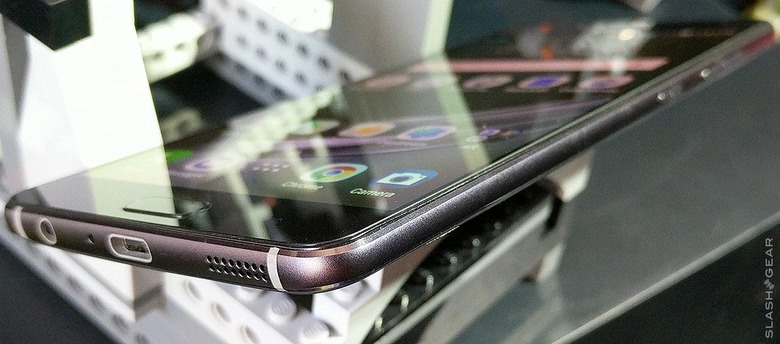 Audio output with DTS Headphone:X with virtual 7.1-channel surround sound is at least as impressive as other similar solutions with the earbuds included in the box. For those users with HR audio needs, this device can output "certified high-resolution audio" to compatible devices at 24-bit/192kHz. And yes, this smartphone has a standard headphone jack.
Software Bits
The ASUS ZenFone AR runs Android Nougat right out the box and, since it's been released so near Google's release of Android Oreo, we'll be expecting that update as well. ASUS has not yet confirmed (as of press time for this article) whether they'll deliver Oreo to this device. At the moment we're working with Nougat with ASUS' own ASUS ZenUI 3.0.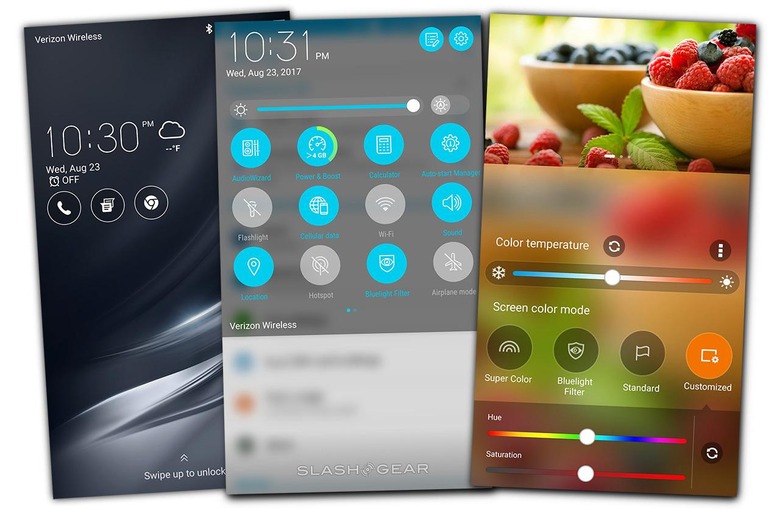 This device comes with 100GB of Google Drive space (good for 2 years) and 5GB of ASUS WebStorage (for life). In Display settings is an option to turn off the device's front-facing LED indicator, and another option to keep touch key backlights always on or always off.
Settings for this device's display include a whole special panel that allows switching between Screen Color Modes. Super Color is the mode that's turned on by default, and Standard, Customized, and Bluelight Filter are also available. The Bluelight Filter is also accessible in quick settings – for late-night reading and such. I end up sticking with Standard or Supercolor – but it's nice to have such granular settings available.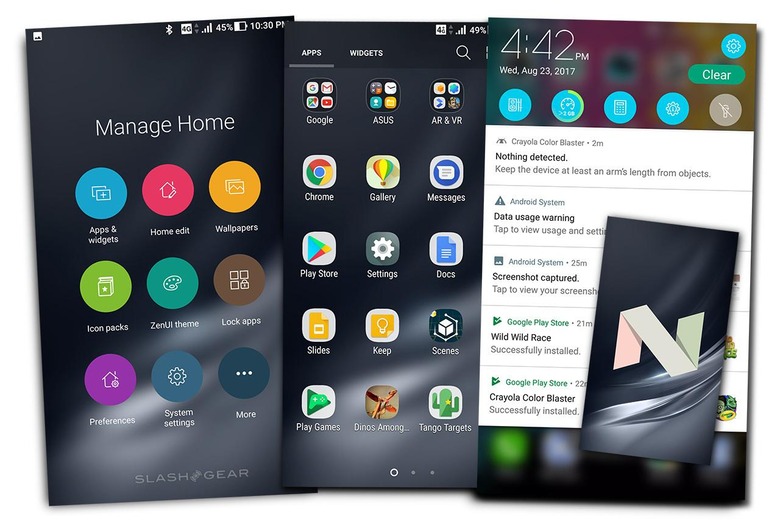 With this phone's Auto-start Manager, the user can tell the phone which apps should be running in the background and which should be stopped. ASUS has also included access to its own Android theme library, ZenCircle, ZenFone Care, and ZenMotion.
Battery Life
Battery life is decent for a smartphone with a display this big, sharp, and bright. The Asus ZenFone AR has a 3300mAh battery which is fairly standard for a phone of this size. The difference between using this phone all day with no AR or VR is quite different from using AR or VR for extended periods of time.
Depending on how optimized each Tango-friendly app is for this unique device, AR apps can drain the battery within hours. The same goes for VR – though that's harder to test since VR isn't normally used for more than a few minutes in one shot. Without AR or VR at all, this smartphone can last 10-15 hours with standard usage.

Our battery tests – including the example above – represent standard, everyday use with 4G LTE running non-stop. Without any mobile data, the device is able to last well over a day quite easily. Like most Android phones here in 2017, Doze runs in full effect.
This device works with "BoostMaster Fast Charging" which moves power into the battery at a high rate. With BoostMaster Fast Charging, over half the battery fills up in a half hour or so (that's using the charger included in the box). With this phone's inclusion of PowerDelivery 2.0 and Quick Charge 3.0, basically any charger that's Qualcomm Quick Charge compliant will fill this phone's battery power reserve up with extreme speed.
Camera
The camera on this phone is pretty decent. It had certainly better be given ASUS' aim with the phone, as the camera is the device's primary hardware array. In the ZenFone AR we've got a device whose ability to snap photos is pretty much on-par with the snapshot quality of Google's Pixel. The Pixel has one of the best smartphone-based cameras in the world right this minute and ASUS ZenFone AR is one of the few devices whose camera comes close.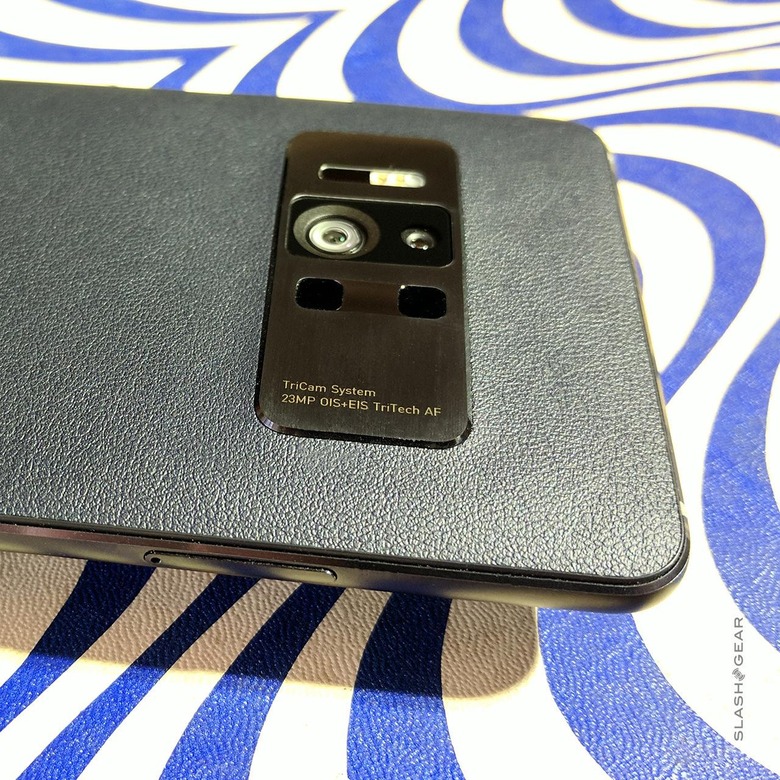 The ASUS ZenFone AR has on its back a 23MP Camera, F2.0 aperture, and an impressive list of other camera features – all listed below. This camera also has a 6P Largan lens, a lens from a brand I didn't know a lot about before this review. Largan manufactures smartphone camera lenses for massive smartphone releases like Apple's iPhone. This element isn't normally important enough to place in a smartphone's spec sheet – but ASUS mentioned it – and now we know what to look for.
Camera Features for ASUS ZenFone AR:
• Fixed Focus / Auto Focus
• 32 second long exposure
• Close-up macro photography (5 cm)
• 4-axis, 4 stops Optical Image Stabilization for steady photos
• 0.03 sec Ultrafast TriTech auto focus
• Sony IMX318 camera sensor
• RAW file support
• Dual-LED real tone flash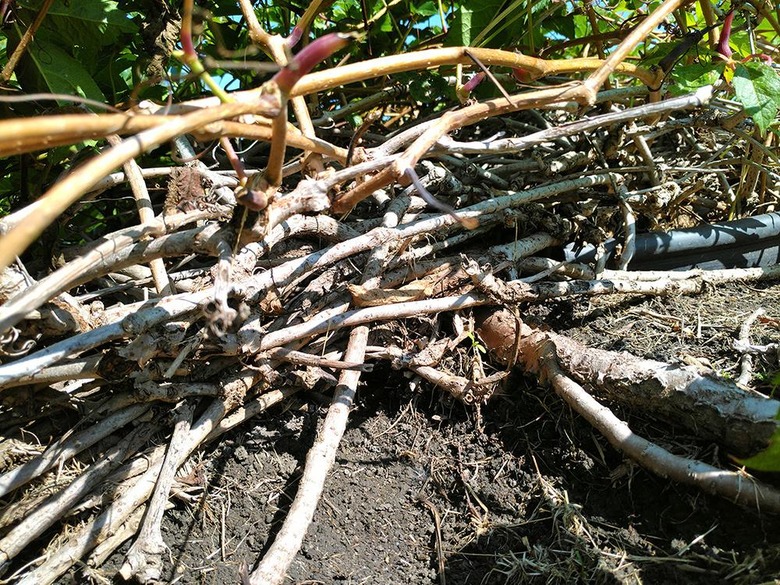 ASUS uses the same Sony IMX sensor as used on the ZenFone 3 Deluxe, the ZenFone 3 Ultra, and the Xiaomi Mi Note 2. That's the IMX318, an RGB 22.5 MP, 6.858 mm (1/2.6") sensor with 1.0 μm pixel size and both phase detection autofocus and gyro-based image stabilization. While these specs are impressive outright, photo and video quality comes down to optimizations and work the phone brand has done with said hardware.
The main camera on this device is the one I've described above – that's capturing the photos shown above and below. The 2nd rear camera is a motion tracking camera, while the third is a depth-sensing camera. That depth-sensing camera works with an IR projector to measure distance from objects and surfaces near and far.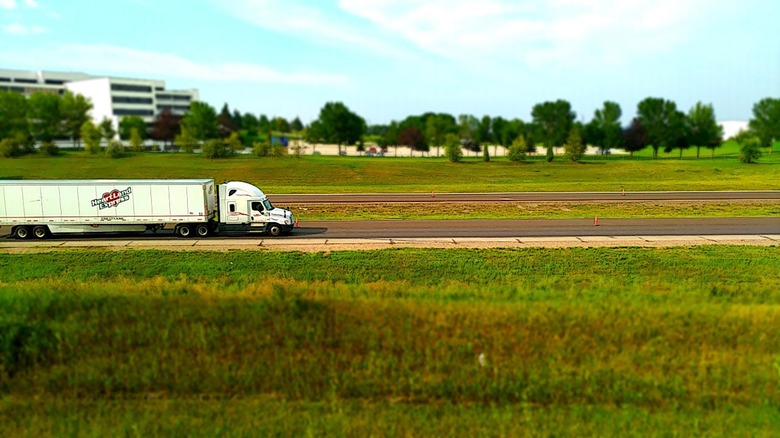 ASUS calls this arrangement of cameras and sensors their own "TriTech Focus System". That includes Phase Detection AF, 2nd gen Laser AF, and Continuous AF together to focus really, really fast. Like tap-zoom-done.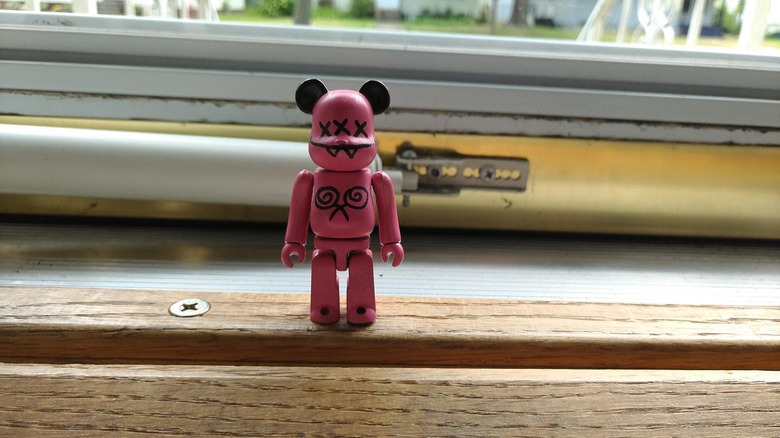 The photos you're seeing here represent both off-the-cuff snapshots and photos where I've been careful to keep still and frame properly. The ASUS ZenFone AR does well in most situations, falling short only in the darkest of dark situations where even the most excellent modern cameras wouldn't do well without a flash.
Compared to the Pixel, the ASUS ZenFone AR's photos tend to be a bit on the warm side of the color spectrum. While this is easily corrected with manual controls or after-the-fact with RAW photo output, the Pixel still narrowly edges out this phone for shooting near-perfect pics anytime, anywhere.
Tango
This is not the first phone in the world to be able to run VR and AR apps. The claim this phone DOES make – and does accomplish is this: ASUS ZenFone AR is the first phone that's both Google Tango compliant and "Google Daydream-ready". Daydream-ready phones must have VR High Performance specs, while Tango requires an infrared (IR) projector and IR sensor – amongst a bunch of other basic hardware bits that line up with Daydream requirements.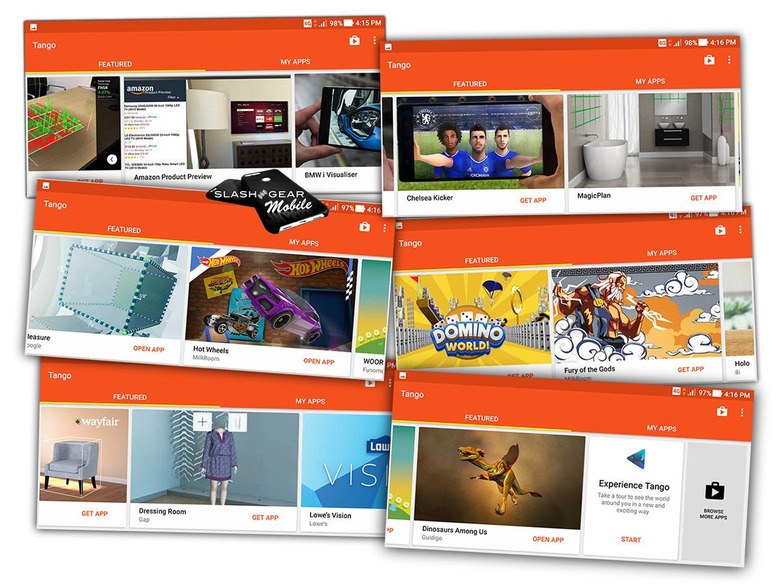 I'm a little shocked in finding that Google's Tango platform isn't a bit more filled out with high-end apps at this point in time. Back in January of 2016 I was led to believe that Google's Project Tango was a total game changer. In May of 2016 I went on to suggest that Android started to Tango while iPhone potential waned. Since then, things have changed a significant amount – and not just on Google's side of the equation.
I did not predict Apple's ARKit, and I fully expected that Google's Tango would be a much more fully-realized experience by the time consumer devices were available for sale. Now here we are with the first consumer-aimed Tango device and Google's own collection of featured and recommended apps for Tango is OK, but also lacking in variety and scale.
A handful of the developers that've created Tango apps so far have done a great job. It's not their fault that this overall experience doesn't feel as groundbreaking as I expected it would. This is just the situation we're in with Tango devices and apps that work with Tango – a chicken and the egg type deal.
Far more developers would be onboard with creating Tango apps if a decent threshold of Tango device owners was met. It doesn't make sense to develop for a platform that only has a few hundred devices out in the wild. That amount of compatible devices is not at all financially sound for an independent app developer.
The ASUS-made hardware setup works great. AR works in Google's recommended collection of Tango apps just like you'd expect it would. But it's the fact that ASUS did a fantastic job finessing the rest of the smartphone that makes me feel like I can make a strong recommendation for ownership.
Wrap-up
There are several versions of the ASUS ZenFone AR out on the market today. One has 6GB Ram and 64GB internal storage that costs $600. That version has GSM connectivity and is available through Amazon. Another version also works with GSM SIM compatibility and has 8GB RAM and 128GB internal storage for $700, also from Amazon.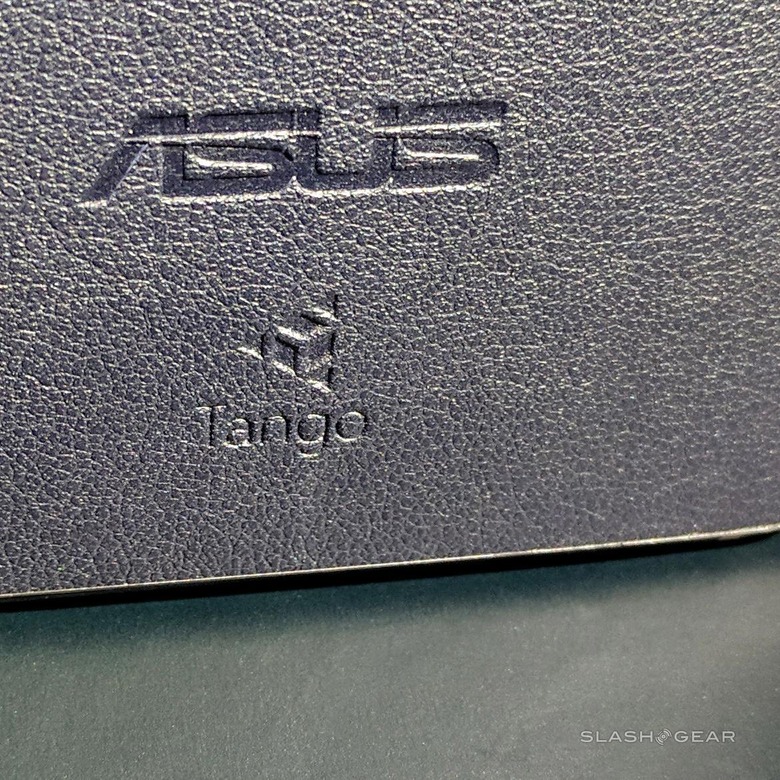 There's also a Verizon version of this device that's available straight through Verizon. An Amazon-purchased GSM version of the device will not work with a Verizon SIM card, and vice-versa. The Amazon versions of this device are GSM-ONLY, and do not work with Verizon, Sprint, or US Cellular. The version I'm reviewing here is the Verizon version – it does not work with AT&T or T-Mobile USA SIM cards.
The Verizon version of the ASUS ZenFone AR comes in one size. That's the 8GB of RAM iteration with 128GB internal storage, available for a full retail price of $648 USD. Depending on credit, this device is also available for $27 USD a month for 27 months and no money down, also from Verizon.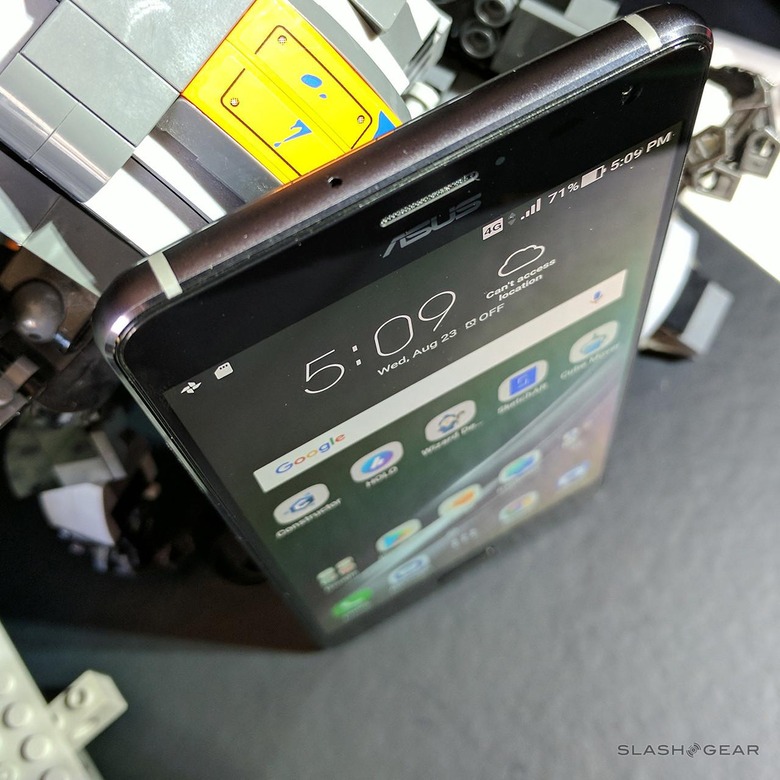 The ASUS ZenFone AR is a smartphone I've found well worth the amount of cash it's available for right at the outset. With or without Tango apps involved, the ASUS ZenFone AR runs a tight ship, ready to take on the top hero phones from brands of all sorts. The ASUS ZenFone AR's combination of unique, high-end hardware and solid software make for an all-around high quality mobile device.
For those looking for the Google Tango experience, this isn't it, yet. The phone's hardware works fine – it's the app ecosystem that's not quite ready yet. Google's not yet cultivated the Tango app garden it should have for a major launch. If you'd planned on buying this smartphone for Tango, don't do it.