ASUS ZenFone 2 Review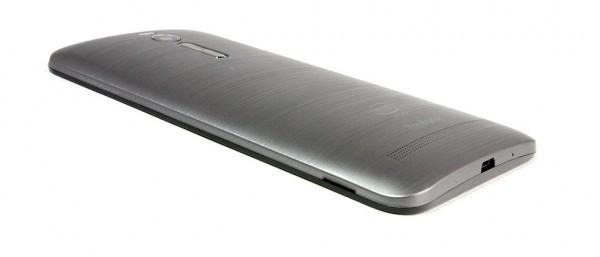 It's time to get a handle on ASUS' best effort in the affordable smartphone space yet. This is the ASUS ZenFone 2, and it's more than ready to take on the rest of the unlocked, low-cost, high value smartphone space. This device isn't mean to take on the $600 phone market. It's not meant to be pitted up against your Galaxies and your HTC ones. Instead, this is a warrior taking on the often forgotten "I just bought a new phone and didn't need to tie myself down to a 2-year contract or sell a kidney" crowd.
ASUS knows this market exists, and they've tossed a real winner into the fray. ASUS is fully aware that there's a market right here in the Android Community – one that wants an affordable smartphone, off-contract, unlocked, and maybe even ready to work with Windows PC connectivity beyond the basics.
Imagine that, ASUS to the rescue.
Hardware
There are two versions of this device out there, both with SIMILAR builds, but slightly different innards. One also costs $100 more than the other. The first is the lesser of the two.
1.8GHz model:
• Software: Android 5.0 Lollipop
• Processor: Intel® Atom™ Quad Core Z3560 (1.8GHz)
• Internal Storage: 16GB
• RAM: 2GB
• Weight: 170g
• Dimensions: 77.2 x 152.5 x 3.9 ~ 10.9 mm (WxDxH)
• Display: 5.5-inch 1080 x 1920 IPS LCD, Gorilla Glass 3
• Battery: 3000 mAh
• Camera (front): 5-mp, Wide View, "PixelMaster" tech
• Camera (back): 13-mp, AF, "PixelMaster" tech
• Sensors: G-Sensor, E-Compass, Gyroscope, Proximity, Ambient Light Sensor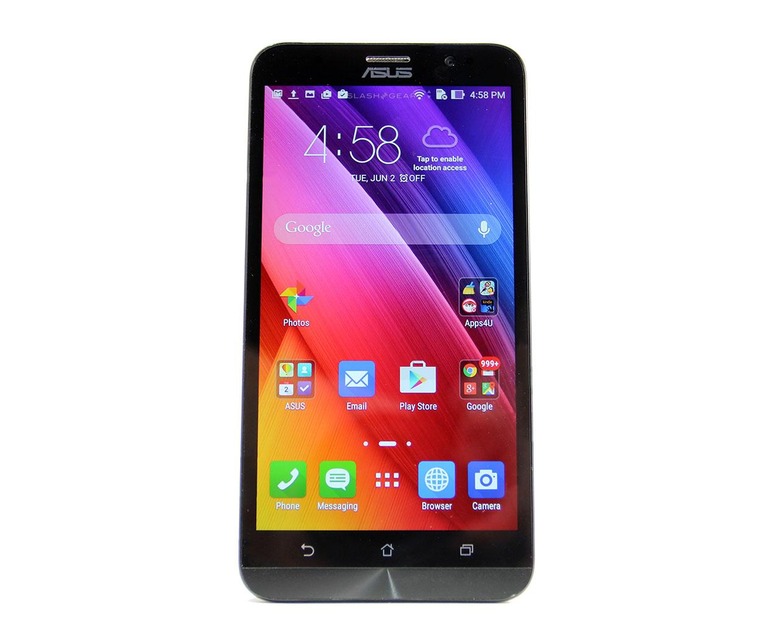 The second model is the one we're reviewing today. This version of the device has a slightly different processor that's clocked a bit higher, has twice the RAM, and quite a bit more internal storage.
2.3GHz model:
• Software: Android 5.0 Lollipop
• Processor: Intel® Atom™ Quad Core Z3580 (2.3GHz)
• Internal Storage: 64GB (approximately 54GB available to the user)
• RAM: 4GB
• Weight: 170g
• Dimensions: 77.2 x 152.5 x 3.9 ~ 10.9 mm (WxDxH)
• Display: 5.5-inch 1080 x 1920 IPS LCD, Gorilla Glass 3
• Battery: 3000 mAh
• Camera (front): 5-mp, Wide View, "PixelMaster" tech
• Camera (back): 13-mp, AF, "PixelMaster" tech
• Sensors: G-Sensor, E-Compass, Gyroscope, Proximity, Ambient Light Sensor
Both devices also have a microSD card slot for storage expansion as well as 2x SIM card slots. One slot works with 2G data, while the other is able to work with 2G/3G/4G data. You're working with GSM data here, which means (inside the United States) you'll want to pick up a T-Mobile USA or AT&T SIM card for data.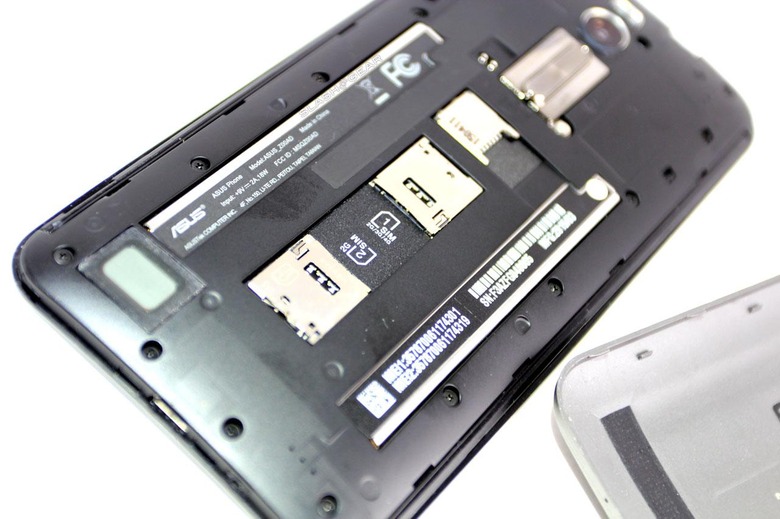 ASUS has also confirmed that there'll be an AT&T version of this device down the road, though we're not certain if it'll be the 2.3GHz or 1.8GHz version. That AT&T version will have single-SIM capabilities.
The only buttons you've got with this device are along the back and up top. On the top of this phone is a power button which, unless you have very long fingers, feels oddly placed.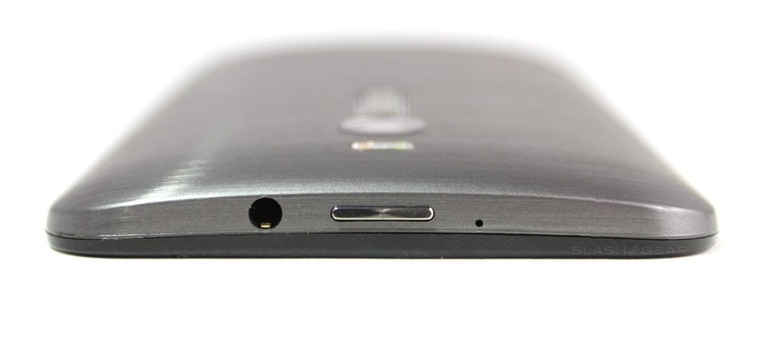 The same is true of the volume rocker along the back of this phone which, if it weren't for LG coming up with the idea with the LG G2 back in 2013, we'd thing was sorta neat. Now it just feels a little on the small size.
Fans of capacitive buttons up front will be glad to see Home, Multitasking, and Back Buttons in full effect. Full flat effect, that is to say – no backlighting here.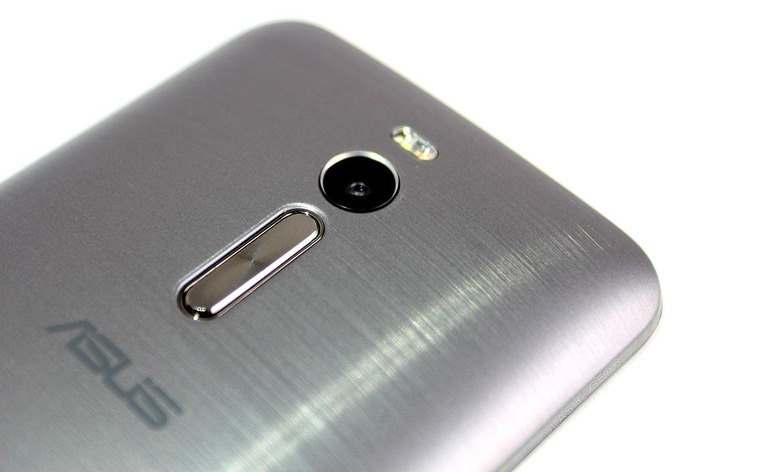 Below the capacitive button collection you've got what's probably the nicest and most ASUS-unique design flourish of the whole device.
This ring-spun metal bit reminds us we're dealing with the same people who created what was – at the time – the most awesome Android tablet collection for several years running: ASUS Transformer Prime and crew.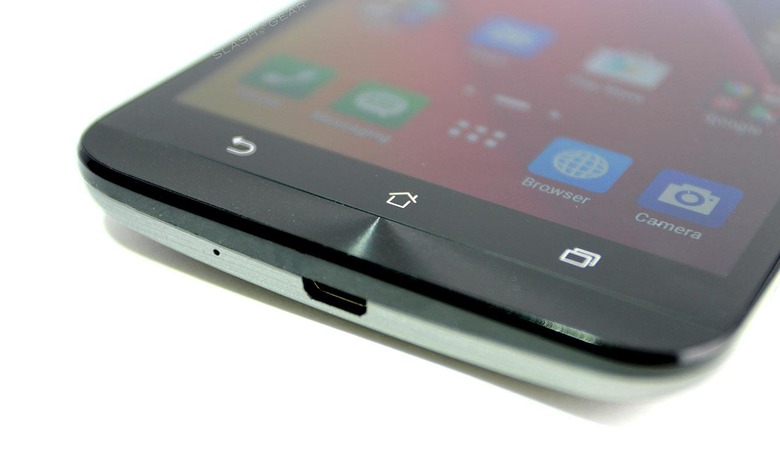 Quality
You'll be getting what you pay for when it comes to quality – feel, anyway. The edges of this phone are made of a hard plastic while the back is a very thin, bend-friendly plastic (made for easy removal.)
Once you've got the back removed, you'll find the battery peeking out, but not removable. You'll find the 2x SIM card slots in front of the battery – same for the microSD card slot.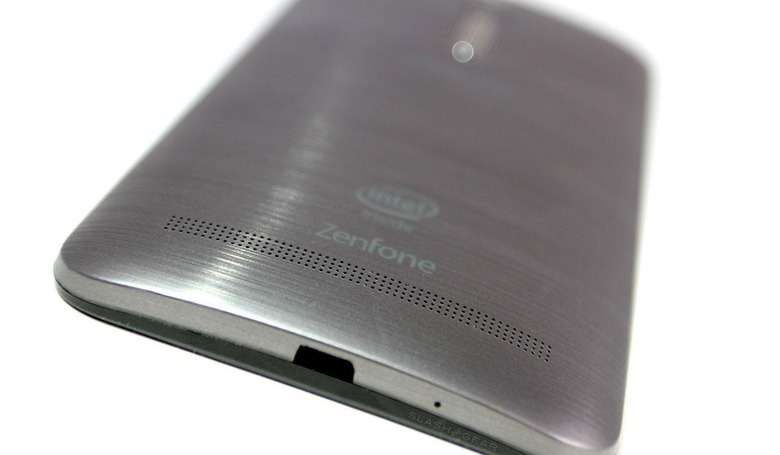 While the back of this device might indicate you've got a long, hearty speaker, in fact you've got a relatively standard-sized small speaker that sits to one side of the back of the device. While the software suggests you've got several unique Audio Modes like Music Mode, Movie Mode, and Gaming Mode – they sound very, very similar to our ears.
Speaker quality is OK – certainly good enough for the average user who ends up using the headphone jack or Bluetooth for audio most of the time anyway.
Display quality is surprisingly good. While it's not SUPER AMOLED bright, it's certainly bright enough to be viewed outdoors on a sunny day.
You're working with a 5.5-inch display with 1080 x 1920 pixels here – just as good as last year's leaders in this space for sharpness at 403PPI, at least.
Software
While we're certainly in the camp with those that aren't thrilled at the sight of as many apps as we're seeing here right out of the box, many are able to be uninstalled right off the bat. Everything with ASUS or "Zen" in the title is going to be here for the long run.

ASUS' contribution to this space are fairly neat, despite the fact that they're completely un-installable. Their PC connectivity suite of apps in particular would have thrown us for a loop a couple of years ago when the same technology was revealed by companies like Samsung.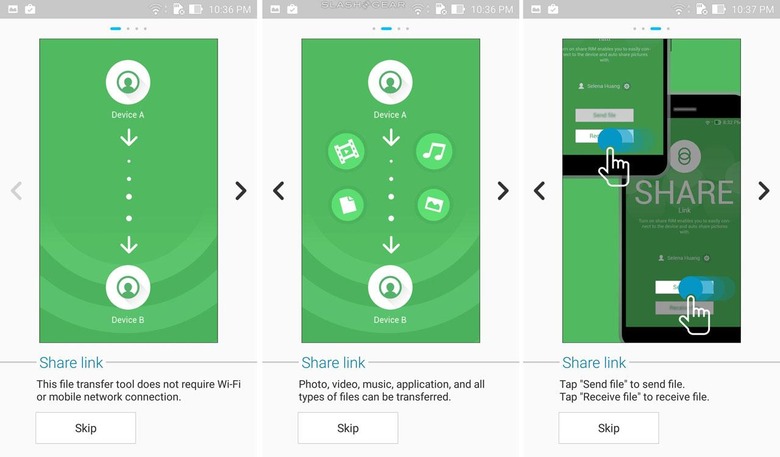 If you do own a PC and want to run some awesome connectivity apps, ASUS has your back right here.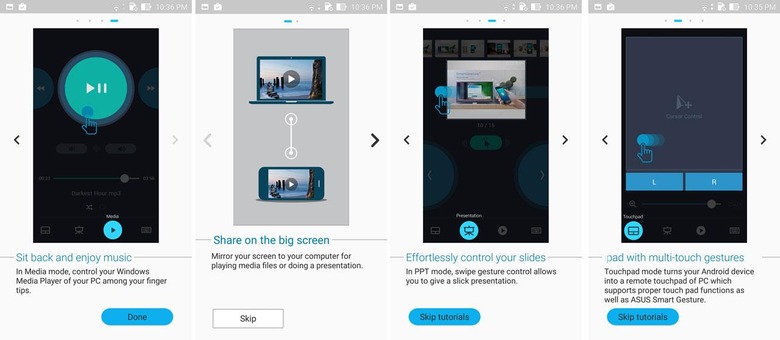 You're also running Android 5.0 Lollipop, the newest base operating system offered by Google.
You're good to go for the vast majority of apps released to the Google Play app store for the next couple of years for that, for sure.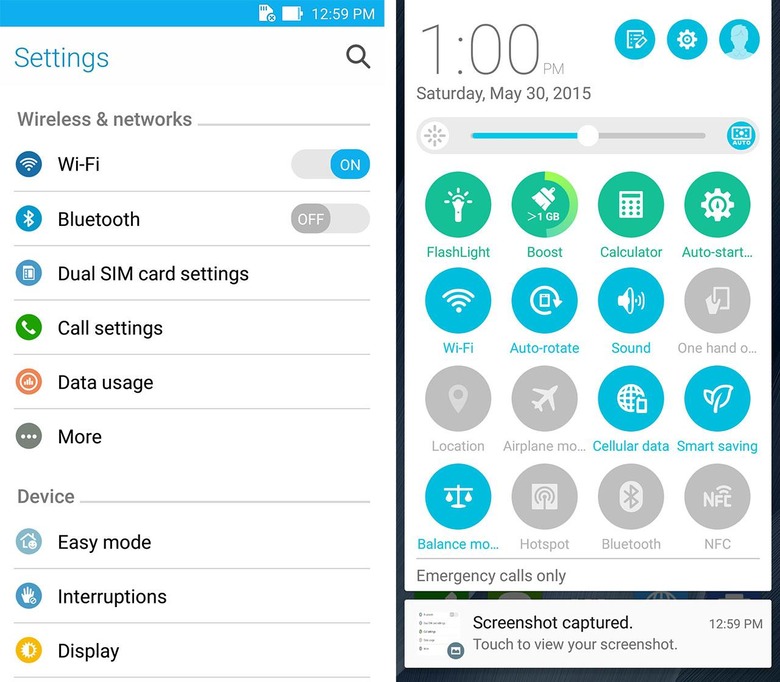 Over the top of Android 5.0 you've got the newest version of ZenUI, ASUS' own user interface for Android. It's simple and it makes sense. It looks plain – well suited to decoration.
You've also got a Theme app which connects to a neat variety of icon-switching, wallpaper-downloading setups.
While we can't yet speak of the reliability of software updates for this device yet, we're confident ASUS won't let us down.
The currently rare sight of an Intel mobile processor here will keep us keeping our eyes open to support from ASUS.
Camera
While any camera always depends most upon the photographer behind the shutter button, this 13-megapixel back-facing camera with dual-LED flash presents a great experience for the cash.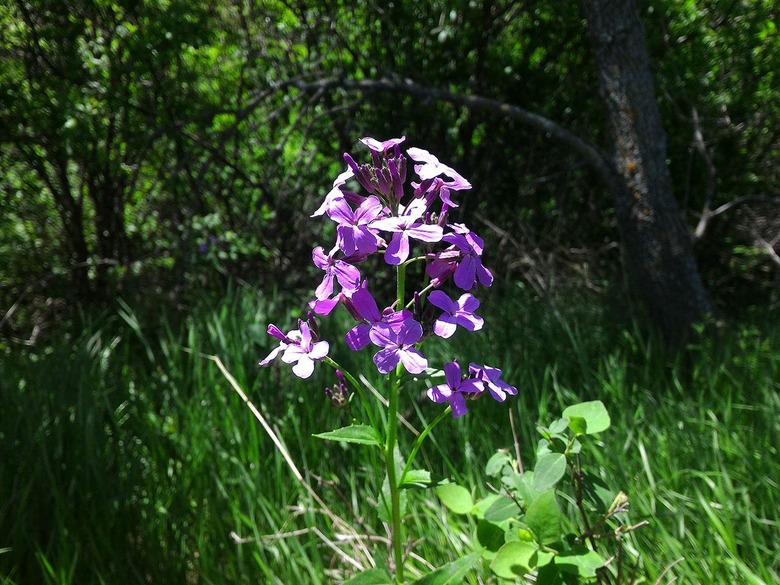 When we got used to the inexpensive Android life with devices like the Motorola Moto G, we expected that we'd have to take extra care in composing shots to make the most of the shooter.
With this ASUS device, the midrange smartphone camera game has been given a little kick in the pants.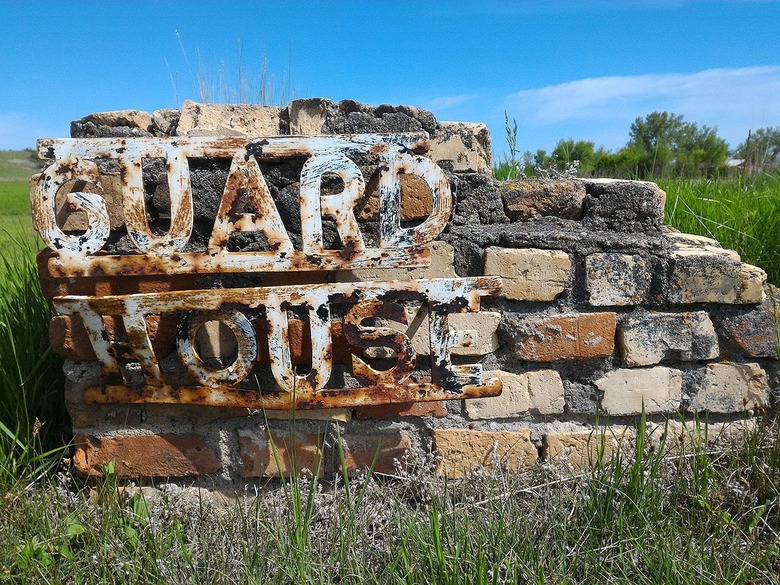 Above and below you'll see a collection of photos captured with the ASUS ZenFone 2 in a variety of locations and lighting situations. If you have any unique situations you'd like us to get into, by all means ask!
You'll get a wide variety of special effects and manual mode oddities with this device. Auto is joined by Manual Mode with White Balance, EV, ISO, shutter, and focus adjustments. Auto-focus works in all modes, of course.
This variety of modes also includes HDR, beautification for your face, "Super Resolution", Low Light (with a limitation of 3M), Night mode, Depth of Field (taking several photos in the process, allowing you to choose the one you want at the perfect distance), "Effect" with several color-affecting bits, and "Selfie" mode – which allows you to set a number of faces, turn your camera around, and let the camera snap the photo after it's detected the prerequisite number of faces.
You can shoot with a mode called Gif Animation – to collect a .GIF moving image file, of course. You can shoot a Panorama, a "Miniature" mode that blurs everything but a space of your choosing, "Time Rewind" which allows you to choose from a number of photos shot in quick succession, "Smart Remove" which lets you remove people from photos, and "All Smiles", allowing you to choose which faces people made over the span of several photos, combining them into one composite image.
Battery Life
You'll find more than enough battery life in this humble beast, even with the relatively large, bright, and sharp display. While 3000-mAh is nothing to scoff at, we didn't end up needing to use the device's Ultra-Saving Mode for battery conservation to get through a normal day's work.
If you're all about using this device all day non-stop, you've also got a relatively fast charging setup to work with.
While we can't speak yet for the 1.8GHz or AT&T iteration of this device, the 2.3GHz version works with a 9V / 2A charger that'll kick out 90% of your battery life in right around an hour.
ASUS calls this quick charging "BoostMaster" technology – behold the BoostMaster!
Wrap-up
[amazon B00VWKKHKU] If you're in the market for a new phone, you've got a data plan with AT&T, T-Mobile USA, or any other GSM-based network, and you're upgrading from a phone that's a couple years old or older, the ASUS ZenFone 2 is a SOLID choice. Especially at this price range – anywhere from $199 to $299 for a device that's unlocked and ready to roll – that's a real rarity in today's smartphone market.
It's a real rarity in the history of smartphones, really.
This is a big smartphone, it looks rather nice, feels pretty OK to hold, and it's sharp enough to keep you running alongside the best devices for at least another year or two.
Xiaomi and Huawei are on their way to the United States with devices like these – Huawei is already nearly here with devices like the Huawei Honor 6 Plus.
Would we'd love to pit the likes of ASUS against Huawei and Xiaomi – two heavy hitters in this low-cost high-value space in Asia – here in the United States there's one fairly clear winner for the time being.
Keep them coming, ASUS!